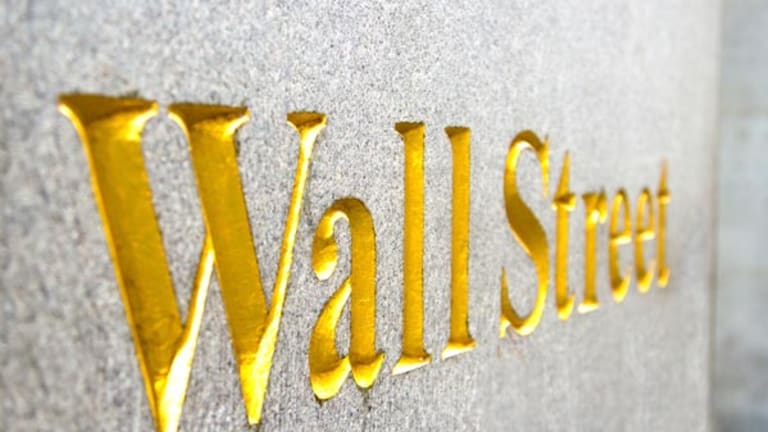 The Five Dumbest Things on Wall Street This Week
Motorola madness; EYE dropping; Yahoo! yodeling; WellPointless; Bristol creamed.
1. $24 Million Man
Motorola
( MOT) is swinging the ax in all the wrong places.
The Schaumburg, Ill., tech giant said late Wednesday it would
do away with 4,000 more jobs in its latest belt-tightening effort. The announcement comes just four months after Motorola said it would
slash 3,500 positions in a bid to bail out its sinking handset business.
"Long-term," said finance chief Tom Meredith, "sustainable profitability is -- and always has been -- Motorola's top priority."
That's good to know, because otherwise it has been hard to tell lately. The company said in January that its cell-phone business was hemorrhaging as the once-hot Razr phone lost its fashion edge. Then Motorola cut its guidance for a second time this spring, citing a huge glut of phones it had dumped on the market in an ill-fated attempt to shore up sales.
Motorola's pratfalls have put CEO Ed Zander on the defensive. Back in 2003, Motorola's board made a big bet that Zander could lead the company back to sustained success. The company gave the former
Sun
(SUNW) - Get Report
exec a sweet
compensation package worth at least $24 million. Zander raked in $4.7 million in salary and bonus alone in 2006.
But now rival
Nokia
(NOK) - Get Report
is leaving Motorola in the dust. The Finnish company said this week it's aiming for a stunning
40% share of the worldwide handset market -- mostly due to Motorola's own
stumbles.
Perhaps tellingly, Zander wasn't even quoted in Wednesday's layoff announcement. Instead, two top execs who were hastily appointed by the board in March following Motorola's second
handset-sales pratfall -- Meredith and operating chief Greg Brown -- are heard promising to turn things around.
"Today's actions are an update to the commitment we made during our first-quarter earnings conference call," Meredith said, "to drive out additional costs."
It would be so easy to drive out $4.7 million worth.
Dumb-o-Meter score: 91. Maybe Motorola should plan for 4,001 layoffs.
To watch Colin Barr's video take of this column, click here
.
2. Teary-Eyed
Advanced Medical Optics
(EYE) - Get Report
just got blindsided.
Shares tumbled 14% Monday after an outbreak of a rare eye infection forced the Santa Ana, Calif., company to
recall its Complete MoisturePlus contact lens solution. Government
data showed that nearly half of 46 patients recently treated for a disease called Acanthamoeba keratitis had used the solution.
Advanced Medical said it was "acting with an abundance of caution to voluntarily recall" the product, which analysts had expected to account for around $70 million of the company's $1 billion or so in annual sales. The company withdrew its financial guidance for this year.
The setback appears to derail Advanced Medical's hopes of buying rival
Bausch & Lomb
( BOL). Advanced Medical surprised Wall Street last Thursday when it said it would
consider bidding for Rochester, N.Y.-based Bausch, on the grounds that Warburg Pincus' $3.7 billion takeover bid "undervalued" the company.
Of course, Bausch & Lomb shares have been undervalued for a reason. Just last year, Bausch had to recall one of its own contact lens solutions after an outbreak of a fungual infection called Fusarium keratitis. That long-running saga weighed on Bausch stock until Warburg emerged last month with its $65-a-share buyout offer.
"We believe it is only logical to explore this opportunity," Advanced Medical said last week of a possible Bausch & Lomb buyout, "given the highly complementary nature of our two businesses."
After all these outbreaks, that's too complementary for comfort.
Dumb-o-Meter score: 90. It's a bad time for a black eye on the safety front.
3. Yahoo! Passion Play
Heads are rolling again at
Yahoo!
(YHOO)
.
The Sunnyvale, Calif., Net giant
bid adieu Wednesday to Chief Technology Officer Farzad Nazem. The company said that after 11 years at Yahoo!, the 45-year-old Nazem "has decided that it's time to take a breather."
It looks like an inopportune time for Yahoo!'s chief technology officer to do that, given the
many challenges facing the
Google
(GOOG) - Get Report
rival. Shares have lost a third of their value over the last 18 months.
The departure of a key techie is particularly troubling, considering the fierce competition in the online ad market and Yahoo!'s management issues.
Nazem, after all, was named in December as one of the three group leaders in a shake-up that accompanied the departure of veteran operating chief Dan Rosensweig. As
TheStreet.com's
Vishesh Kumar pointed out Thursday, two of Yahoo!'s remaining top execs come from Wall Street, while CEO Terry Semel started using email only when he joined Yahoo!.
Some observers also wonder why Nazem chose to quit as Yahoo! heads into the worldwide rollout of its crucial Panama advertising system.
However Nazem might answer those questions, his posting on
Yahoo!'s blog speaks to the company's predicament.
"Yahoo! is not the kind of company you can just retire from and forget about," he writes. "It's about being part of something much larger than yourself and being on that ride with an incredibly passionate team."
The team may be passionate, but the ride is still downhill.
Dumb-o-Meter score: 85. It's been a while since Yahoo! had anything to yodel about.
4. WellPointless
WellPoint's
(WLP)
not feeling too well lately.
Shares in the Indianapolis-based health insurer tumbled 3% in heavy trading Thursday on the resignation of longtime finance chief David Colby. WellPoint's board asked him to step down after outside lawyers found what the company called a violation of its code of conduct.
WellPoint stressed that no laws were broken and that Colby's alleged transgressions "were in no way related to the company's performance or financial condition, both of which remain strong."
What was weak was WellPoint's failure to further clarify the matter. "Given the nonbusiness nature of the violation," general counsel Angela Braly said on the conference call, "the company will make no further comment on the resignation."
The murkiness didn't sit well with investors, since the sudden change came just a day before Braly was due to take over as CEO for Larry Glasscock. Colby had been seen as a top contender for the job Braly ended up getting. Glasscock sought Thursday to reassure listeners on the call, without apparent effect.
"As you know," Glasscock said in opening the call, "we have always been transparent."
It's clear in any case that Colby's departure comes as a shock. Earlier this year, the board made him vice chairman -- prompting him to tell the
Indianapolis Star
, "I am not a title person." Just two weeks later, Colby was honored once again as the best CFO in health care by
Institutional Investor
magazine.
"The fact that Dave has now received this honor three years in a row," Glasscock said in a press release March 20, "speaks for itself."
At WellPoint, it seems, lots of things have to speak for themselves.
Dumb-o-Meter score: 82. "Let me just say that obviously Dave Colby will make the decisions that he thinks are appropriate for Dave Colby," Glasscock said on the call.
5. Bristol Creamed
Bristol-Myers Squibb
(BMY) - Get Report
is done living a lie.
The New York-based drugmaker
pleaded guilty this week to felony charges of lying to the federal government and taking steps to conceal its false statements.
Bristol will pay a $1 million fine to settle the Justice Department case, which stems from the company's
handling of a generic challenge to its bestselling Plavix bloodthinner.
Bristol pushed under former CEO Peter Dolan to prevent Canada's Apotex from selling a generic version of Plavix. But not only did those efforts fail to prevent Apotex from putting the drug on the market last fall. They also ran afoul of a consent decree Bristol had entered into with the Federal Trade Commission.
Dolan was fired in September after the bungling came to light last summer. It was only earlier this year that Bristol learned it would
avoid criminal charges under a deferred-prosecution agreement with the U.S. attorney's office for New Jersey. As Arthur Andersen alums can vouch, an indictment doesn't do much for a company's future.
The Plavix episode certainly has changed the company's stance.
"Full compliance with all of the laws and regulations governing our company remains the highest priority for our leadership team, and for me personally," CEO James M. Cornelius said May 10, when Bristol reached a preliminary agreement to settle the investigation. "As we move forward with our plans to grow our business and build shareholder value, compliance is an essential pillar that will support all of our goals."
Such as staying in business.
Dumb-o-Meter score: 72. Apparently lying doesn't fit in with Bristol's mission, which is "to extend and enhance human life."
In our
award-winning effort to enrich the reader experience, the Five Dumbest Things Lab now scores each item using our proprietary Dumb-o-Meter. This cutting-edge technology employs a finely calibrated, 100-point scale measuring sheer Dumbness, as calculated via a closely guarded secret formula.
Got your own idea for the dumbest thing of the week?
Want to get your Five Dumbest in the mail? It's easy. Just become a TSC member -- it's free -- and you'll receive the Five Dumbest in our Before the Bell email newsletter every Friday. The rest of the week, before each trading day, Before the Bell gives you a comprehensive look at the stocks expected to move the market, plus access to a sampling of our premium content from RealMoney. Click here to sign up for Before the Bell!