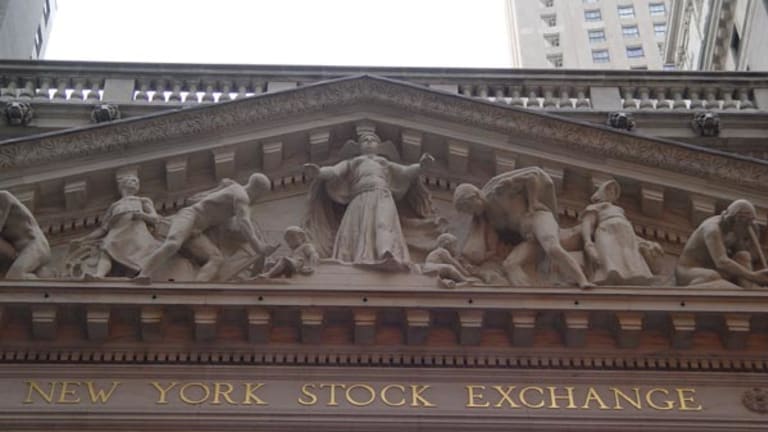 The Five Dumbest Things on Wall Street This Week
Alcoa anxiety; JetBlue jetsam; Nymex nightcap; Toll call; Heelys hit.
1. Aluminum Lightweights
A big shareholder is out to foil
Alcoa's
(AA)
grand plans.
The New York-based aluminum company stunned Wall Street Monday by unveiling a
$27 billion unsolicited bid for Canadian rival
Alcan
(AL)
. The move sent shares of both companies soaring, as investors bet
more buyout bids are on the way.
Alcoa sees an opportunity to create a global aluminum giant. Noting its "proven track record of successfully integrating companies," the company says it looks forward to "creating a 'best in class' management team drawing on the strengths of both companies." The sides talked for two years but couldn't agree to terms, Alcoa says.
"We have not decided on this course of action lightly," Alcoa CEO Alain Belda insists in a letter to Alcan chief Richard Evans. "Given our prior experience, I did not see an option other than to present this combination directly to your shareholders."
Conveniently, another option was quickly outlined by activist hedge fund Jana Partners. The big Alcoa shareholder
sent Belda a letter Tuesday excoriating his record and denouncing his plans. Jana said Alcoa should sell itself instead of pursuing what it called a "misguided" and "ill-advised" acquisition.
Jana says Alcoa shares have been flat for most of Belda's term as CEO. The fund says Belda's acquisition record amounts to a "painfully clear" failure, noting that Alcoa is now in the process of selling several businesses it acquired only recently.
But worst of all, the fund says, Alcoa management appears to be pursuing a costly expansion strategy without considering what investors really want.
"We find it appalling that, by your own admission on yesterday's call, the board did not even consider whether more value could be created for shareholders through a break-up of the company before deciding to pursue Alcan," Jana writes.
Sounds like Alcoa has a tin ear.
Dumb-o-Meter score: 93. Jana speculates that Alcoa shares soared this week on hopes of a breakup, "not as the result of any confidence in management's skill as acquirers."
2. Survival of the CEO Fittest
JetBlue
(JBLU)
has a new pilot.
Longtime CEO David Neeleman
stepped down Thursday in favor of President Dave Barger. JetBlue said Neeleman, who helped found the airline back in 1998 and was in charge when it started flying in 2000, will become nonexecutive chairman.
"I will focus on developing JetBlue's long-term vision and strategy," Neeleman said, "and how we can continue to be a preferred product in a commodity business."
The shift comes after JetBlue's once-lofty reputation for customer service has hit some turbulence. A Valentine's Day storm forced the carrier to cancel 1,200 flights, stranding thousands of passengers. The cancellations ended up costing JetBlue some $41 million.
Neeleman spent weeks apologizing to frustrated fliers and promising JetBlue had learned its lesson. But a March storm brought another wave of cancellations, along with malfunctions in JetBlue's traveler information systems.
The company's failures caught Wall Street's attention. After hitting $17 early this year, shares have traded lately between $10 and $11. They rose 5% Thursday on news of the CEO change.
"David's talents are entrepreneurial," a spokesman told
TheStreet.com's
Ted Reed. "As a company grows from start-up to major player, the skills needed for senior leadership roles evolve."
In this case, the evolution has been painfully slow.
Dumb-o-Meter score: 90. "Public company benchmarking is customary to split the CEO and chairman positions due to the specific areas of responsibility those positions hold," the spokesman adds.
3. Options Opt-Out
It looks like
Optionable
(OPBL)
is running out of options.
The Valhalla, N.Y., electronic options broker saw its shares lose 80% of their value this week after a pair of big setbacks. First, big customer
BMO
(BMO)
suspended its business in the wake of a big gas trade gone bad. Then big partner
New York Mercantile Exchange
(NMX)
turned on Optionable and became a competitor.
Just a month after taking a 19% stake in Optionable, Nymex set plans Wednesday to compete with Optionable. Nymex said it will offer options trading for crude oil, natural gas, gold and silver on the CME Globex electronic trading platform starting next month.
"We believe that some of the contracts trading on the CME Globex platform may compete with contracts trading on the company's Opex platform," Optionable said in a filing with the
Securities and Exchange Commission
. "The company is unable to quantify the impact of this potential competition on its business."
Investors had less trouble quantifying the impact. Shares sank 58% Thursday in heavy trading.
The plunge came just a day after BMO's announcement that it was suspending its dealings with Optionable. BMO -- which is short for Bank of Montreal and, naturally, based in Toronto -- accounted for 30% of Optionable's first-quarter trading revenue, making its loss a
significant blow to the broker.
Still, BMO's pullback was
hardly a surprise. BMO said last week that its commodities trading operation took a hit of about $315 million to $404 million on wrong-way bets on natural gas options.
"We are never pleased when losses dominate for one of our clients," Optionable Chairman Albert Helmig said Wednesday in a press statement, "but we do not design or help to design their strategies, nor are we financial advisers."
That's a relief, anyway.
Dumb-o-Meter score: 88. Whoever did design BMO's natural gas strategy probably isn't all that pleased either.
4. Chain Smoking
Toll Brothers
(TOL)
can't shake the housing hangover.
The Horsham, Pa., luxury homebuilder
warned Wednesday that full-year earnings won't match guidance issued three months ago. Though the company expects to post a second-quarter profit, revenue dropped 17% from a year ago as orders fell 24%.
Toll and its rivals rode the U.S. housing boom to record results and huge stock gains earlier this decade. After trading around a split-adjusted $10 a share in the early months of 2003, Toll shares rocketed above $55 in mid-2005 as strong demand for houses pushed prices, and earnings, through the roof.
Toll itself recognized the unusual dynamics back in January 2006, when CEO Bob Toll said the previous year's demand had been "propelled to unsustainable levels by speculative buying." He cautioned then that "we are now on the other side of that slope."
A look at Toll's stock, down more than 30% since then, suggests we're still on the other side of the slope. The speculative wave left many homes unaffordable.
But Toll doesn't like that explanation. It prefers blaming "buyer confidence," which seems to have ebbed along with house prices. This week, Toll also found a new excuse in a most unusual place for a builder whose average sale price last year was $692,000.
In a novel twist, Toll blamed the collapse of the market on loans to poor homebuyers.
"The impact of stricter lending standards arising from problems in the subprime market is negatively affecting affordability at lower price points," Toll said Wednesday. "This, in turn, can impact the entire 'housing food chain.'"
So that's why Toll looks like toast.
Dumb-o-Meter score: 85. The company claims the subprime stallout keeps would-be customers from selling their own houses.
5. Brought to Heel
The wheels are coming off at
Heelys
(HLYS)
.
The Dallas-based maker of wheeled sneakers posted a
huge first quarter and guided in line with Wall Street estimates for the year. The company said revenue more than tripled from a year ago in the quarter ended March 31.
"We are very pleased with our recent financial performance," CEO Mike Staffaroni said in a press release Monday afternoon.
Investors were less than pleased with what happened next, though. First, Heelys said growth would slow in the middle of this year, due in part to the timing of back-to-school orders. Then the company announced a secondary offering that will allow insiders to cash out to the tune of $250 million.
Heelys won't get any proceeds from the 8 million-share offering, but CEO Staffaroni stands to take in $2.8 million and founder Roger Adams a cool $54.5 million. The company's biggest shareholder, Capital Southwest, will be the biggest winner, with $156 million in estimated proceeds.
"Looking ahead," Staffaroni said, "we are confident that the growing popularity of our brand and products combined with our portfolio of patents affords our company clear opportunities for the future."
Insider selling is always a clear sign of confidence.
Dumb-o-Meter score: 80. Staffaroni isn't believed to be related to Rice-a-Roni.
In our
award-winning effort to enrich the reader experience, the Five Dumbest Things Lab now scores each item using our proprietary Dumb-o-Meter. This cutting-edge technology employs a finely calibrated, 100-point scale measuring sheer Dumbness, as calculated via a closely guarded secret formula.
Got your own idea for the dumbest thing of the week?
Want to get your Five Dumbest in the mail? It's easy. Just become a TSC member -- it's free -- and you'll receive the Five Dumbest in our Before the Bell email newsletter every Friday. The rest of the week, before each trading day, Before the Bell gives you a comprehensive look at the stocks expected to move the market, plus access to a sampling of our premium content from RealMoney. Click here to sign up for Before the Bell!