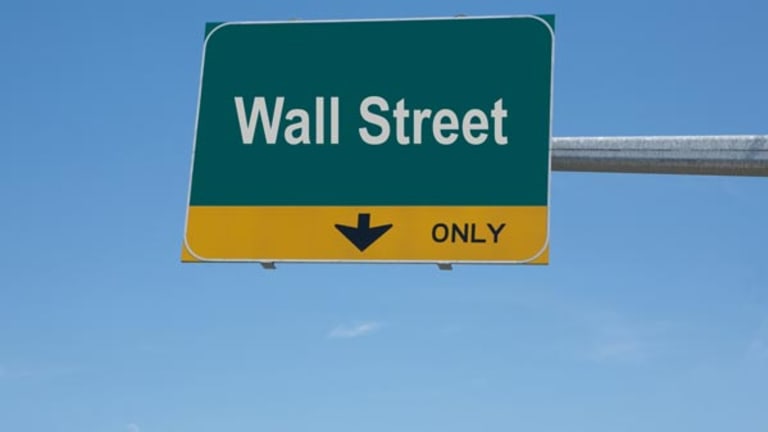 The Five Dumbest Things on Wall Street This Week
Murdoch mystery; BP blessing; Motorola mugging; Sprint slowdown; Circuit breaker.
1. No-Action Heroes
The
Dow Jones
( DJ) surprise party may be headed for an anticlimactic ending.
The New York-based publisher of
The Wall Street Journal
fielded an unsolicited $60-a-share buyout offer from Rupert Murdoch's
News Corp.
(NWS)
. Murdoch has long coveted the nation's No. 2 newspaper by circulation, and on Tuesday, News Corp. described the $5 billion bid as "friendly."
The approach certainly stirred an amicable reaction on Wall Street. Fed by the deal's 66% premium to recent trading prices, Dow Jones shares rocketed into the high $50s -- their highest level in five years.
But the magnanimous feelings clearly weren't shared everywhere. Bancroft family members, who control just over half Dow Jones' Class B voting stock, made their opposition clear just hours after the bid came to light. It seems some people fear that Murdoch would reduce the widely admired
Journal
to an outspokenly conservative, sensationalist rag.
Murdoch's letter last month to the Bancrofts reportedly lays claim to "a history of long stewardship of great newspapers," but no matter. Dow Jones has its own stewardship to consider.
While rivals including closely held Bloomberg have ridden the growth of the financial information business to huge gains, Dow Jones remains very much the same company it was a decade ago. Earnings and revenue for the first quarter were actually below 1997 levels, as ad revenue dropped 2% from a year ago.
News reports suggest that some younger family members and outside directors are willing to talk with Murdoch. But Wednesday evening's Dow Jones board statement notes the
family opposition to the proposal before concluding, "the Dow Jones Board of Directors has determined to take no action."
No surprise there.
Dumb-o-Meter score: 95. "I think the lesson here is don't invest in companies with dual-class stock," corporate governance expert Charles Elson tells
Dow Jones Business News.
2. BP's Honor Code
BP
(BP)
got some more bad press this week.
The oil giant's longtime CEO, John Browne,
quit Tuesday over a newspaper story about his ex-boyfriend. A U.K. court cleared London's
Daily Mail
to publish claims that Browne misused company resources to support onetime partner Jeff Chevalier.
Browne, who had been pursuing an injunction against the story since January, rejects the allegations. But the exec -- a longtime BP veteran who had already
planned to retire this summer -- said he'd leave now to avoid becoming a distraction to BP.
"In my 41 years with BP I have kept my private life separate from my business life," Browne said in a press release announcing his resignation. "It is a matter of deep disappointment that a newspaper group has now decided that allegations about my personal life should be made public."
Disappointment wasn't apparent on Wall Street, where the hope is that new chief Tony Hayward will revive the struggling company. Questions about Browne's leadership had been building ever since a March 2005 explosion at a BP plant in Texas City, Texas, killed 15 workers and injured 150. A subsequent probe identified
poor safety practices at U.S. plants. BP has been beset by pipeline breakdowns and is fighting charges that it manipulated propane prices.
Browne remains adamant that he didn't misuse company resources. He says the
Daily Mail
account is "full of misleading and erroneous claims."
Browne knows all about those. In his resignation note, he admits that he lied to British courts about how he met Chevalier. He testified in January that the two met while Browne was jogging in a London park. But
The Wall Street Journal
reports that Browne actually found Chevalier through an escort service Web site called suitedandbooted.com.
"For a chief executive who has made such an enormous contribution to this great company," Chairman Peter Sutherland said, "it is a tragedy that he should be compelled by his sense of honor to resign in these painful circumstances."
The real tragedy is that Browne didn't find his sense of honor earlier.
Dumb-o-Meter score: 91. "My initial witness statements ... contained an untruthful account about how I first met Jeff," Browne said Tuesday. "This account, prompted by my embarrassment and shock at the revelations, is a matter of deep regret."
3. Razr Burns
For all
Motorola's
( MOT) problems, it can sling mud with the best of them.
The Schaumburg, Ill., wireless company has lost 14% of its market value this year as its once-robust handset business has tanked. Motorola dominated the cell-phone market for two solid years, but when its Razr phone
lost its fashion edge, Motorola had nothing to replace it.
That void has left quite a hole in the company's earnings. Motorola
slashed guidance in January and
again in March before reporting a
weak quarter in April. CEO Ed Zander has responded with job cuts and management shuffling. He has called the implosion of the handset business "unacceptable."
Yet what really gets Zander worked up is the prospect of activist investor Carl Icahn joining the board. Icahn said in January that he was accumulating a stake in Motorola and seeking a seat on the board. This week, Icahn gave shareholders a choice: They can elect him at the annual shareholder meeting planned for Monday -- or they can stick with a board he has derided as "passive and reactive," among other things.
"If results continue to be 'unacceptable,' as Ed has already admitted they are," Icahn told
TheStreet.com's
Mark DeCambre in an
interview Wednesday, "I will try and rally the board to find another CEO."
Motorola was anything but passive in its
response. The company fired out three strident press releases in as many days, painting Icahn -- who owns 2.9% of the stock -- as ill-suited for the mighty Motorola board.
Zander and lead director Samuel Scott claim Icahn "is unfamiliar with Motorola, our industry, technologies, customers and markets." They contend Icahn "offers no plan to deliver value to all Motorola stockholders" and charge that he "views directorship as a mere adjunct to his investing activity," if you can imagine.
The company even threatens that adding Icahn to its board would lower Motorola's crucial "corporate governance quotient Index Score." Motorola seems oblivious to investors' interest in a more meaningful number: the stock price.
"Ask yourself," Motorola implores, "if Carl Icahn wants to serve on your board, shouldn't he understand the company and its needs?"
First off, Motorola needs to get a grip on reality.
Dumb-o-Meter score: 88. "Carl Icahn's success as an investor does not, in and of itself, qualify him to serve on your board," Motorola says, adding that "investor experience does not ensure director effectiveness."
4. Sprint to Zero
It's striking what passes for progress lately at
Sprint
(S)
.
The Reston, Va., telco posted another
lousy quarter Wednesday. Sprint lost subscribers for the second straight quarter in the lucrative postpaid wireless category, even as the industry continues to expand at a hectic clip. The company said average revenue per user fell and handset subsidies rose.
Yet CEO Gary Forsee, still running the company in spite of its countless recent stumbles, remains unbearably upbeat.
"We have indicated that it would take time to improve our operating results and I want to report that we began to see improvement in several key areas," he said on Wednesday's conference call, according to the
seekingalpha.com transcript. "We provided solid cash flows, although profitability was modestly behind our own schedule."
Indeed, profitability was behind schedule to the point of nonexistence. Sprint lost $211 million in the latest quarter, reversing a year-ago profit of $419 million. But by now, eyebrow-raising setbacks are second nature at Sprint.
Going above and beyond its long string of quarterly earnings shortfalls, Sprint stunned Wall Street last quarter by getting
shut out of a huge government information technology contract. The feds gave the nod to all of Sprint's rivals --
Qwest
undefined
,
AT&T
(T)
and
Verizon
(VZ)
-- while leaving Sprint out of the 10-year, $20 billion project.
But Forsee, for one, isn't losing any sleep over the setback.
"During the quarter, the award of the networks universal contract received significant headlines," he told analysts. But Forsee contends that Sprint's business under a similar existing deal amounts to less than 5% of wireline revenue, "and the profitability is immaterial to this segment."
Sprint's profitability is just immaterial, period.
Dumb-o-Meter score: 85. Forsee's foresight continues to be foggy.
5. Short Circuit
Circuit City
(CC)
is getting a lousy reception lately.
Shares in the Richmond, Va., electronics retailer
dropped 6% this week after the company predicted a fiscal first-quarter loss. Circuit City said April brought "substantially below-plan sales, primarily related to the large flat panel and projection television categories."
The shortfall continues a sinking trend at Circuit City, which has been losing ground to rival
Best Buy
(BBY)
. Circuit City had warned last month of sliding flat-panel TV prices, and CEO Philip J. Schoonover stresses that the company is trying to change its ways.
"As previously discussed," he said in a Monday afternoon press release, "we are moving with increased urgency to accelerate our transformation initiatives."
Those efforts call for the company to fire 3,400 of its better-paid salespeople and replace them with cheaper ones. The move will cut costs, but observers wondered how getting rid of experienced staff would help Circuit City "rebuild and improve its level of execution," as Schoonover promised.
So far, Circuit City's execution level still looks pathetic. But maybe that's not surprising, given the company's penchant for doublespeak. Take Circuit City's explanation of the sales-force cutbacks.
"Unfortunately," the company said March 28, "a number of associates are directly impacted by the actions."
With any luck Schoonover will be similarly impacted soon enough.
Dumb-o-Meter score: 80. All that urgency has to pay off.
In our
award-winning effort to enrich the reader experience, the Five Dumbest Things Lab now scores each item using our proprietary Dumb-o-Meter. This cutting-edge technology employs a finely calibrated, 100-point scale measuring sheer Dumbness, as calculated via a closely guarded secret formula.
Got your own idea for the dumbest thing of the week?
Want to get your Five Dumbest in the mail? It's easy. Just become a TSC member -- it's free -- and you'll receive the Five Dumbest in our Before the Bell email newsletter every Friday. The rest of the week, before each trading day, Before the Bell gives you a comprehensive look at the stocks expected to move the market, plus access to a sampling of our premium content from RealMoney. Click here to sign up for Before the Bell!