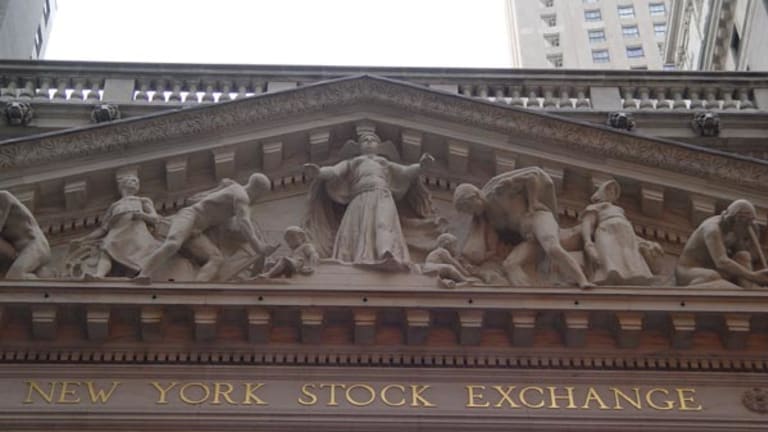 The Five Dumbest Things on Wall Street This Week
Vonage vanquished; Dow disrespect; Citi limits; Sallie dismay; AMMD red light.
1. Venting on Vonage
Vonage
(VG)
made a long overdue call.
The Holmdel, N.J., Internet phone company
bid adieu to CEO Mike Snyder. Vonage said Chairman Jeffrey Citron will try to lead the money-losing company past this spring's
crushing legal setbacks.
Citron started by slashing jobs and ad-spending. Shares jumped 10% Thursday, posting their first sizable gain in recent memory.
"Mike has made valuable contributions to the growth of our business," Citron said, "and we will miss him."
What Vonage watchers may not miss is Snyder's penchant for
bluster. A federal jury ruled last month that Vonage had infringed three
Verizon
(VZ)
voice-over-Internet protocol patents. A subsequent ruling could end up barring Vonage from signing up new customers.
Not that you'd have known that to listen to Snyder. Under his leadership, Vonage claimed to be "delighted" at the Verizon jury verdict and blamed its swooning share price -- Vonage dropped 83% over Snyder's tenure -- on Wall Street dullards.
"For the market to react the way it did to the recent rulings," Snyder said March 26, "shows an unfortunate lack of understanding of the judicial/appellate system, a lack of appreciation of Vonage's resourcefulness, or, perhaps, both."
Replacing Snyder is Citron, whose understanding of the judicial/appellate system is unmatched. Citron agreed in 2003 to pay $22.5 million to settle charges that he illegally manipulated
Nasdaq's
small-order trading system while at daytrading firm Datek. Of course, Citron insists he has done nothing wrong.
Just as Snyder clearly has done nothing right.
Dumb-o-Meter score: 91. "Anyone who's counting Vonage out is making a huge mistake," Snyder said in response to one recent legal bruising.
To watch Colin Barr's video take of this column, click here
.
2. Dow Disrespect
Something smells funny at
Dow Chemical
(DOW)
.
The Midland, Mich., chemical giant
fired two top officials Thursday, suggesting they tried to sell the company without the board's authorization.
Dow said it terminated director Pedro Reinhard and executive vice president Romeo Kreinberg after discovering they "were involved in unauthorized discussions with third parties about the potential acquisition of the company."
Dow didn't identify the third parties. But the firings came just three days after Dow
denied a U.K. report that it was in leveraged-buyout discussions. Similar rumors have lifted Dow shares this spring.
Kreinberg denies wrongdoing and suggests there may be some
scapegoating going on. Reinhard wasn't available for comment. In any case, CEO Andrew Liveris stresses his goal is to "deliver value" to shareholders.
"I think I speak for all employees when I say we are greatly saddened by the disrespect shown by our former colleagues," Liveris said Thursday. "But we will move on to shape our future with an even greater resolve to execute our strategy."
Part of that strategy rests on a revised management structure unveiled last month. The newly formed Executive Leadership Committee includes Liveris, finance chief Geoffery Merszei -- and Kreinberg.
"As we look towards our future," Liveris said March 13, "it is essential that we define a leadership organization and leadership teams that will swiftly take us to the next phase of our evolution."
Seems like one team may have gotten there a little too swiftly.
Dumb-o-Meter score: 90. The new teams "will be the catalyst for tremendous change as we drive forward with the next phase of our strategic agenda," Liveris said last month.
3. Citi Limits
The pain is spreading at
Citi
(C)
.
The New York-based financial services titan, under pressure on Wall Street for its tepid performance, unveiled a long-awaited
restructuring plan. Citi said Wednesday it will cut 17,000 jobs and move 9,500 more positions to "lower-cost locations."
The move, which aims to save the company more than $4 billion annually by 2009, caps off a review by operating chief Robert Druskin. He was hired in December by embattled CEO Chuck Prince and charged with tightening Citi's belt.
"We did not simply give the entire organization an arbitrary number to cut," said Druskin. "Instead, we looked objectively at each of our businesses and functions based on the opportunities we saw, benchmarking them against their peers."
Benchmarking is certainly huge, though all the buzzwords in the world won't
boost revenue growth. Some critics hold out little hope on that front till Prince steps down.
Naysayers hold that Prince was hired back in 2003 purely to placate then-New York Attorney General Eliot Spitzer, who was investigating Citi's business practices. Critics call Prince a figurehead and say what Citi really needs is a savvy wheeler-dealer.
Prince's comments this week won't do much to quiet the palace coup chatter.
"We wanted to change the way the company operated," Prince said on a conference call Wednesday. "We wanted to eliminate organizational clutter."
For this Prince, that's a crowning achievement.
Dumb-o-Meter score: 88. Of course, Citi isn't just firing people and moving jobs overseas. In the best tradition of corporate grandiosity, it is adopting a plan to "create a more streamlined organization, reduce expense growth, and drive future expansion."
4. Sallie Dismay
A little legal wrangle can't spoil
Sallie Mae's
(SLM)
day.
The Reston, Va., student lender
reached a settlement Wednesday with New York Attorney General Andrew Cuomo. Sallie agreed to pay $2 million into a financial-aid education fund and to change some of its business practices. The moves allow Sallie to clear its name in a probe of apparent conflicts of interest in college lending.
As part of the settlement, Sallie agreed to adopt New York state's Student Loan Code of Conduct. Cuomo says the lender "agreed to discontinue call centers or other staffing for college financial aid offices, discontinue paying financial aid officers for appearing on advisory boards, and discontinue paying for any trips or travel for any financial aid officer. "
The inquiry has shaken up the student lending business. Citi's Student Loan unit agreed last week to a settlement on terms similar to Sallie's, and
CIT's
(CIT)
Student Loan Xpress suspended three top execs Monday after the attorney general said he was investigating possible kickbacks there.
"This is like peeling an onion," Cuomo said,
The Associated Press
reported. "It seems to be getting worse the more we uncover."
Few tears have been shed by the big lending companies, though. Naturally, each has turned news of its involvement into a public relations event, an opportunity to remind observers that no wrongdoing has taken place.
But even in that shameless crowd, Sallie Mae manages to stand out.
"We are pleased that Attorney General Cuomo has recognized Sallie Mae's leadership in the student loan industry and our ethical market practices with students and schools," the company said Wednesday. "We are delighted to join the attorney general as part of our ongoing efforts to educate consumers on financing college."
What a coincidence that Sallie chose this very moment to join up with Cuomo.
Dumb-o-Meter score: 85. "No schools are being asked to return money as a result of their relationship with Sallie Mae," Sallie points out.
5. Supply Chain Reaction
American Medical
(AMMD)
got the red light this week.
Shares plunged 14% Wednesday after the Minneapolis-based maker of the GreenLight urology laser
slashed earnings guidance. American Medical, which specializes in "pelvic health" problems such as incontinence, said internal forecasting and vendor-quality issues kept it from building all the devices customers wanted to buy.
"The performance of our supply chain in the first quarter was disappointing," CEO Martin Emerson said, "as it masked strong market demand across the majority of our products."
There's no masking the fact that the supply chain has been a source of tension for some time at American Medical. The company has tried to wow Wall Street by increasing cash flow, in part by boosting so-called inventory turns, or the number of times in a year the warehouse gets emptied out.
But American Medical had also noted on recent conference calls that GreenLight production was being pressured by supply problems.
"Right now," operating chief Ross Longhini said Oct. 30, "it's looking like there could be a little bit of a race between demand and supply over the next four or five months."
Demand having won that race, Emerson was reduced Tuesday to explaining what went wrong.
"In our drive to increase inventory turns over the past three years," he said, "we have worked towards reducing safety stock levels."
It seems safe to say that didn't work out too well.
Dumb-o-Meter score: 80. Safety first, guys.
In our
award-winning effort to enrich the reader experience, the Five Dumbest Things Lab now scores each item using our proprietary Dumb-o-Meter. This cutting-edge technology employs a finely calibrated, 100-point scale measuring sheer Dumbness, as calculated via a closely guarded secret formula.
Got your own idea for the dumbest thing of the week?
Want to get your Five Dumbest in the mail? It's easy. Just become a TSC member -- it's free -- and you'll receive the Five Dumbest in our Before the Bell email newsletter every Friday. The rest of the week, before each trading day, Before the Bell gives you a comprehensive look at the stocks expected to move the market, plus access to a sampling of our premium content from RealMoney. Click here to sign up for Before the Bell!