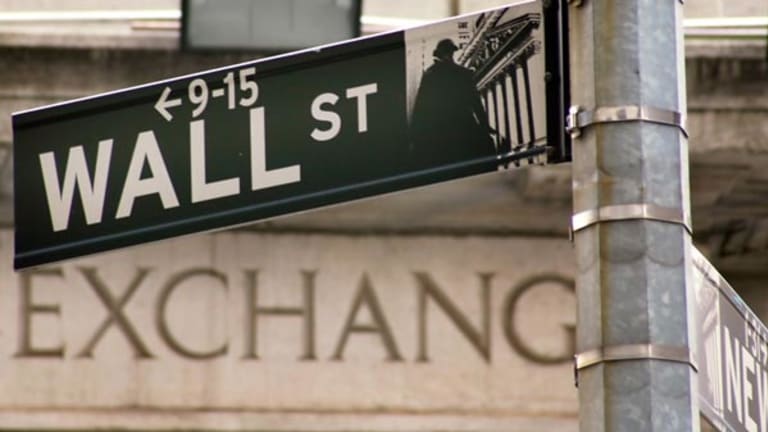 The Five Dumbest Things on Wall Street This Week
New Century chastened; Sirius paper cut; Jackson Hewitt's haircut; Fremont flummoxed; Nokia nonsense.
1. House of Cards
New Century
(NEWC)
has found a new home in bankruptcy court.
The Irvine, Calif., mortgage lender
filed Monday for Chapter 11 protection from its creditors. New Century sold its loan-servicing platform, sacked half its staff and said it will sell remaining assets.
The end came quickly. After years of billing itself as "a new shade of blue chip," New Century admitted in February that so-called subprime loans -- those made to homebuyers with weak credit histories -- were going sour at an alarming rate.
New Century said the resulting losses would put it in default of its agreements with lenders. They cut New Century off, prompting a
New York Stock Exchange
delisting. New Century shares, relegated to the pink sheets, are off 97% this year.
"Although this is a difficult day for our associates," CEO Brad Morrice said Monday of his plan to slash 3,200 jobs, "they can be proud of what they have accomplished over the years."
Morrice has accomplished much as well. As
TheStreet.com's
Brett Arends
reports, Morrice and other top execs managed to dump $103 million worth of stock at around $42 a share over four years. Just before New Century owned up to its problems in February, Morrice made $300,000 by selling shares at around $30 -- far above the recent pink sheets quote of $1 a share.
Since Morrice's last cashout, at least eight states have sued New Century over alleged lending irregularities. Federal prosecutors are investigating the company's accounting and the trading in its securities.
Save your sympathy for the laid-off worker and the homeowner facing foreclosure, though. Just consider how Morrice feels.
"This was a very hard step for me personally," he said Monday, "and clearly not the outcome I would have preferred."
He would have preferred to keep on selling his stock.
Dumb-o-Meter score: 91. Morrice still owned 1.4 million shares as of Feb. 7, according to Yahoo! Finance.
To watch Colin Barr's video take of this column, click here
.
2. Carmel Coloring
The
Sirius
(SIRI)
-
XM
( XMSR) deal is making radio waves again.
This week, a California telecom consultant grabbed headlines by calling on the government to block the satellite radio titans' merger plan. The Carmel Group says the $4.7 billion deal would hurt users by cutting service and boosting fees.
"True supporters of this merger appear to be few in number," Carmel contends in what the
New York Post
dubs "an 11-page independent white paper." Carmel adds that "suggested or actual support comes from but a scattering of Wall Street bankers and related analysts."
True opponents of the merger include the National Association of Broadcasters, the free radio trade group that sponsored Carmel's paper. A disclaimer on the report says the NAB chose Carmel because of "our company's long history of providing analysis related to telecommunications issues on a global scale."
Carmel certainly has a history of opposing this merger. Back in February, when XM and Sirius announced their plans, Carmel Group chief Jimmy Schaeffler was quick to blast the companies in the pages of
USA Today
.
"XM and Sirius have no one to blame but themselves for their alleged financial worries," he wrote, echoing the
official NAB position. "Now they seek a government bailout for their shockingly bad business decisions."
Equally shocking is an apparent about-face in Monday's Carmel report. Just over a month after the bailout pronouncement, Carmel now insists that XM and Sirius boast "solid financials" and enjoy "success ... founded in the very competitive market space they now bemoan."
Believe it or not, Carmel also accuses XM and Sirius of pursuing "their own selfish motives."
Seems like there's a lot of that going around lately.
Dumb-o-Meter score: 90. XM and Sirius call the study "biased" and say the NAB's view is "no surprise."
3. Taxing Times
Jackson Hewitt
( JTX) got an unexpected haircut this week.
Shares in the Parsippany, N.J., tax-return preparer plunged 18% Tuesday after the Justice Department
filed civil suits against a Jackson Hewitt franchisee. The government claims that fraudulent tax returns were prepared at 125 Jackson Hewitt stores in the Chicago, Atlanta, Detroit and Raleigh-Durham, N.C., areas.
The government alleges that the owner of the stores defrauded the U.S. Treasury of $70 million by creating a business environment "in which fraudulent tax return preparation is encouraged and flourishes."
The feds cite the case of a customer whose return claimed a fuel tax credit. Paperwork prepared by the Jackson Hewitt franchisee indicates that the customer, a barber, was entitled to a credit for 25,000 gallons of gasoline.
"The complaint alleges the customer would have had to drive 1,370 miles each day, seven days a week, to consume that much fuel in one year," the government says. Justice concludes that driving that much would risk "leaving little if any time to cut hair."
Jackson Hewitt stresses that it isn't implicated in the case, which involves just a fraction of its 6,500 stores. It says it won't be hurt financially.
Still, the close shave comes as the company snips away at industry leader
H&R Block
(HRB)
, which has been struggling with accounting problems and trying to sell its subprime lending unit. As the April 17 tax deadline approaches, both companies are full of helpful tips.
"Not taking full advantage of the many deductions and credits available to most taxpayers will cause many to end up 'leaving money on the table,'" Jackson Hewitt says in a recent release. H&R Block offers up a recent survey showing that U.S. taxpayers "were creative in explaining why they hadn't filed early."
Sounds like that's not the only way they've been creative.
Dumb-o-Meter score: 85. For whatever reason, H&R Block adds that it recently "chose to replace the chocolate bars usually offered to customers with individual branded tissue packs." Boo-hoo.
4. Audit Trail of Tears
Fremont General
( FMT) is starting to look downright disagreeable.
The Santa Monica, Calif., mortgage company surprised investors Monday with the news that
its auditor quit after eight months on the job. Fremont said in a
Securities and Exchange Commission
filing that it repeatedly asked Grant Thornton to complete its 2006 audit but was rebuffed.
A clean audit would be particularly useful right now for Fremont. Just last month, the company consented to a
cease-and-desist order with the Federal Deposit Insurance Corporation. The FDIC said Fremont "engaged in unsafe or unsound banking practices" and "committed violations of law and/or regulations." The agency forced Fremont out of the business of lending to homebuyers with poor credit records.
Already sporting this subprime shiner, Fremont was quick to claim the high ground Monday afternoon in its dealings with Grant Thornton.
"At no time," Fremont claims in a press release, "did the company ... fail to provide to Grant Thornton any requested information on a timely basis."
Alas, that's not how Grant Thornton sees it. The auditor said in its own SEC filing Monday that "during the course of the audit there were instances where the company did not provide certain requested information to Grant Thornton on dates previously agreed upon with management."
Grant Thornton also took issue with Fremont's characterization of the auditor's decision to expand its audit. Where Fremont's press release casts the move "in light of the company's current operating environment and the industry in which it operates," Grant Thornton adds that "there were other significant events that have occurred at the company that were a factor in our determination to expand the scope of our audit."
Grant Thornton doesn't spell out those events, though a clue may lie in Fremont's highly qualified claim that there "has not been any disagreement" between auditor and client. Fremont goes on to explain there wasn't any dispute that "would have caused Grant Thornton to make reference to the subject matter of the disagreement in connection with its audit report."
That's easy for Fremont to say, now that there won't be any audit report.
Dumb-o-Meter score: 80. Fremont's lifting the art of double-speak to new heights.
5. Networking Opportunity
A
Nokia
(NOK)
spinoff already is showing a knack for heavy spin.
Helsinki-based Nokia said Monday that its telecom-equipment joint venture with
Siemens
(SI)
started operating this week. Execs at the new company, Nokia Siemens Networks, are revved up and ready to go.
"Already starting as one of the leaders of the industry, we have a clear objective: To become No. 1," said Nokia Siemens chief Simon Beresford-Wylie. "We also want to be known for operating with the highest standards of ethics and integrity."
That's a worthy goal, given the corruption scandal engulfing German half-owner Siemens. A member of Siemens' executive committee was arrested last week in an embezzlement probe. A big German labor union sued Siemens Monday, claiming the company made payoffs aimed at bringing the union down.
Nokia Siemens pledges it won't be distracted by problems in Munich. Monday's press release promises that the company "starts with strong momentum," though it's not absolutely clear whether Nokia Siemens is moving forward or sliding back.
"Over the last couple of months, there has been a narrowing of visibility and indications of a slowdown in spending in some regions," Nokia Siemens said Monday. After earlier predicting "slight market growth" for 2007, the company is now calling for "very slight market growth" instead.
Nokia Siemens figures the growth will show up sooner or later, though. After all, its stated objective is to help customers "meet the challenges of connecting the 5 billion people that the company believes will be 'always on' by 2015."
At Nokia Siemens, something is always a little off.
Dumb-o-Meter score: 75. The company reiterates its plans to fire as many as 9,000 workers as it tries to slash costs.
In our
award-winning effort to enrich the reader experience, the Five Dumbest Things Lab now scores each item using our proprietary Dumb-o-Meter. This cutting-edge technology employs a finely calibrated, 100-point scale measuring sheer Dumbness, as calculated via a closely guarded secret formula.
Got your own idea for the dumbest thing of the week?
Want to get your Five Dumbest in the mail? It's easy. Just become a TSC member -- it's free -- and you'll receive the Five Dumbest in our Before the Bell email newsletter every Friday. The rest of the week, before each trading day, Before the Bell gives you a comprehensive look at the stocks expected to move the market, plus access to a sampling of our premium content from RealMoney. Click here to sign up for Before the Bell!