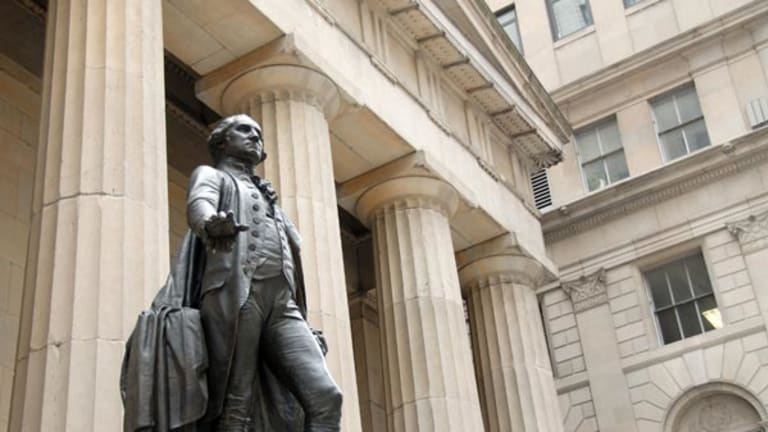 The Five Dumbest Things on Wall Street This Week
Sirius questions; Rhapsody in JetBlue; K-Swiss miss; falling NovaStar; Ford's labor of love.
1. Sirius Questions
XM
(XMSR)
and
Sirius
(SIRI)
went on the offensive this week.
The cash-burning satellite radio broadcasters
set plans Monday for a long-awaited merger. Shares
soared Tuesday as investors applauded the $4.57 billion deal in spite of looming regulatory questions.
"Together, our best-in-class management team and programming content will create unprecedented choice for consumers," said Sirius chief Mel Karmazin, who will head up the combined company. He envisions the all-stock merger "creating long-term value for shareholders of both companies."
That would be a nice change. XM and Sirius each saw their shares plunge a staggering 47% last year after they whiffed on subscriber-acquisition promises. Sirius took a particular thrashing after a late-year warning that left Karmazin red-faced.
"People started using the words slowing down," he said in December at a Credit Suisse media event, "and that is in my opinion the furthest thing from the truth."
The truth is that XM and Sirius have been running out of options. The companies have yet to report their full 2006 results, but combined losses could easily exceed $1.5 billion. User gains are no longer accelerating, as consumers flock to rival technologies like the iPod.
Even the merger is no sure thing. Federal Communications Commission rules prohibit XM and Sirius from sharing their broadcast licenses. Sirius has long boasted of its power to raise subscriber fees, but FCC Chairman Kevin Martin said Monday that the companies "would need to demonstrate that consumers would clearly be better off with both more choice and affordable prices."
Framing the issue more aggressively is the National Association of Broadcasters -- the industry group that opposed indecency legislation after Janet Jackson's wardrobe malfunction at the Super Bowl halftime show in 2004.
"Policymakers will have to weigh," the NAB said in a statement Monday, "whether an industry that makes Howard Stern its poster child should be rewarded with a monopoly platform for offensive programming."
You'd hate to see anyone get a monopoly on that.
Dumb-o-Meter score: 93. "I can assure you that both companies have done all their homework on this issue," Karmazin said of the regulatory question.
To watch Colin Barr's video take of this column, click here
.
2. Rhapsody in JetBlue
JetBlue
(JBLU)
just got its wings clipped.
Icy weather turned Valentine's Day into a
public relations disaster for the New York-based low-fare carrier. Passengers on nine JetBlue planes were stranded on runways for at least six hours. The airline ended up
canceling a thousand flights over six days, displacing thousands of travelers.
JetBlue apologized profusely. It pledged to make amends and sent out an email that began, "We are sorry and embarrassed. But most of all, we are deeply sorry."
The sorrow runs so deep that compensating inconvenienced fliers could set JetBlue back $30 million -- a
hefty chunk of change for an outfit whose earnings in the fourth quarter were just $17 million.
"This was a big wake-up call for JetBlue," CEO David Neeleman said Tuesday. "If there's a silver lining, it is the fact that our airline is going to be stronger and even better prepared to serve our customers."
Another silver lining is that a chastened JetBlue may finally tone down its hype. Service changes have been billed as adding to "the JetBlue Experience." Neeleman has said since the airline's launch seven years ago that it was "created to bring humanity back to air travel."
He should focus on bringing travel back to air travel.
Dumb-o-Meter score: 90. "Our goal," Neeleman said in December, "has always been to make the cabin as comfortable as your living room." And every bit as mobile.
3. K-Swiss Miss
K-Swiss
(KSWS)
can't seem to stop making unforced errors.
The Westlake Village, Calif., tennis-shoe manufacturer served up soft guidance Thursday. Shares fell 13% after K-Swiss said falling domestic sales and rising marketing spending will hit first-quarter and full-year results.
"Our initial forecast for 2007 reflects the significant level of investment we have committed to showcasing the K-Swiss brand," said CEO Steven Nichols. He said the turnaround plans include "a new retail strategy, and returning the brand to its former prominence domestically by relying on its tennis heritage."
The branding plan calls for two television spots, the first starting next month. K-Swiss says the ads "will demonstrate that with athleticism, grace, confidence and K-Swiss you can overcome all obstacles and reach your final goal."
And who will star in this tribute to tennis greatness? None other than Anna Kournikova -- the Russian glamour queen who failed to win a single singles title in almost a decade on tour.
"Having an individual of Anna's profile represent K-Swiss," the company said Thursday, "will serve as a huge asset for the brand."
Now that's a backhanded compliment.
Dumb-o-Meter score: 88. Back in 1995, Nichols told
Footwear News
, "We've built strong brand loyalty through a grassroots marketing program that focuses on junior players rather than celebrity athletes."
4. Falling NovaStar
The outlook is dimming at
NovaStar
(NFI)
.
This week the Kansas City, Mo., mortgage lender swung to a
fourth-quarter loss, citing rising defaults and late payments. For the full year, earnings reported under generally accepted accounting principles, or GAAP, plummeted 50%, as NovaStar's loan portfolio was hit by hefty writedowns.
That's not all. NovaStar expects to report "little, if any, taxable income" over the next five years -- a situation that has the company reconsidering its status as a tax-advantaged real estate investment trust, or REIT.
Shares lost more than a third of their value in furious trading Wednesday, putting them down 64% for the year. Yet CEO Scott Hartman seems certain there's been some kind of misunderstanding. So he issued another press release late Wednesday afternoon to clear things up.
"Some news stories mistakenly assert that NovaStar does not expect to report profits the next several years," Hartman said. He went on to spell out the difference between GAAP earnings, which show up in financial reports, and the taxable profits that REITs mostly pass along to shareholders as dividends.
"Our belief is that NovaStar generally will be profitable on a GAAP basis over the next several years, as it was in 2006," Hartman added. "Over time, GAAP tends to reflect the economics of our business."
Whatever Hartman might say, that's not a pretty picture.
Dumb-o-Meter score: 85. The subprime blowup continues to be taxing on shareholders.
5. Ford's Labor of Love
Ford
(F)
is getting admiring glances from the most unusual places.
The Dearborn, Mich., automaker has been struggling to shift gears ever since consumers abandoned the big sport-utility vehicles that were responsible for most of its profit.
In just the last year, Ford redoubled its cost-cutting efforts, reworked its management structure and revamped its product lineup. The company even mortgaged its factories to raise cash.
Despite all the action, progress has been halting. In January, Ford posted a 2006 loss of $12.7 billion and said 2007 would bring more pain. Earlier this month, Ford said sales for January dropped more than 19% from a year ago.
Yet all observers haven't been equally alarmed by Ford's labored breathing. This week the company got an approving nod from a neighbor who hasn't always been friendly -- Ron Gettelfinger, head of the United Auto Workers union.
Speaking on a Detroit radio show, Gettelfinger dismissed speculation about
DaimlerChrysler
(DCX)
trying to sell its Chrysler unit. He added that he has "absolutely no opinion" about a rumored
GM
(GM)
bid for Chrysler.
Gettelfinger was considerably less guarded in his assessment of Ford, though.
"They've made some hard decisions," he said told radio station WJR. "That company's in great shape."
All that time on the restructuring treadmill must be paying off.
Dumb-o-Meter score: 82. We can't wait till Ford starts hitting the weights.
In our
award-winning effort to enrich the reader experience, the Five Dumbest Things Lab now scores each item using our proprietary Dumb-o-Meter. This cutting-edge technology employs a finely calibrated, 100-point scale measuring sheer Dumbness, as calculated via a closely guarded secret formula.
Got your own idea for the dumbest thing of the week?
Want to get your Five Dumbest in the mail? It's easy. Just become a TSC member -- it's free -- and you'll receive the Five Dumbest in our Before the Bell email newsletter every Friday. The rest of the week, before each trading day, Before the Bell gives you a comprehensive look at the stocks expected to move the market, plus access to a sampling of our premium content from RealMoney. Click here to sign up for Before the Bell!