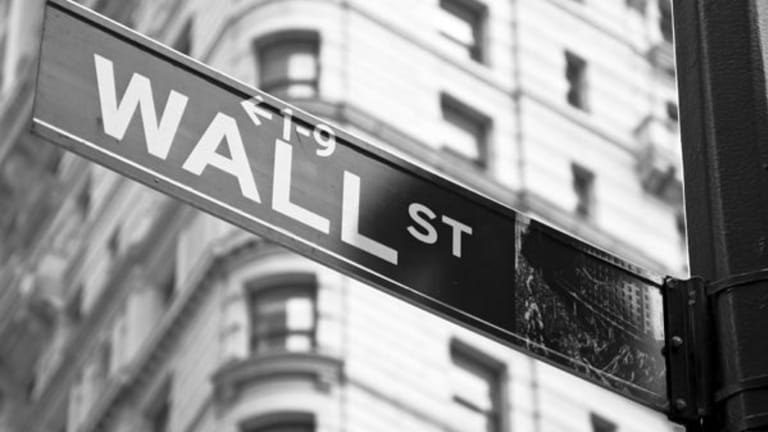 The Five Dumbest Things on Wall Street This Week
Citi sleepwalks; Nasdaq nonsense; Hershey hokum; US Airhead; Lucent lunacy.
1. Citi Groupthink
Citi
(C) - Get Free Report
is banking on sunnier days ahead.
The embattled financial services titan made a splash Tuesday by
unveiling its "global brand identity." The company is shortening its name to Citi, from Citigroup, and standardizing subsidiary names along the lines of Citi Smith Barney and Citi Private Bank.
"Citi is already among the most recognized and respected brands in global financial services," CEO Chuck Prince said in a statement. "Our extensive global research and analysis also confirmed Citi is a highly effective brand across many languages, markets and technology platforms."
One place Citi hasn't been a highly effective brand is on Wall Street. Even after a
rumor-fueled runup late last year, Citi shares have risen just half as much over Prince's reign as the BKX index of bank stocks. Wall Street has been
pushing for a split-up or big acquisition.
Some investors have even been calling for Prince's head. It seems that compared with his predecessor, the legendary wheeler-dealer Sandy Weill, Prince comes off as muddling and indecisive.
But Tuesday's announcement shows that Prince won't shy from bold action. Citi isn't just changing its name, after all. It's also dropping the red umbrella logo the company has used since the 1998 megamerger creating it out of Weill's Travelers and the old Citicorp.
The symbolism is striking. Investors are screaming for aggressive action -- and Prince responds by dropping an umbrella.
Citi shareholders, prepare for another drenching.
Dumb-o-Meter score: 91. Citi cautions the sale of umbrella rights to St. Paul Travelersundefined is "conditioned upon Hart-Scott-Rodino approval" -- as if there's danger of an umbrella monopoly.
2. Trampled Under Foot
Nasdaq
undefined
is getting a chilly reception lately on both sides of the Atlantic.
The week started with investors resoundingly
rejecting Nasdaq's unsolicited bid for the London Stock Exchange. Nasdaq had spent months
pursuing an
increasingly hostile $5.3 billion offer, over the vehement objections of the LSE's management.
Taking an unusual stance for a 29% shareholder, Nasdaq painted a dire picture of the London exchange being swamped by deep-pocketed, globe-trotting competitors.
"The board of LSE," Nasdaq chief Robert Greifeld thundered back in December, "is ignoring the elephant in the room at its peril."
Maybe they were just looking at a different elephant, though. Nasdaq offered 1,243 pence a share for the LSE and stubbornly refused to raise its bid -- even as LSE shares consistently traded at a 3%-to-4% premium to that price. In the end, no one was surprised when only 0.4% of London shareholders tendered into the offer.
"We are naturally disappointed at this outcome as we remain of the view that the final offers represented a full and fair price for LSE shareholders," Greifeld said in a statement Saturday. "However, this disappointment is tempered by the knowledge that we remained true to our value case."
And what a value case it is. On Tuesday, Nasdaq shares plunged 10% after the company offered
soft growth guidance for 2007. The irony was considerable, given Greifeld's blustery claims about what London could expect absent a merger with Nasdaq.
"LSE's value case has been entirely based on current and historical financial performance," Nasdaq scoffed back on Jan. 7. "However, the key issue is how LSE will react to the substantial future challenges that it will face in 2007 and beyond. Our response document describes why we believe the LSE is unprepared for those challenges ahead."
Guess who's looking unprepared now, Bob.
Dumb-o-Meter score: 90. And this kind of staunch leadership earns Greifeld a big raise?
3. Hershey's Kiss-Off
Hershey
(HSY) - Get Free Report
knows how to mix the bitter with the sweet.
The Hershey, Pa., chocolatier said Thursday it will
cut 1,500 jobs in a "supply-chain transformation." Hershey will close some plants in the U.S. and open one in Mexico in a bid to push factory use to 85% of capacity from around 60% now.
The news comes after a string of
quarterly earnings disappointments at Hershey. Hershey's sales have been
squeezed as consumers shun Mr. Goodbar and Kit Kat in favor of higher-end goodies. CEO Richard Lenny hasn't helped matters with his
jargon-heavy declarations.
"Within chocolate," he said after an
October earnings miss, "the shift from line extensions with lower incrementality to more sustainable value-added platforms has taken longer than anticipated."
It didn't take long for Lenny to roll out the firings, though. Thursday's announcement came just a day after the company's fourth-biggest sales event of the year -- Valentine's Day.
"We recognize this will involve considerable change over the next three years," Lenny said Thursday, "and intend to make this transformation of our supply chain as smooth as possible for our employees and customers."
Talk about sweet nothings.
Dumb-o-Meter score: 88. Hershey didn't specify which plants would be closed but did note: "Increased access to borderless sourcing will further leverage the company's manufacturing scale within a lower overall cost structure."
4. Flight Risk
US Airways
(LCC)
chief Doug Parker just crashed and burned.
The Tempe, Ariz., airline
admitted last Friday that Parker was recently arrested on charges of driving under the influence. US Airways said police in nearby Scottsdale stopped Parker the evening of Jan. 31 on his way home from a golf tournament. They later put his blood alcohol level at 0.096%, which is above the 0.08% state limit.
The timing was hard not to notice. Parker was picked up just hours after US Airways' $10 billion unsolicited bid for
Delta
undefined
was shot down by creditors of the bankrupt Atlanta-based carrier.
Parker had been gracious in conceding that defeat, applauding the efforts of US Airways staffers.
"I can't thank them enough for their support, encouragement and professionalism during this process," Parker said. "I am very proud of how our entire team performed."
There's less to be proud of in how US Airways handled Parker's brush with the law, though.
The company made no mention of the arrest until it showed up in the local news more than a week later. Even then, US Airways merely released excerpts from two companywide memos, while insisting that it "does not plan to issue further statements about this incident."
How plans can change, though. Just eight hours after its initial statement, US Airways found itself disclosing that the 45-year-old Parker happened to be involved in "three other alcohol-related incidents" years ago.
"I can't do much to change what I did in my 20s," Parker explained, "but I can make sure that I handle all of this with the professionalism and integrity that I value in myself and that our employees, customers and shareholders deserve."
Oh, you're the toast of the town, Doug.
Dumb-o-Meter score: 85. "I believe that events from 15 and 20 years ago do not reflect on the person I am today," Parker adds.
5. Broken Record
Marriage hasn't changed
Alcatel-Lucent
(ALU)
one bit.
The telecom equipment giant, created last November when New Jersey's Lucent merged with France's Alcatel,
underwhelmed Wall Street this past week with its debut earnings report.
Alcatel-Lucent posted a fourth-quarter loss of 35 cents a share, as revenue tumbled a steeper-than-expected 16% from a year ago.
Echoing a chilly late-January
forecast, the company blamed "a combination of short-term uncertainty for both our customers and our people."
This week, Alcatel-Lucent ended the uncertainty by promising to fire more of those people. The company now expects to cut 12,500 jobs over three years, up from the previous target of 9,000. CEO Patricia Russo promised that the pink slips will "enhance our competitiveness in this dynamic industry."
The industry seems to be a little too dynamic for Alcatel-Lucent's good. Big telcos such as
AT&T
(T) - Get Free Report
and
Verizon
(VZ) - Get Free Report
have been squeezing suppliers by curbing spending. That's part of the reason the premerger Lucent fell into its bad habit of missing its financial targets and then firing people to get costs down.
Now the new Alcatel-Lucent is stumbling down the same track. Following up on its pathetic fourth-quarter showing, the company says revenue will fall from year-ago levels in the first quarter. That has Russo leaning in a familiar direction.
"I would tell you from my perspective, this will be never-ending," Russo said of the need for cost-cutting. "I mean, we will constantly be meeting to look at ways to continue to improve our effectiveness and our efficiency."
Alcatel-Lucent execs have to justify their existence somehow.
Dumb-o-Meter score: 80. "We are aggressively finalizing our organization structure," Russo added on the conference call, according to the seekingalpha.com transcript. "We are externally communicating our portfolio decisions to our customers."
In our
award-winning effort to enrich the reader experience, the Five Dumbest Things Lab now scores each item using our proprietary Dumb-o-Meter. This cutting-edge technology employs a finely calibrated, 100-point scale measuring sheer Dumbness, as calculated via a closely guarded secret formula.
Got your own idea for the dumbest thing of the week?
Want to get your Five Dumbest in the mail? It's easy. Just become a TSC member -- it's free -- and you'll receive the Five Dumbest in our Before the Bell email newsletter every Friday. The rest of the week, before each trading day, Before the Bell gives you a comprehensive look at the stocks expected to move the market, plus access to a sampling of our premium content from RealMoney. Click here to sign up for Before the Bell!