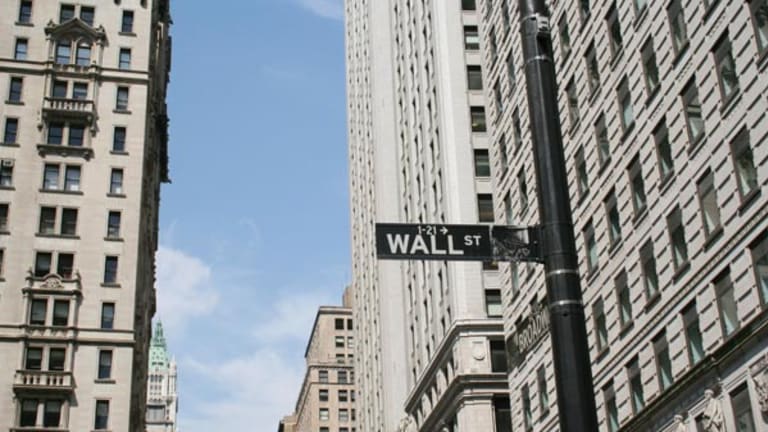 The Five Dumbest Things on Wall Street This Week
Kodak moment; New Century nailed; Nortel nonsense; Sallie seller; EGL plucked.
1. Another Kodak Moment
The employment picture at
Kodak
( EK) keeps getting cropped.
The Rochester, N.Y., photo company
took an ax to its payroll yet again this week. Kodak, which has been printing pink slips by the thousands as it sheds declining businesses, said Thursday it will cut 3,000 more jobs.
The announcement came just a week after CEO Antonio Perez celebrated Kodak's
first quarterly profit in two years.
"I'm proud of my team," Perez said last Wednesday in announcing fourth-quarter earnings, "and their accomplishments in 2006."
Team members know that just making it through a year at Kodak is a big accomplishment. Counting Thursday's firings, Kodak says its four-year digital restructuring will end up costing between 28,000 and 30,000 jobs.
All those departures have taken their toll. Charges tied to the layoffs will exceed $3.6 billion. Companywide employment will decline to levels not seen since the 1930s, the
Associated Press
reported.
None of this is keeping Perez up at night, though.
"The dream," he told investors at the company's annual analyst meeting Thursday, "was that we would wake up in 2008 with the digital company that we want to have."
The one with all the empty cubicles, that is.
Dumb-o-Meter score: 93. "If you look in the history books, you will see this is one of the hardest transformations to do," Perez opined at the meeting.
2. Not Ready for Subprime Time
New Century Financial
(NEW)
is crumbling under pressure.
Shares in the Irvine, Calif., company plummeted 35% Thursday, after the subprime home lender
warned of an unexpected fourth-quarter loss and slashed its mortgage-production forecast. New Century also set plans to restate past financials to fix accounting errors.
The news stunned Wall Street analysts, who had been looking for a profit of more than $1 a share. New Century blamed "the increasing industry trend of early-payment defaults" by its customers -- primarily those with poor credit histories.
New Century isn't the only lender finding that the low-end mortgage market can be full of
unhappy surprises. Giant
HSBC
(HBC)
said late Wednesday that its loan losses for the fourth quarter will come in 20% above analyst estimates.
Lenders everywhere are learning that so-called stated-income borrowers -- those whose financials weren't checked before the loan was made -- can be particularly troublesome.
The Wall Street Journal
reports that a recent HSBC memo noted "heightened fraud incidents."
New Century itself picked up on some untoward repayment trends last year. The company responded in October by tightening underwriting standards, though it promised that doing so wouldn't choke off growth.
"I think part of our message here is that we think this is an important development but not to overreact to it," CEO Brad Morrice told investors at an investor conference in November. "We are looking at doing these things -- I'll call it with a scalpel rather than with a sledgehammer."
Could have fooled us.
Dumb-o-Meter score: 90. "We have intensified our focus on tightening our underwriting guidelines," Morrice promised Wednesday, "and taking other steps to further improve fraud detection and risk management."
3. Nortel's Plan of Attack
At
Nortel
( NT), everything's going according to plan.
The Toronto-based telecom-equipment maker said Wednesday that it will
slash 2,900 jobs in its latest effort to control costs. The layoffs, which will cost $300 million over two years, are the latest twist on what Nortel grandly dubs its "Business Transformation Plan."
"These are tough but necessary measures, and we recognize the impact they will have on affected employees," CEO Mike Zafirovski said. He promised that "every effort will be made to leverage normal attrition and redeploy affected employees to other areas of the company."
Attrition is definitely normal at Nortel. Employment has shrunk to barely a third of its peak since the telecom boom crested back in 2000, through the sale of businesses and repeated rounds of firings.
Just this past June, an earlier stage of the Business Transformation Plan saw Nortel fire 1,100 workers. That move, which aimed to "flatten the organization and shift to a culture marked by agility and accountability," was billed in a press release as an "Action Plan to Improve Operating Margins and Business Performance."
Improving business performance has long been an elusive goal at Nortel. Back in September 2004, Zafirovski's predecessor, Bill Owens, set plans to cut 3,250 jobs in what the company then called a "Work Plan to Reduce Costs."
"The decisions made to reduce our employee community and refine operational efficiencies," Owens said, "have been undertaken in a very considered way."
Maybe it's time Nortel considered a plan to close up shop for good.
Dumb-o-Meter score: 88. The company, which in recent years restated its financials three times, saw its finance chief leave for the third time Tuesday.
4. Lord's Prayer Answered
Sallie Mae
(SLM)
investors are getting schooled again.
Shares in the Reston, Va., higher-education lender lost 11% of their value over two days after President Bush
proposed cuts in federal student-loan subsidies. Rivals
Nelnet
(NNI)
and
Student Loan
( STU) were hit as well. An industry analyst warned that the administration was "throwing the student loan industry under the bus."
But some people managed to jump out of the way just in time. Sallie Mae's chairman, Albert Lord, raked in $18 million last Thursday and Friday by selling 400,000 shares. Lord saved more than $1 million by selling ahead of the budget bushwhacking.
The company said late Monday that the sale covered just 5% of Lord's holdings, including unexercised options. On the other hand, regulatory filings show he unloaded more than a third of the shares he held outright.
Selling Sallie shares is nothing new for Lord. Last year, he filed with regulators to sell 720,000 shares under certain circumstances. With Sallie shares down some 20% from last year's highs, Lord has sold 60,000 shares under that plan.
But he has hardly been shy about cashing in otherwise. In 2005, Lord raked in $5 million through option-related stock sales, Sallie said last April in a federal filing. Several years ago, Lord claimed the top spot in a
Washington Post
survey of local CEO compensation, mostly through stock sales.
"Mr. Lord took this action," Sallie explained late Monday, "to provide cash for commitments to business projects."
He certainly doesn't seem very committed to his fellow Sallie Mae shareholders.
Dumb-o-Meter score: 85. One critic calls the savings on Lord's well-timed stock sale "enough to cover 53 student-years at Harvard."
5. EGL's Handicap
Feathers are getting ruffled at
EGL
undefined
.
The Houston-based operator of the Eagle Global Logistics shipping firm
warned Wednesday of a fourth-quarter earnings shortfall. The setback derailed CEO James Crane's $1.2 billion plan to take EGL private.
Back in January, Crane -- EGL's biggest shareholder, with an 18% stake -- surprised Wall Street by announcing plans to team up with private-equity firm General Atlantic on a deal at $36 a share.
"Our proposal would keep our valued key senior management team and employee base intact," Crane said Jan. 2, "and enable us to seamlessly continue to provide our customers with the high level of service they have come to expect from EGL."
But investors have come to expect a lower level of performance from the company. Shares are down more than 40% over the last year as its freight business slows down. On Wednesday, EGL blamed its woes on rising costs and falling revenue per shipment.
You might surmise that Crane has taken his eye off the ball. But that can't be the problem. After all, he was named just this past September as
Golf Digest's
top CEO golfer. The magazine pointed to his "almost-professional handicap index of 0.8."
Alas, his light touch on the greens hasn't kept shareholders out of the red lately. Asked last fall by
USA Today
to explain, Crane bristled that "there is no correlation whatsoever" between his golf game and the company's performance.
Talk about a bunker mentality.
Dumb-o-Meter score: 80. Some might even say Crane has become the company's albatross.
In our
award-winning effort to enrich the reader experience, the Five Dumbest Things Lab now scores each item using our proprietary Dumb-o-Meter. This cutting-edge technology employs a finely calibrated, 100-point scale measuring sheer Dumbness, as calculated via a closely guarded secret formula.
Got your own idea for the dumbest thing of the week?
Want to get your Five Dumbest in the mail? It's easy. Just become a TSC member -- it's free -- and you'll receive the Five Dumbest in our Before the Bell email newsletter every Friday. The rest of the week, before each trading day, Before the Bell gives you a comprehensive look at the stocks expected to move the market, plus access to a sampling of our premium content from RealMoney. Click here to sign up for Before the Bell!