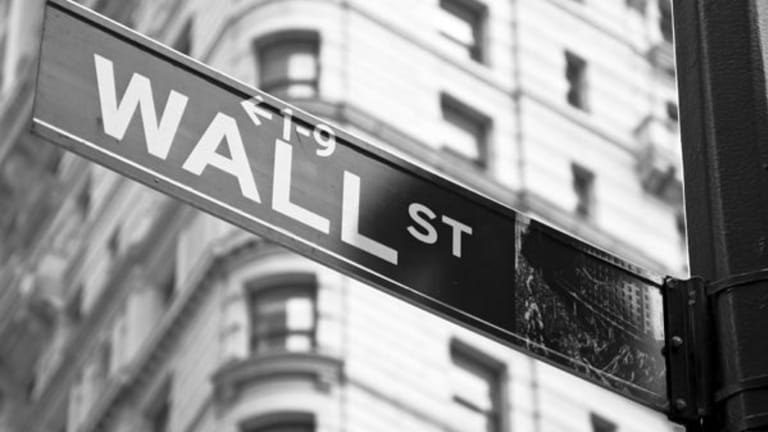 The Five Dumbest Things on Wall Street This Week
Dell tolls for Rollins; Verizon number-crunching; NutriSystem setback; Cartoonish Network; Grasso greener.
1. The Dell Tolls for Thee
Dell
(DELL) - Get Free Report
is rebooting.
The struggling Round Rock, Texas, computer maker put its founder and chairman, Michael Dell,
back in charge Wednesday. CEO Kevin Rollins resigned after two and a half rough years. Shares, which had lost nearly a third of their value with Rollins at the helm, promptly rallied 5%.
"The board believes that Michael's vision and leadership are critical," said lead director Sam Nunn, "to building Dell's leadership in the technology industry for the long term."
Rollins obviously wasn't building much of anything. Under his reign, Dell surrendered its ranking as the top PC maker to
Hewlett-Packard
(HPQ) - Get Free Report
.
But that's not all. The company repeatedly missed its financial targets -- it warned again Wednesday of a weak fourth quarter -- and got investigated by the
Securities and Exchange Commission
for its accounting. It even had to recall more than 4 million laptop batteries to make sure they didn't catch fire.
Still, Michael Dell was eager to let bygones be bygones, wishing Rollins "much success" in the years ahead.
"Kevin," he added, "has been a great business partner and friend."
And an absolutely awful CEO.
Dumb-o-Meter score: 93. Dell had painted Rollins' appointment to CEO as "leaving intact a unique, successful 'two-in-a-box' senior-management structure."
To watch Colin Barr's video take of this column, click here
.
2. Upsetting the Apple Cart
Verizon
(VZ) - Get Free Report
isn't afraid to make an unpopular call.
This week the New York telco revealed it
turned down a shot at selling
Apple's
(AAPL) - Get Free Report
hugely hyped new handset, the iPhone. Apparently Verizon didn't cotton to the idea of sharing revenue with Apple or ceding control of customer service.
By scorning the iPhone, Verizon cleared the way for archrival Cingular Wireless to peddle the multimedia device. Though the basic iPhone is expected to cost $500 with a two-year service contract when it comes to market in June, Wall Street expects it to be a huge hit -- maybe huge enough to help the
AT&T
(T) - Get Free Report
unit steal some lucrative users from Verizon.
Verizon isn't worried. The company notes that its wireless business is adding retail postpaid users by the bushelful even without the iPhone. Verizon says it expects cell-phone manufacturers to offer competitive alternatives.
"We think that innovation and a focus on music will benefit the whole industry," Verizon operating chief Denny Strigl said of the iPhone. "It really does draw attention to our data capabilities."
Verizon's winning ways with data were visible elsewhere Monday. The company said rolling out its new fiber-optic network will flatten earnings.
The so-called FiOS project, which Verizon is undertaking in a bid to offer consumers television and other lucrative services, should cut first-quarter profits by around 11 cents a share. That's a big hit, given that analysts are expecting the company to make about 57 cents a share for the quarter.
But if the numbers sound bad, wait till you hear Verizon's take.
"We could see dilution for the year in the mid-$0.30 range," Strigl told investors on the conference call, according to the seekingalpha.com transcript. "Of course, our view is that success-based dilution is good news in the long run."
Leave it to Verizon to celebrate when shareholders get soaked.
Dumb-o-Meter score: 88. Nothing succeeds like success-based dilution.
3. NutriSystem Cut
NutriSystem
(NTRI) - Get Free Report
is certainly looking a lot thinner lately.
Shares in the Horsham, Pa., diet company plunged 15% Wednesday on
flabby first-quarter guidance. The selloff capped a three-week stretch that saw NutriSystem shed a third of its market value.
The stock's plunge comes as NutriSystem spends more to reach out to new customers. Last month, NutriSystem hired former Miami Dolphins coach Don Shula as a pitchman. NutriSystem wants him to attract older Americans to its new NutriSystem Silver plan, which features prepared foods that are "lower in sugar, fat, saturated fat and cholesterol" than other programs.
"As we look forward to 2007," the company said Tuesday, "the focus will be on deepening our penetration in both the women's and men's segments, and having the seniors' program follow in these successful 'footprints.' "
But following Shula's culinary footprints takes dieters to an unexpected destination: a steakhouse chain that specializes in huge cuts of beef.
"Shula's Steak House formed the 48oz. Club in 1989 to honor the true beef lovers of America," Shula's Web site advises. "The induction into this steak lovers club consists of finishing 48 ounces of the best beef money can buy -- the Shula cut."
So to sell a diet that slashes fat and cholesterol, NutriSystem picks a guy who specializes in three-pound steaks?
No wonder the fat's in the fire at NutriSystem.
Dumb-o-Meter score: 85. One Shula's customer, the Web site reports, "has now eaten over 175 of our 48oz. steaks!"
4. Milkshake Meltdown
Time Warner
(TWX)
is learning how a silly publicity stunt can blow up in your face.
The New York media giant's Turner Broadcasting unit managed to shut down parts of Boston on Wednesday with an ill-advised marketing campaign for its Cartoon Network.
The plan involved putting up electronic signs for Turner's "Aqua Teen Hunger Force," a thought-provoking late-night cartoon starring a talking milkshake, a box of fries and a meatball.
Soon enough, the signs were on highways and bridges all over Boston. One problem: the foot-tall signs featured protruding wires and batteries.
Any rider of mass transit in the Northeast knows that when you see a package with dangling wires, you have to tell the cops. So someone did -- and then things went sharply downhill, for Boston residents and Turner alike.
Police shut down a highway, kicked people off trains and called out the bomb squad. Boston was gripped by gridlock. Cable news channels converged on this most important "developing story." Eventually, the authorities sounded the all-clear, after demolishing the signs.
When Turner caught on, it beat a hasty retreat.
"We apologize to the citizens of Boston," Turner Chairman Phil Kent said.
But that wasn't enough for the city's mayor, who threatened to sue Turner to recover the operation's costs. The state attorney general said she would look into possible criminal charges.
It seemed beyond comprehension that a little publicity for a talking milkshake could boomerang so disastrously.
"The packages in question are magnetic lights that pose no danger," Turner asserted in a statement. "We regret that they were mistakenly thought to pose any danger."
They don't, of course -- except to Turner.
Dumb-o-Meter score: 82. "It's almost too easy to be a terrorist these days," one Bostonian told The Associated Press. "You stick a box on a corner and you can shut down a city."
5. The Grasso Is Greener
Dick Grasso's fans quietly made their point again this week.
President Bush dropped by Wall Street on Wednesday for his state of the economy address. He warmed up an audience at Federal Hall by pointing to the big George Washington statue out front and joking, "I like to call him George W."
The laughter soon stopped, though. While Bush drew cheers for lauding U.S. troops and criticizing frivolous litigation, the hard-hitting audience went silent when the talk turned to executive pay.
"Shareholders should know what executive compensation packages look like," Bush proposed. "The print ought to be big and understandable."
The print has been nothing if not big. Last month the
underachieving Bob Nardelli left
Home Depot
(HD) - Get Free Report
with $210 million, and a few weeks later the fashion-impaired Paul Pressler fell out of the
Gap
(GPS) - Get Free Report
with $14 million.
Wednesday's silence seemed odd, given that Bush didn't propose any government action. He simply asked boards to do their jobs.
But that's where Grasso comes to mind. The former
NYSE
(NYX)
chief was forced out in 2003 when his nine-figure payday drew headlines. He was sued by former attorney general and now New York Gov. Eliot Spitzer, who wants Grasso to
return $100 million or so. Grasso sued right back.
The dispute turns in part on whether the NYSE board was misled, as Spitzer has contended, or whether it simply passed the buck, as Grasso supporters say. Either way, it seems clear that corporate governance at the exchange was less than ideal.
"America's corporate boardrooms must step up to their responsibilities," Bush told the Wall Streeters. "You need to pay attention to the executive compensation packages that you approve."
Sounds like that's too much to ask of some people.
Dumb-o-Meter score: 75. "When people analyze their investment," said Bush in calling for greater transparency, "they ought to see loud and clear."
In our
award-winning effort to enrich the reader experience, the Five Dumbest Things Lab now scores each item using our proprietary Dumb-o-Meter. This cutting-edge technology employs a finely calibrated, 100-point scale measuring sheer Dumbness, as calculated via a closely guarded secret formula.
Got your own idea for the dumbest thing of the week?
Want to get your Five Dumbest in the mail? It's easy. Just become a TSC member -- it's free -- and you'll receive the Five Dumbest in our Before the Bell email newsletter every Friday. The rest of the week, before each trading day, Before the Bell gives you a comprehensive look at the stocks expected to move the market, plus access to a sampling of our premium content from RealMoney. Click here to sign up for Before the Bell!