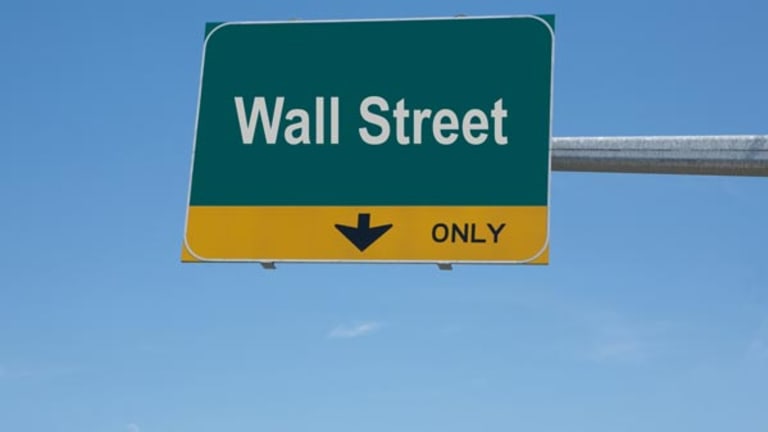 The Five Dumbest Things on Wall Street This Week
Cablevision capers; CVS overmedicated; refining BP; Lam chops; Rackable on the rack.
1. Cable Crazies
Cablevision
(CVC)
shot down its founding family's latest lark.
The Bethpage, N.Y., company's board
rejected a buyout proposal from a group led by Chairman Charles Dolan and his CEO son, James. Tuesday's decision ended the Dolans' second run at the Long Island cable system operator in three years.
This latest
go-round started back in October, when the Dolans offered to take Cablevision private in a $7.9 billion deal. The family, which controls three-quarters of the voting stock, stressed its desire to take a perspective "that is not constrained by the public markets' constant focus on short-term results."
But the meddling public markets promptly intervened, sending Cablevision shares soaring past the $27-a-share Dolan proposal. So the Dolans responded last Friday with their "best and final offer" of $30 a share.
Despite the bluster, Cablevision backers
weren't tempted. Shares rose 3% Wednesday after Cablevision's independent directors spiked the revised $8.9 billion bid. The board said the Dolans' deal "does not represent fair value for the company's public shareholders nor does it contemplate a transaction that is in their best interest."
Nothing new there. After their first effort to take Cablevision private
ran aground in 2005, the Dolans
demanded a lavish $10-a-share dividend that funneled some $660 million into family pockets.
Earlier, Cablevision had
bumbled into a costly digital satellite television service called Voom. That effort was finally abandoned when James Dolan yanked its funding -- prompting his father to spitefully
sack three directors.
In their letter last Friday to the board, the Dolans asked for a prompt response to their offer, saying that "the ongoing uncertainty created by this process is potentially harmful to the company."
But it's all too obvious what's really harmful to Cablevision.
The Dolans.
Dumb-o-Meter score: 93. The Dolans insist they won't "impair our strategy by short-term considerations," as if their strategy isn't impaired already.
2. Synergy Silliness
CVS
(CVS)
and
Caremark
undefined
are showing some incredible foresight.
This week the big drugstore chain and the mail-order pharmacy
sweetened their $22 billion merger plan. Scrambling to
outflank
Express Scripts'
(ESRX)
unsolicited $25 billion offer, CVS dangled a special $2-a-share post-merger dividend.
"As CVS and Caremark have worked our way through the merger process," said CVS chief Tom Ryan, "we have grown increasingly enthusiastic about the strategic benefits of our merger, and about the additional financial flexibility our partnership will create."
Enthusiasm and financial flexibility have indeed been hallmarks of this deal. When CVS and Caremark announced their all-stock tie-up back on Nov. 1, they spoke of creating "a powerful force for change in pharmacy services." They promised "substantial operating synergies of approximately $400 million."
But the synergy race was only getting started. On Jan. 4, two weeks after Express Scripts joined the bidding, CVS spoke of cost synergies that "we have conservatively estimated at $400 million." Three days later, CVS said its proposal was "now expected to create in excess of $500 million in realizable cost synergies" -- matching the rival Express Scripts estimates.
This week, the companies revealed that beyond their huge and "conservatively" estimated cost savings, they now see "between $800 million and $1 billion in incremental revenues in 2008" -- and "significantly more thereafter."
These guys may need to have their prescriptions checked.
Dumb-o-Meter score: 91. "A new week, a new synergy number," Express Scripts chortles.
3. BP's Browne-Out
BP's
(BP)
safety record got another scratch this week.
An independent panel
issued a report Tuesday outlining safety shortfalls at BP's U.S. refineries. The panel, led by former Secretary of State James Baker, says the London-based oil giant has pursued goals including cost-cutting at the expense of safety.
The Baker investigation was spurred by a March 2005 explosion that killed 15 workers in Texas City, Texas. BP has since accepted responsibility for the episode and set aside $1.6 billion for victim compensation.
This week, BP pledged to adopt recommendations calling for "a positive, trusting, and open process safety culture within each U.S. refinery."
One positive step came when longtime CEO John Browne agreed to accelerate his retirement. He had been due to stick around through next year, but the company said last Friday that he'll depart in July, in the name of an orderly transition.
Though the company trumpeted Browne's "managerial skill," it's plain to see BP hasn't been managed very well lately. Since the Texas City explosion, BP has been hit by pipeline breaks, oil spills and a federal investigation of propane-trading irregularities. Shares have sunk 20% from their all-time high in May.
You'd hardly know any of this to listen to BP, though.
"John Browne is the greatest British businessman of his generation," BP Chairman Peter Sutherland said in a statement. "His vision, intellect, leadership and skill have been a wonder to behold and he will be a difficult act to follow."
Not to mention a pain to clean up after.
Dumb-o-Meter score: 85. It seems safe to say change at the top was overdue.
4. On the Lam
Lam Research
(LRCX)
is getting slaughtered.
Shares of the Fremont, Calif., chip-equipment maker plunged 13% in heavy trading Thursday after a
mixed second-quarter earnings report.
Lam more than doubled its bottom line, as the company benefited from strong demand for its chip-making equipment and related services. Lam says it has been taking market share from its rivals with new product offerings.
But the company said Wednesday it now expects third-quarter shipments to decline, a possible harbinger of an industrywide downturn. Meanwhile, profit margins have been narrowing -- though CEO Steve Newberry sees a bright side.
"I think that the last six months of 2006, there's certainly been a lot of competitive scrambling," he said on a postclose conference call, according to the
seekingalpha.com transcript. "I think our competitors kind of realize that the reality of all the market share we were taking couldn't be denied anymore."
Fortunately, other things can still be denied. One analyst inquired about Newberry's remark that, given "flattish spending" by customers, Lam expects to make around $4.20 a share for 2007 on revenue growth in the 10%-15% range. Before going on to explain those numbers, which fall below the analyst consensus estimates, the CEO offered up a critical distinction.
"I didn't give guidance," Newberry said. "I gave potential performance."
It seems investors prefer to see actual performance.
Dumb-o-Meter score: 78. "I'm sure that what will happen is that it will get reported as guidance, but I mean be that as it may," Newberry said of his potential performance outline.
5. Rackable Is Wreckable
Rackable Systems
(RACK)
got racked up this week.
The Milpitas, Calif., maker of computer storage devices
warned late Tuesday that fourth-quarter numbers will fall short of Wall Street's expectations. Intense competition led to profit-pinching price cuts, and sales of RapidScale storage appliances -- billed in November as "surpassing competing technologies" -- missed targets.
"Although it took us longer than expected to roll out our new RapidScale line of products," CEO Tom Barton said, "early customer feedback has been positive and we remain enthusiastic about the long-term opportunities for this business."
Others were less enthusiastic. Shares plunged 34% Wednesday as investors reassessed Rackable's prospects in light of its
second earnings disappointment in as many quarters.
The slowdown comes just three months after Rackable grabbed a coveted spot on a consulting group's list of North America's fastest-growing companies.
"Deloitte's Silicon Valley Technology Fast 50 companies," a Rackable press release said in October, "have shown the strength, vision and tenacity to succeed in today's very competitive technology environment."
Well, maybe 49 of them have.
Dumb-o-Meter score: 75. "Unlike other file system architectures, RapidScale is unencumbered by metadata bottlenecks," Rackable explained cryptically in November.
In our
award-winning effort to enrich the reader experience, the Five Dumbest Things Lab now scores each item using our proprietary Dumb-o-Meter. This cutting-edge technology employs a finely calibrated, 100-point scale measuring sheer Dumbness, as calculated via a closely guarded secret formula.
Got your own idea for the dumbest thing of the week?
Want to get your Five Dumbest in the mail? It's easy. Just become a TSC member -- it's free -- and you'll receive the Five Dumbest in our Before the Bell email newsletter every Friday. The rest of the week, before each trading day, Before the Bell gives you a comprehensive look at the stocks expected to move the market, plus access to a sampling of our premium content from RealMoney. Click here to sign up for Before the Bell!