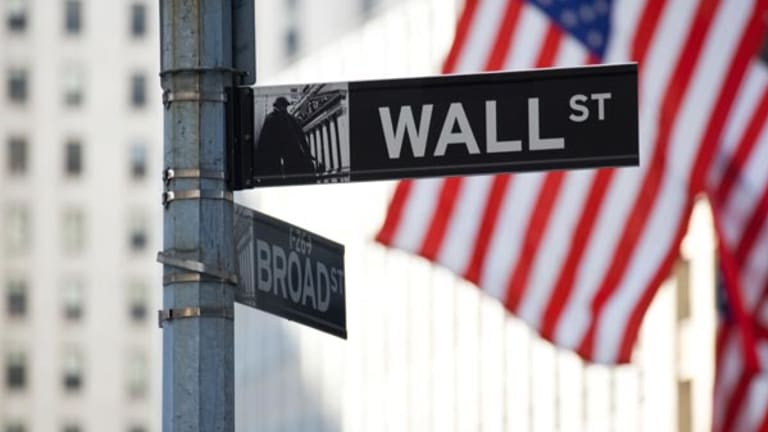 The Five Dumbest Things on Wall Street This Week
Cutting Caremark; Apple tart; staggering Sprint; Motorola's mess; wallowing Wal-Mart.
1. Cutthroat Caremark
Merger partners
Caremark
undefined
and
CVS
(CVS)
are full of cutting comments lately.
This week, Caremark, a Nashville, Tenn., mail-order pharmacy,
rejected an unsolicited buyout bid from rival
Express Scripts
(ESRX)
. Caremark
prefers to join with big drugstore chain CVS.
Caremark scoffs that the Express Script deal "lacks strategic rationale" and presents regulatory hurdles, while CVS scorns a threatened Express Scripts
proxy fight as "nothing more than a publicity stunt."
Caremark defends its choice of CVS as a partner, claiming "thorough consideration and consultation with its legal and financial advisers."
As financial advice goes, though, Caremark's was on the
unorthodox side. On the basis of recent prices, the cash-and-stock Express Scripts deal carries a 9% premium to the all-stock CVS proposal.
But does Caremark care? No. It insists other numbers are more germane.
"Caremark has substantial doubts," its press release revealed late Sunday, "regarding the reliability of the synergy estimates espoused by Express Scripts."
Synergies represent the savings that acquiring companies expect to realize in a deal, typically through job cuts. The figures are notoriously squishy and are calculated mainly to impress bloodthirsty Wall Street types. In this case, CVS and Express Scripts each pledge to wring around $500 million in gains out of a Caremark buy.
But apparently all savings aren't created equal. While applauding its own "extensive due diligence and integration planning," CVS snipes that Express Scripts' estimates are "unsubstantiated."
Caremark cautions that Express Scripts fails to account for a possible loss of business -- or for the "potential for additional negative synergies."
CVS and Caremark are already realizing those in spades.
Dumb-o-Meter score: 93. Conveniently, CVS raised its gold-plated synergy estimate by $100 million after Express Scripts declared its own target.
2. Overripe Apple
It was another juicy week for
Apple
(AAPL)
.
The Cupertino, Calif., maker of the Macintosh and iPod rolled out what may turn out to be its
hugest hit yet. Apple presented the iPhone, an iPod-based handset, at its annual MacWorld Conference in San Francisco. Reviewers raved. Shares surged to an all-time high.
"iPhone," CEO Steve Jobs said with typical understatement in a press release Tuesday, "is a revolutionary and magical product."
Not everyone was swept away, however.
Cisco
(CSCO)
promptly sued Apple, saying it
owns the rights to the magical name. Licensing talks having run aground, Cisco seeks an injunction against sales of the revolutionary device.
"There is no doubt that Apple's new phone is very exciting," Cisco's chief lawyer, Mark Chandler, said Wednesday evening, "but they should not be using our trademark without our permission."
Apple calls Cisco's claims "silly," though that swipe could just as easily apply to a branding move elsewhere in the wireless world.
On Monday,
Nokia
(NOK)
unveiled its
latest bid to finally catch up with consumers'
clear preference for thin, flashy handsets. A press release dubs Nokia's brand new N76 a "trimmer fold model," a "multimedia computer" and an "eye-catching device."
But not a phone. What gives?
When designing the N76, Nokia explains, "We did not want to compromise any of the key Nokia N series experiences."
Like overbearing spin.
Dumb-o-Meter score: 91. "We're going to make some history together today," Jobs promised Tuesday at MacWorld, probably not thinking of Cisco.
3. Forsee's Foresight
Sprint
(S)
keeps pulling up lame.
The Reston, Va., wireless telco unveiled its third straight
earnings disappointment late Monday. Shares plunged 11% in furious trading Tuesday after the company said hefty costs this year "will pressure profitability."
The latest setback adds to a mountain of evidence that Sprint botched its $35 billion acquisition of Nextel. Two years ago, when the merger was announced, the companies promised investors a "superior growth profile, unmatched asset mix, strong margins and highly valuable wireless customer base."
But now, Sprint is looking more unhinged than unmatched. The fourth quarter saw the loss of 306,000 postpaid subscribers. Not since the
desperate last days of AT&T Wireless has the industry seen a carrier battered by mass defection on this scale. Rivals Verizon Wireless and Cingular, by contrast, have been adding users at a record clip.
The customer base isn't all that's eroding at Sprint. In the last year, the company has
lost top executives, including former Nextel chief Tim Donahue and longtime Sprint No. 2 Len Lauer. The defections leave CEO Gary Forsee unchallenged atop the company, despite his apparent ineptitude.
Forsee's response to Sprint's latest pratfall is telling. He plans to cut 5,000 jobs in what he quaintly terms an effort "to adjust our cost structure."
When what Sprint really needs to adjust is its management structure.
Dumb-o-Meter score: 88. "We remain on or ahead of plan in integrating our pre-merger operations, systems and product and service lineup," Forsee claimed Monday in all apparent seriousness.
4. Motorola's Dropped Call
Motorola
(MOT)
is cracking up.
This week, the Schaumburg, Ill., tech titan launched an online store. The company says
store.motorola.com will provide the "widest selection available of the hottest Motorola mobile devices" -- though clearly the company has bigger plans.
"The new online site is the latest step in Motorola's mission to reinvent the mobile retail experience," a Monday afternoon press release claims. "With its InstantMoto pilot program, launched in 2006, Motorola revolutionized mobile shopping via small format vending stores in key public spaces."
If Motorola has revolutionized mobile shopping, its numbers aren't showing it. The company
warned late last week that fourth-quarter profits will fall far short of Wall Street's estimates. The news hacked 9% off Motorola shares in
heavy trading last Friday.
"The shortfall in both sales and earnings occurred in the Mobile Devices segment," Motorola said. The company blamed "an unfavorable geographical and product-tier mix of sales as compared to the company's internal forecast."
Maybe it's time to reinvent the internal forecasting experience.
Dumb-o-Meter score: 82. It seems people won't buy a phone just because it has a funny name like Krzr or Slvr.
5. Wal-Mart's Minimal Effort
Wal-Mart's
(WMT)
heart of gold was on display again this week.
The Bentonville, Ark., retail giant took a moment Wednesday to applaud legislative efforts to raise the minimum wage. A bill passed by the House would raise the federal minimum by 41% over three years, to $7.25 an hour.
"In October of 2005," Wal-Mart trumpeted in a press release Wednesday, "Wal-Mart CEO Lee Scott publicly called for Congress to raise the minimum wage to help working families, saying that $5.15 an hour was out of date with the times."
Of course, Wal-Mart has been known to be out of date with the times as well. Last year, a Pennsylvania court slapped the company with a $78.5 million judgment for forcing employees to work off the clock. Wal-Mart was on the wrong side of a $172 million verdict in a similar California case, the
Associated Press
reported. Wal-Mart is appealing both awards.
Cynics might also note that the current federal minimum is so low that Wal-Mart won't be much affected regardless. The company's average hourly pay for full-time employees is $10.11,
The New York Times
reported. And in August, Wal-Mart moved to boost starting salaries by 6% in some markets, in a bid to keep pace with better-paying rivals such as
Costco
(COST)
.
But Wal-Mart being Wal-Mart, it paired that raise with a less savory bit of policy: In a bid to hold costs down, it capped salaries by job description -- regardless of how long a given employee has been with the company.
Wal-Mart is probably just relieved Congress isn't raising the maximum wage.
Dumb-o-Meter score: 75. "We believe the Congress is doing the right thing," Wal-Mart says, as if it's an expert on the subject.
In our
award-winning effort to enrich the reader experience, the Five Dumbest Things Lab now scores each item using our proprietary Dumb-o-Meter. This cutting-edge technology employs a finely calibrated, 100-point scale measuring sheer Dumbness, as calculated via a closely guarded secret formula.
Got your own idea for the dumbest thing of the week?
Want to get your Five Dumbest in the mail? It's easy. Just become a TSC member -- it's free -- and you'll receive the Five Dumbest in our Before the Bell email newsletter every Friday. The rest of the week, before each trading day, Before the Bell gives you a comprehensive look at the stocks expected to move the market, plus access to a sampling of our premium content from RealMoney. Click here to sign up for Before the Bell!