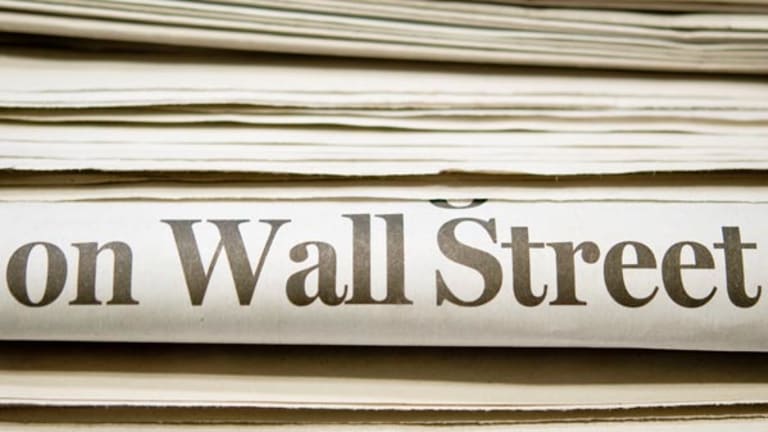 The Five Dumbest Things on Wall Street This Week
Nardelli nixed; Apple bruised; Gap grounded; flimsy Ford; Lennar limps ahead.
1. The $210 Million Man
Home Depot
(HD)
finally got around to renovating its executive suite.
The huge home improvement retailer
parted ways with CEO Bob Nardelli. He raked in megabucks for six years while overseeing the collapse of the company's reputation for robust customer service. Shares sank, and customers fled to rival
Lowe's
(LOW)
.
Until recently, it was hard to tell whether any of this even registered with Home Depot's board. No outside directors bothered to show up for its annual meeting back on May 25.
But apparently, even Home Depot has its limits. On Wednesday, the Atlanta-based company said it and Nardelli had "mutually agreed" to his departure.
"We are very grateful to Bob for his strong leadership of The Home Depot over the past six years," the board said.
If anyone should be grateful, though, it's Nardelli. He'll get a staggering $210 million to leave, on top of the many millions he has already reaped -- this despite the 7% decline in Home Depot stock over his sorry tenure.
A sagging stock isn't Nardelli's only legacy. Late last year, hearing the drumbeat of activist shareholders, he scraped together $3 billion for a massive share buyback -- while starving retail stores of a badly needed overhaul.
It's no wonder disgruntled shareholder Relational Investors
complained last month of Home Depot's "deficient strategy, operations, capital allocation and governance."
Nardelli didn't get where he is by being modest, though.
"I am extremely proud," Nardelli said, "of what we have accomplished at The Home Depot since 2000."
Yes, Bob, robbing shareholders blind is a real feather in your cap.
Dumb-o-Meter score: 93. "I believe that I leave a stronger and more resilient company than when I arrived," Nardelli says.
2. Apple Polishing
Apple
(AAPL)
got bruised again this week.
The iPod maker filed its long-overdue annual report. Apple was forced to rework several years' worth of financials to fix errors tied to stock-option backdating. The restatement, filed last Friday, added $105 million to stock-based pay expense.
Wall Street was quick to
seize on the good news, such as it was. Apple said the investigation "found no misconduct by current management" -- even as it conceded that CEO Steve Jobs "recommended the selection of some favorable grant dates."
That may sound suspiciously like misconduct, but Apple disagrees. Though Jobs received two backdated grants, the Cupertino, Calif., company insists he didn't "financially benefit from these grants or appreciate the accounting implications."
Of course, Jobs didn't financially benefit from the grants primarily because they were canceled and replaced in 2003 with 5 million restricted shares. That move was unveiled in a press release titled "Apple Enhances Corporate Governance."
It is becoming clear just how badly Apple's governance needed enhancing. Apple had reported that a backdated option grant to Jobs was approved at a special board meeting on Oct. 19, 2001. But a hole or two has since developed in that story.
"Such a special board meeting," Apple admits in its latest 10-K filing, "did not occur."
Small problem. And though Jobs was a member of the board at the time, Apple insists "there was no evidence ... that any current member of management was aware" that the purported approval came at a meeting that never happened.
But then, why should Jobs bother with details like whether special board meetings actually take place? He's busy enough spewing hot air about his company.
"Apple makes the best personal computers in the world," Jobs proclaimed in the March 2003 option swap press release, "and there is no reason why it shouldn't be among those companies with the best corporate governance in the world."
Actually, there is one reason: Steve Jobs.
Dumb-o-Meter score: 90. Directors Al Gore and Jerry York profess "complete confidence in Steve Jobs and the senior management team."
3. Traction Control
The
Gap
(GPS)
is taking on water again.
The San Francisco-based apparel retailer reported another round of
weak numbers Thursday. Sales in stores open at least a year plunged 8% in December from year-ago levels.
"We are clearly disappointed," said CEO Paul Pressler, "with Gap and Old Navy's holiday sales and overall performance for the year."
Of course, disappointment is nothing new at the Gap. The company has repeatedly trimmed its financial guidance over the past year, while bumbling into one fashion misstep after another. Same-store sales have dropped for 11 straight months.
The slump is increasing the pressure on Pressler, though he has been in this spot before. When he joined Gap as CEO in 2002, the company had posted an astonishing 28 consecutive monthly same-store sales declines. Pressler managed to end that pathetic streak, but the revival petered out in the middle of 2004.
Pressler spent 2006 promising that the second half would bring another turnaround. But after the latest setback, that claim is sounding hollow indeed.
"Heading into the holiday season," Pressler said in unveiling soft third-quarter numbers back in November, "our teams are focused on driving strong execution."
Imminent execution seems like a good bet for this CEO.
Dumb-o-Meter score: 85. "As I visited many Gap stores the past weeks," Pressler said on August's second-quarter earnings call, "our teams were visibly energized about the new direction, hearing positive feedback from our customers."
4. Detroit's House of Cards
Ford
(F)
played its hole card this week.
CEO Alan Mulally, meeting with reporters ahead of the opening of the Detroit auto show, emphasized the struggling automaker's restructuring progress. Ford hired Mulally last year to oversee its latest
reorganization, which is slated to close a dozen plants and slash employment by at least a third by 2008.
"It's going really well," Mulally said Wednesday evening,
Reuters
reported. "It's really hard, really hard, but it is the right thing to do."
Mulally's confidence is critical because the company's vital signs continue to wane. Ford reported Wednesday that U.S. vehicle sales dropped 13% from a year ago for December and 8% for the year.
But Ford Americas President Mark Fields emphasizes that the company, which lost $7.2 billion for the first nine months of 2006, is moving ahead.
"It's like building a house," Fields said, The Detroit News reported. "We built the foundation last year. But you don't see the house. You see a hole."So that's what everyone has been gaping at.Dumb-o-Meter score: 82. On the bright side, Mulally's decision this week to cancel a Lexus he had ordered could bolster Ford's January sales.
5. Lennar's Context Clues
Leave it to
Lennar
(LEN)
to head into 2007 with a hangover.
The Miami-based homebuilder tried to keep the New Year's party going with a plan to raise cash. The company said it will ring up $500 million in profit over several years by bringing new partners into its
LandSource venture, which owns 15,000 acres of land south of Los Angeles.
"LandSource has created value through ... growing its land portfolio in targeted high-growth markets," CEO Stuart Miller said in a press release issued early Tuesday. "Today's announcement is a validation of this value creation."
On Tuesday, of course, U.S. financial markets were
closed to honor the late President Gerald Ford. Why validate your value creation when no one's watching?
Perhaps the answer lies in a second Lennar press release that, after recounting the highlights of the triumphant LandSource deal, blames "deteriorating market conditions in the homebuilding industry" for an unexpected fourth-quarter loss.
Helpfully, Lennar adds that it made those disclosures "in the context of the LandSource announcement."
Not to mention in the context of a stock market holiday.
Dumb-o-Meter score: 79. Nice try, guys.
In our
award-winning effort to enrich the reader experience, the Five Dumbest Things Lab now scores each item using our proprietary Dumb-o-Meter. This cutting-edge technology employs a finely calibrated, 100-point scale measuring sheer Dumbness, as calculated via a closely guarded secret formula.
Got your own idea for the dumbest thing of the week?
Want to get your Five Dumbest in the mail? It's easy. Just become a TSC member -- it's free -- and you'll receive the Five Dumbest in our Before the Bell email newsletter every Friday. The rest of the week, before each trading day, Before the Bell gives you a comprehensive look at the stocks expected to move the market, plus access to a sampling of our premium content from RealMoney. Click here to sign up for Before the Bell!