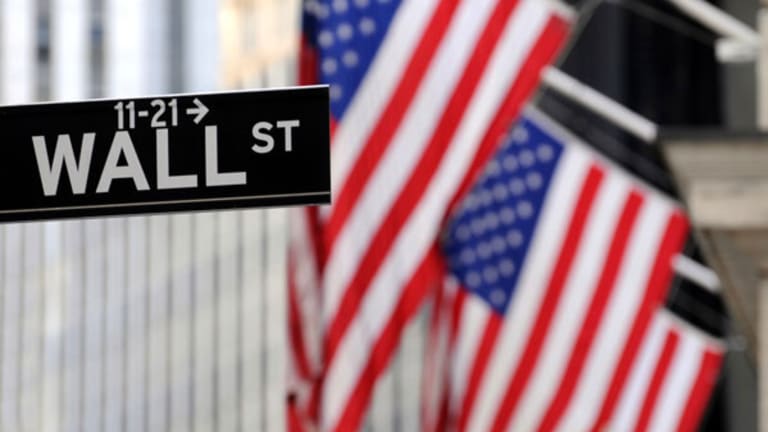 The Five Dumbest Things on Wall Street This Week
Citi sleeps; Pier 1 rots; Monster mash; JPMorgan math; RIM shot.
1. Cinderella Story
Running
Citigroup
(C) - Get Citigroup Inc. Report
is turning into a royal pain.
Hearing jeers from restive shareholders, CEO Chuck Prince moved Monday to
shake up the huge New York bank. He installed a new operating chief, investment banker Robert Druskin, with a mandate to cut costs.
"Bob is one of the best managers in the business, with an extensive track record of running highly efficient, client-focused and profitable organizations," Prince said in a Monday afternoon press release. "One of his first tasks is to undertake a comprehensive review of our expense base."
Some investors would rather see a comprehensive review of Prince's employment. Citi shares have been stagnant since he took over three years ago from wheeler-dealer Sandy Weill. In the meantime, rivals like
Bank of America
(BAC) - Get Bank of America Corporation Report
have seen their market value soar.
Druskin's hiring ended the palace coup chatter and reversed Citi's
brief rumor-fueled run to a 52-week high.
But at least the rally was fun while it lasted. One eddy of speculation had finance chief Sallie Krawcheck stepping aside for former Bank of America heavy hitter Al de Molina -- even though Molina recently told the
Charlotte Observer
, "I want to do something more impactful than being a CFO of a well-run company."
There has also been talk of a big domestic acquisition -- talk Prince
scotched Thursday by saying, "I think it is unlikely that we would do any kind of large bank acquisition in the U.S." next year.
But maybe the least-plausible scenario had Prince splitting the bank up. This bit of wishful thinking seemingly discounted his July remark in
Barron's
that breaking Citi into pieces was "the dumbest idea I ever heard of."
Obviously, Wall Street has yet to cast its spell on Prince Charming.
Dumb-o-Meter score: 91. Some people are still betting Prince will turn into a frog.
To watch Colin Barr's video take of this column, click here
.
2. Rotten Pier
Pier 1
(PIR) - Get n.a. Report
keeps crumbling.
The Fort Worth, Texas, home furnishings retailer posted a
$73 million third-quarter loss Thursday, citing weak sales and heavy markdowns. The setback adds to a long list of 2007 setbacks for CEO Marvin J. Girouard, though you'd hardly know it to listen to him.
"Trends so far in December are better than the trends seen in October and November," Girouard said Thursday morning. "Despite weak sales in the home-furnishing categories, early sales of our holiday merchandise have been encouraging."
Girouard is certainly easily encouraged. Improving on October and November's trends shouldn't be difficult, given that sales fell 13% from a year ago in October and 15% in November.
Moreover, this isn't the first time Girouard has predicted the end of Pier 1's long decline. Pier 1 shares popped this past spring, for instance, as the company promised to get its merchandising act together. Yet traffic
failed to pick up, and sales continued to tumble.
The stock has now lost half its value since May, despite a spring pledge to seek out a merger partner. But even the unsinkable Girouard seems to know why Pier 1 has failed to attract a buyer.
"The home-furnishings sector continues to be under pressure," he said in July, "due to a worsening macroeconomic environment that is limiting nonessential household purchases."
It's hard to picture a less-essential purchase than Pier 1.
Dumb-o-Meter score: 88. Girouard briefly claimed in October that the company was on track to be sold "in weeks, not in months."
3. Scare Tactics
Monster
(MNST) - Get Monster Beverage Corporation Report
gave shareholders a fright this week.
The New York-based online jobs company took a $340 million hit to past earnings. Monster recorded the
big charge to fix accounting errors tied to a long-running stock-option backdating scheme.
The sheer size of its restatement puts Monster right at the top of the backdating heap. The pay-padding scandal has swept up more than 100 companies this year. But so far, only
Broadcom
undefined
, with at least $1.5 billion in charges, is taking more lumps than Monster.
The backdating free-for-all has already cost two top Monster execs their jobs. Longtime CEO Andrew McKelvey quit in October after declining to be questioned by the board, and general counsel Myron Olesnyckyj was fired last month.
The company said Wednesday it had discovered an average 97-day lag between when options were dated and when they were actually given out.
"The company believes that this practice was done intentionally, by persons formerly in positions of responsibility," Monster revealed, "for the purpose of issuing options at a higher intrinsic value than would have otherwise been the case."
McKelvey, for his part, never got options from the company. But it turns out that investors were picking up his tab in another way. Monster said Wednesday that McKelvey agreed to make more than $500,000 in restitution for his personal assistants who had been carried on Monster's payroll.
Talk about investors getting jobbed.
Dumb-o-Meter score: 85. Monster directors now say the backdating fiasco is "contrary to the high ethical standards they believe should apply to all of the company's business practices."
4. Feathers in Their Caps
A legal eagle landed this week at
JPMorgan
(JPM) - Get JP Morgan Chase & Co. Report
.
The New York financial titan
hired Steve Cutler as its general counsel. Cutler was the enforcement chief at the
Securities and Exchange Commission
(SEC) for four years before he returned last year to law firm WilmerHale in Washington, D.C.
"I am very pleased," CEO Jamie Dimon said, "that Steve Cutler will be joining JPMorgan Chase in this critically important role."
To call the job critically important may be an understatement, given JPMorgan's recent stumbles in the halls of justice.
Last week, a federal appeals court
dealt a severe blow to a lawsuit accusing Wall Street firms of manipulating initial public offerings in dot-com companies. The court ruled that the suit should never have been certified as a class action.
That decision was no doubt celebrated at 54 of the 55 investment banks named as defendants. At JPMorgan, though, the champagne may still be on ice. The firm had already agreed to pay out $425 million to settle with plaintiffs.
If that seems like a head-scratcher, consider JPMorgan's decision-making in last year's WorldCom shareholder litigation. In that bizarre episode, the bank declined a $1.4 billion settlement offer -- so it could fork over $2 billion instead.
Cutler probably won't be looking to repeat that pratfall, given his remarks in a chat two years ago with
BusinessWeek
.
"We are trying to change behavior," Cutler said of his enforcement division's aggressive posture. "People have to get used to the new way of thinking."
Maybe the idea is to settle for less.
Dumb-o-Meter score: 80. "This is an exciting opportunity for me to join a wonderful group of people," Cutler explains.
5. Enjoy the Play, Mrs. Lincoln?
It's admirable when executives faced with trouble try to put a rosy face on their company's woes. But in the case of the cheery executives at
Research in Motion
(RIMM)
, it just makes them look plain stupid.
The Waterloo, Ontario, maker of BlackBerry wireless-email devices said last Friday that it
expects to be late again in filing financial reports with regulators. RIM has been behind on its paperwork since it discovered bookkeeping mistakes on past option grants.
Accounting problems aren't usually seen as a positive, and errors tied to apparent stock-option backdating can be particularly troublesome. But RIM continues to strike an optimistic tone.
Back in September, the company flagged the mistakes by saying it had "elected to commence a proactive review of its own practices." RIM allowed that the "management-initiated, voluntary review of historical stock-option grants" would trim past profits by some $25 million to $45 million over eight years.
But, as the company noted last Friday, there's a bonus, too. Restatements aren't likely to cause "a material adjustment" to "current or future financial years' operating results," RIM points out.
So quarters that aren't yet in the books won't be affected?
Talk about restating the obvious.
Dumb-o-Meter score: 78. RIM said its timely review followed "the heightened public awareness and concern regarding stock-option grant practices by publicly traded companies."
In our
award-winning effort to enrich the reader experience, the Five Dumbest Things Lab now scores each item using our proprietary Dumb-o-Meter. This cutting-edge technology employs a finely calibrated, 100-point scale measuring sheer Dumbness, as calculated via a closely guarded secret formula.
Got your own idea for the dumbest thing of the week?
Want to get your Five Dumbest in the mail? It's easy. Just become a TSC member -- it's free -- and you'll receive the Five Dumbest in our Before the Bell email newsletter every Friday. The rest of the week, before each trading day, Before the Bell gives you a comprehensive look at the stocks expected to move the market, plus access to a sampling of our premium content from RealMoney. Click here to sign up for Before the Bell!