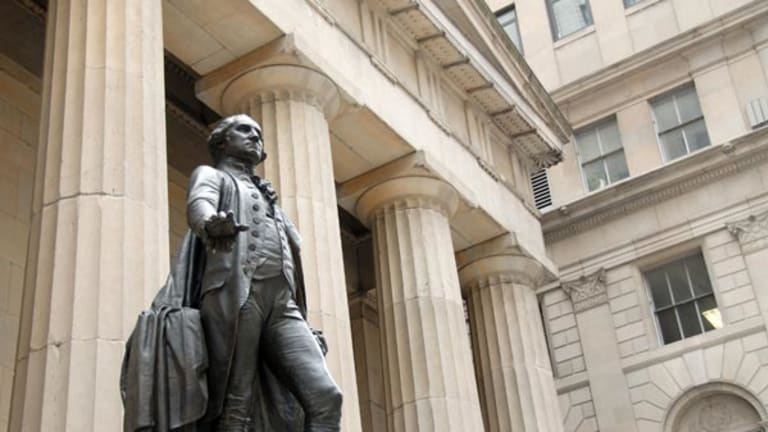 The Five Dumbest Things on Wall Street This Week
Yahoo! sandwich; skipping Cyberonics; Freeport and freeloaders; U.S. Trust busters; Smucker's jam.
1. Crunchy Time
Competitors are eating
Yahoo!'s
(YHOO)
lunch.
That's the shocking conclusion of an
internal memo that surfaced this week. Senior Vice President Brad Garlinghouse complains that Yahoo! has grown fat and lazy. Lacking focus, execs are "stymied by challenging and hairy decisions," he writes.
"I've heard our strategy described as spreading peanut butter across the myriad opportunities that continue to evolve in the online world," writes Garlinghouse. "I hate peanut butter."
Yahoo! backers certainly have had plenty to chew on lately. The stock is down more than 30% this year as the Sunnyvale, Calif.-based company cedes ground in the Net ad market to archrival
Google
(GOOG) - Get Alphabet Inc. Class C Report
.
Garlinghouse advocates firing 15% to 20% of workers in a bid to shake things up. And why not? Garlinghouse has
been there and done that.
Before coming to Yahoo!, he worked for broadband Internet service provider @Home. It went bankrupt after once carrying a stock market value north of $20 billion. Then he was CEO at voice-over-Internet phone outfit Dialpad. It filed Chapter 11 in 2001 before being sold in 2005 to Yahoo!.
Garlinghouse also served with investor @Ventures, which ended up as part of
CMGI
( CMGI). That Waltham, Mass.-based conglomerate has seen its shares lose 99% of their value since early 2000.
"It is my strong belief," Garlinghouse writes in the peanut butter memo, "that we need to act very quickly or risk going further down a slippery slope."
Take it from a guy who has done his share of slipping.
Dumb-o-Meter score: 93. "I'm proud to admit that I bleed purple and yellow," Garlinghouse writes. "I'm proud to admit that I shaved a 'Y' in the back of my head."
2. Cyber Space Cadets
Cyberonics
(CYBX)
found a way to stimulate some investor interest.
The Houston-based maker of vagus-nerve stimulation devices broke with its checkered past this week. CEO Skip Cummins and financial chief Pamela B. Westbrook
resigned Monday after the audit committee found that six years of misdated stock options had led to some $10 million worth of accounting errors.
"We look forward to moving forward and focusing our efforts on enhancing shareholder value," said audit panel chair Guy Jackson, "now that the audit committee has concluded its review and informed the full board of its conclusions."
One reasonable conclusion, given Monday's 12% rally, might be that investors are pleased to be rid of Cummins, a
tireless promoter and relentless bully. In one memorable episode, he emailed a reporter at
RealMoney.com
--
TheStreet.com's
subscription-based investment ideas site -- to calmly debate the merits of the company's proposed depression treatment.
"You have only just begun to eat every word of the garbage you've written over the last six months," Cummins told
RealMoney's
Adam Feuerstein. "I hope
you're hungry because you will be doing a lot more eating over the next days, weeks and years."
Cummins himself certainly won't be going hungry. In spite of the apparent backdating, the company said Monday it would give Cummins a big box full of cash and stock as a sort of going-away gift. Dissident shareholder Metropolitan Capital blasted the estimated $5 million award as "inexplicable."
But listening to former board member Thomas Duerden, the board's largess seems all too easy to explain.
USA Today
reports Duerden served on Cyberonics' compensation committee back in 1994 -- the year Tony Coelho, installed Monday as nonexecutive chairman, got a bunch of favorably priced stock options.
"I don't recall ever being a member of the compensation committee," Duerden told the paper. Of another former board member who reportedly got preferential options treatment, Duerden added, "I didn't know Stan Appel from a bar of soap until he joined the board."
No wonder Metropolitan's in a lather.
Dumb-o-Meter score: 90. Cyberonics says it is merely trying "to remain at the forefront of the best practices in corporate governance."
3. Copper Top?
Investors in miner
Phelps Dodge
( PD) finally struck gold.
The Phoenix-based metals company agreed this week to sell itself to
Freeport-McMoRan
(FCX) - Get Freeport-McMoRan, Inc. (FCX) Report
of New Orleans for
$26 billion. Phelps Dodge shares soared 26% Monday on news of the deal, which will create the biggest publicly traded copper miner.
"This transaction provides Phelps Dodge shareholders a significant premium for their shares," said Phelps chief Steven Whisler.
Until recently, Whisler seemed oblivious to the notion that a significant premium is something investors might want. While some observers were calling on the company to sell itself, or at least buy back stock, Phelps Dodge spent the summer pursuing a bizarre three-way merger with Toronto-based Inco and Falconbridge.
But Phelps didn't have the deep pockets or the clout on Wall Street to complete the $40 billion proposal. The deal fell apart after big shareholders
complained, saying Phelps was
in over its head.
That criticism seems to be borne out by Sunday's agreement, which will put Freeport execs in control and thrust Whisler into retirement.
"I believe our management team," Whisler explained in Sunday's announcement, "possesses the skills in open pit and underground mining and mineral processing to add value to FCX's operations."
It's about time they added value somewhere.
Dumb-o-Meter score: 85. Someone finally blew the whistle on Whisler.
4. Charles in Charge
Charles Schwab's
(SCHW) - Get Charles Schwab Corporation Report
dream of fabulous wealth management faded this week.
The San Francisco-based online broker agreed Monday to sell its U.S. Trust unit to
Bank of America
(BAC) - Get Bank of America Corp Report
. The $3.3 billion deal comes just six years after Schwab bought
U.S. Trust
with a pledge to launch "a new model for serving the affluent investor."
But the combination never got off the ground, mostly because Schwab's do-it-yourself users didn't want to pay hefty fees. Former Schwab co-CEO David Pottruck, who pushed the deal because he was a U.S. Trust customer, was eased out in 2004.
Now Schwab is promising that trust-fund types "will find even greater opportunity" with new owner Bank of America. And in a strange echo of the original merger's hype, one well-placed U.S. Trust client says he couldn't be more pleased.
"I can't imagine a better match for U.S. Trust than with Bank of America," Schwab's current chief executive, Charles Schwab, said Monday. "As a U.S. Trust client myself, with no intention to leave, I'm confident this will be a real win for clients."
Now that's rich.
Dumb-o-Meter score: 82. "People with a lot of money are going to die," Schwab Institutional operating chief Charles Goldman told
Investment News
in September. "That's the key."
5. Raspberry Jam
J.M. Smucker
(SJM) - Get J.M. Smucker Company (SJM) Report
will say just about anything to preserve its dignity.
The Orrsville, Ohio, jelly giant
jarred Wall Street last Friday with a sticky second-quarter earnings report. The company behind Smucker's, Jif and Crisco
missed sales and profit estimates, citing rising oil, wheat and fruit costs.
Worse yet, sales and earnings actually dropped from a year ago. For the second quarter ended Oct. 31, net income slid to $45.5 million from $46.4 million last year. Sales slipped to $605 million from $606 million a year earlier.
Yet despite the declines, co-CEO Tim Smucker's summary verged on the syrupy.
"Despite escalating raw-material costs," he said in a press release last Friday morning, "we delivered earnings growth consistent with our sales growth."
Way to lay it on thick, guys.
Dumb-o-Meter score: 68. At least they don't hate peanut butter.
In our
award-winning effort to enrich the reader experience, the Five Dumbest Things Lab now scores each item using our proprietary Dumb-o-Meter. This cutting-edge technology employs a finely calibrated, 100-point scale measuring sheer Dumbness, as calculated via a closely guarded secret formula.
Got your own idea for the dumbest thing of the week?
Want to get your Five Dumbest in the mail? It's easy. Just become a TSC member -- it's free -- and you'll receive the Five Dumbest in our Before the Bell email newsletter every Friday. The rest of the week, before each trading day, Before the Bell gives you a comprehensive look at the stocks expected to move the market, plus access to a sampling of our premium content from RealMoney. Click here to sign up for Before the Bell!