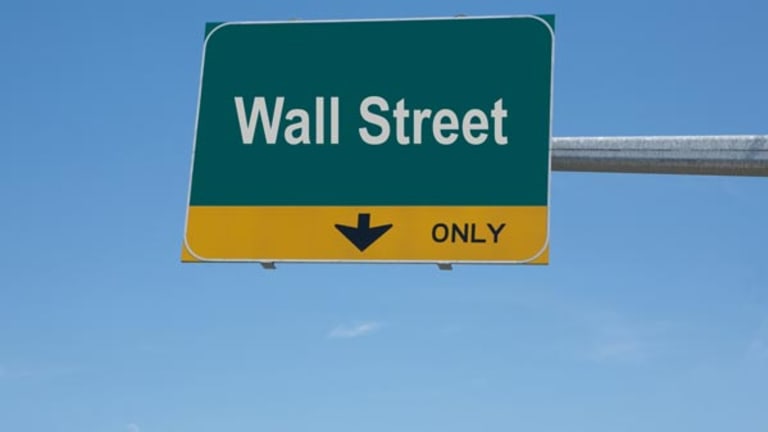 The Five Dumbest Things on Wall Street This Week
Whole Foods fight; Bristol blistered; Nortel nonsense; UnitedHealth check; Imax maxed out.
1. Organic Tripe
Whole Foods
(WFMI)
has dug itself quite a hole.
The Austin, Texas, organic grocery chain
doubled its stock-buyback plan Wednesday. CEO John Mackey said repurchases under the $200 million program are "in line with our goal of maximizing our returns on invested capital to our shareholders."
Returns could use some maximization about now. The buyback move came less than a week after Whole Foods
warned that sales and earnings growth would slow sharply. Shares have lost a third of their value in 2006 after doubling over the previous two years.
Last Friday's furious selloff wiped $2 billion off the company's market capitalization. But shareholders' pain was surely eased by the knowledge that the talented managers who led Whole Foods into this free-range morass are now in line for a healthy 39% pay raise.
"We are raising the salary cap for one reason," Mackey said, "to make the compensation of our key executives more competitive in the marketplace and help ensure their retention."
One exec whose retention evidently isn't an issue is Mackey himself. The CEO, who made $942,000 for 2005 and at last count held Whole Foods shares worth $27 million or so, magnanimously declared he will take just $1 in salary next year.
"I have reached a place in my life," Mackey philosophized, "where I no longer want to work for money."
Let alone deserve any.
Dumb-o-Meter score: 91. Mackey will soldier on for next to nothing, he says, because of the "ongoing passion I have to help make the world a better place."
To watch Colin Barr's video take of this column, click here
.
2. Blistering Bristol
Bristol-Myers
(BMY) - Get Bristol-Myers Squibb Company Report
knows a serious competitive threat when it sees one.
This week the New York-based drugmaker unfurled the terms of former chief Peter Dolan's golden parachute. Bristol agreed to pay Dolan $1.2 million in severance and $9.5 million in pension benefits for his 18 years of service, such as they were.
Bristol shares dropped more than 40% over Dolan's five years as CEO, as accounting scandals, pipeline worries and legal settlements rattled Wall Street.
But even by Dolan's standards, 2006 stood out. Bristol
booted Dolan in September after a
botched patent settlement put Bristol back in the
government's crosshairs.
Dolan's clear-eyed plan involved paying Canada's Apotex to keep its generic version of the bestselling Plavix blood thinner off the market for five years. But state attorneys general quickly blocked the deal, noting that regulators had warned Bristol about potentially anticompetitive moves. The FBI raided Dolan's office.
Apotex even got to keep the money and to sell its generic drug for a few weeks, until Bristol and partner
Sanofi
(SNY) - Get Sanofi Report
won an injunction. By that time, though, Apotex had shipped so many pills to wholesalers that sales of branded Plavix fell 43% in the latest quarter.
It's with the Apotex masterstroke in mind that Bristol must have set the tough terms of Dolan's "involuntary termination." Under one provision, Bristol sternly advises, "Mr. Dolan will not receive a bonus for 2006 performance." Under another, he "will be retained as a consultant to the chief executive officer" at the rock bottom cost to Bristol shareholders of just $50,000 a month, plus expenses.
And knowing how rare his brand of gimlet-eyed leadership is, Bristol has Dolan pledging "not compete with the company for a period of one year."
As if any other drug company would have him.
Dumb-o-Meter score: 88. Fortunately, needy Dolan "will have access to retiree medical benefits which after age 55 will be on a partially subsidized basis."
3. Reverse Lickety Split
Nortel
(NT)
is reversing course.
The Toronto-based telecom gearmaker rolled out its latest
quarterly loss this week. Shares tumbled 11% Tuesday after the company said it missed even Wall Street's piddling penny-a-share profit estimate.
"We should and will be moving faster," CEO Mike Zafirovski explained. "Pricing pressures and the speed at which our revenues are shifting to next-generation early-cycle products is increasing our challenge to drive profitability improvements."
Nortel is moving right along with other improvements, though. The company said Tuesday it will become the latest struggling telecom-equipment maker to resort to a gimmick to make its flagging shares look healthier.
Like
JDSU
(JDSUD)
and
Ciena
(CIEN) - Get Ciena Corporation Report
before it, Nortel will do a reverse stock split. That move, also called a share consolidation, will leave a holder of 10 Nortel shares with just one.
But oh, what a share it will be. Long-suffering Nortel investors haven't seen $20 since February 2001. But, starting Dec. 1, their stock will trade in those rarefied heights, up from a recent $2.13. The higher stock price, Nortel says, will "broaden interest to institutional investors and investment funds," as some funds can't buy shares below $5.
There may be other reasons funds aren't buying Nortel stock. The company said it lost $99 million, or 2 cents a share, for the latest quarter. But it stresses that the reverse split "is expected to increase investors' visibility into the company's profitability on a per-share basis."
Nothing to see here, folks.
Dumb-o-Meter score: 85. "True shareholder value will be driven by ongoing progress and company performance," said finance chief Peter Currie, "but this step helps create a better foundation on which to build."
4. UnitedHealth We Fall
UnitedHealth
(UNH) - Get UnitedHealth Group Incorporated Report
is still struggling to clean up its stock-option mess.
The Minnetonka, Minn., health insurer this week
rescinded $390 million in improperly granted options to outgoing CEO William McGuire and his successor, Stephen Hemsley.
Since news of top management's stock-option shenanigans emerged this past spring, the company has cut stock-based pay for execs, shuffled the furniture in its executive suite and upgraded its once-laughable boardroom. Last month, UnitedHealth
accepted McGuire's resignation as evidence mounted that his reign was
rife with option backdating and accounting irregularities.
"The senior leaders of UnitedHealth Group are clearly aligned with our board in striving for the highest standards of governance and business practices," Hemsley claimed in Wednesday morning's press release.
Yet shares remain 25% below their early-year high. Perhaps that's due to the sheer scope of the option fiasco, which UnitedHealth now says will cause it to restate earnings going back a remarkable 12 years. The company previously estimated a three-year restatement would cut $286 million from reported profits, but a regulatory filing this week indicates the tab will be "significantly greater."
Also unnerving is how the company has dealt with execs tied to the scandal. McGuire stepped down only after dodging questions for six months as lawyers
compiled a list of his self-serving maneuvers. Longtime sidekick Hemsley scored a big promotion, on the grounds that he didn't know what was going on.
But strangest of all is the case of Patrick Erlandson, the chief financial officer who oversaw six years' worth of improper accounting. He resigned his post this week, along with the company's human resources chief. But UnitedHealth adds cryptically that Erlandson "will be assuming operational duties within the company."
If there's any justice, those duties will involve a sponge and a big bucket of soapy water.
Dumb-o-Meter score: 82. Maybe UnitedHealth just wants to keep its options open.
5. Unattractive Economics
The picture keeps dimming at
Imax
(IMAX) - Get IMAX Corporation Report
.
The Toronto-based three-dimensional movie technology company blundered into another mess this week. Shares dropped 30% after Imax said it
lost $11 million for the period ended Sept. 30 "primarily because it did not install any theater systems in the third quarter."
You can see where that might be a problem for a company that derives much of its revenue from installing theater systems. Imax blamed the shortfall on "the slipping of installations."
But installations aren't all that is slipping at Imax. The company put itself on the block in March, briefly sending its shares above $10. But the stock has since lost more than half its value, taking a particularly vicious drubbing back in August when Imax admitted that it had
failed to find a buyer.
Imax, which also tried and failed to sell itself back in 2000, said Wednesday that the board has now cleared its bankers "to explore interest existing at a lower valuation than originally sought." The company insists it "remains committed to exploring additional interest as appropriate."
And despite the never-ending setbacks, co-CEOs Richard Gelfond and Bradley Wechsler envision a bright, shiny future. A new strategy, they claim, will help to "achieve attractive economics for the company."
If only they'd thought of that earlier.
Dumb-o-Meter score: 79. Excuse investors who feel like they've seen this movie before.
In our
award-winning effort to enrich the reader experience, the Five Dumbest Things Lab now scores each item using our proprietary Dumb-o-Meter. This cutting-edge technology employs a finely calibrated, 100-point scale measuring sheer Dumbness, as calculated via a closely guarded secret formula.
Got your own idea for the dumbest thing of the week?
Want to get your Five Dumbest in the mail? It's easy. Just become a TSC member -- it's free -- and you'll receive the Five Dumbest in our Before the Bell email newsletter every Friday. The rest of the week, before each trading day, Before the Bell gives you a comprehensive look at the stocks expected to move the market, plus access to a sampling of our premium content from RealMoney. Click here to sign up for Before the Bell!