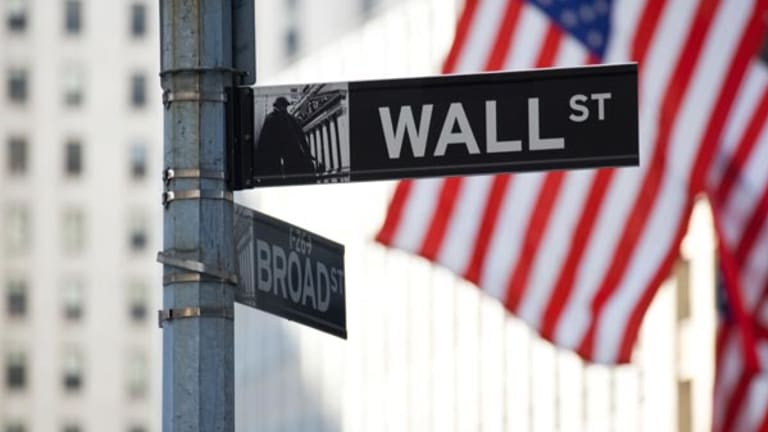 The Five Dumbest Things on Wall Street This Week
Caremark markdown; Monster retirement; Omnicare omen; Amerigroup admonished; Advancis retreats.
1. Down on the Pharmacy
CVS
(CVS) - Get CVS Health Corporation Report
could use some strong medicine.
The drug store chain
surprised Wall Street Wednesday by unveiling a $20.6 billion acquisition of mail-order pharmacy
Caremark
(CMX)
. The deal was billed as a merger of equals, creating the first integrated pharmacy services outfit.
"Together, CVS and Caremark will help manage the costs and complexities of the U.S. healthcare system," said CVS chief Tom Ryan, who will run the new company. That's a tall task, given runaway inflation in healthcare spending in recent years.
But Ryan isn't done there. He also sees the new company, to be based in CVS' hometown of Woonsocket, R.I., "enhancing value for employers, health plans and consumers."
So far the agreement isn't
enhancing value for investors. CVS dropped 7% in furious trading Wednesday, and Caremark dropped 2%, erasing the modest premium that Caremark holders were supposed to get out of the stock swap.
The selloff only steepened the recent decline in CVS and Caremark. Shares across the pharmacy sector have plunged between 15% and 30% in the six weeks since
Wal-Mart
(WMT) - Get Walmart Inc. Report
cut prices on generic drugs. In the meantime, drug-industry players have come under pressure from
wholesale pricing changes as well.
That dismal backdrop had some observers deriding the deal as a desperation move. Needless to say, CVS isn't buying that line.
"We are not doing this," Ryan said on a Wednesday afternoon conference call,
Dow Jones
reports, "from a position of weakness."
Could have fooled us.
Dumb-o-Meter score: 93. Oddly, this so-called merger of equals will leave CVS holders controlling nearly 55% of the stock.
To watch Colin Barr's video take of this column, click here
.
2. Shy and Retiring
Retirement must agree with
Monster Worldwide
(MNST) - Get Monster Beverage Corporation (MNST) Report
founder Andrew McKelvey.
The New York-based online jobs company just announced McKelvey's
second resignation in three weeks. Monster said Monday that McKelvey would leave the board and surrender his chairman emeritus title.
The move came after the 71-year-old McKelvey declined to answer questions about possible stock-option backdating. McKelvey gave up his CEO post back on Oct. 9, citing
heavy demands on his time.
"As the company's largest individual shareholder," McKelvey said then, "I remain extremely positive about Monster's future and look forward to serving as chairman emeritus, remaining on the board and contributing to Monster's category leadership in the years ahead."
Make that the weeks ahead, as Monster's stock-option backdating headache gets bigger and bigger.
The company in July joined dozens of other corporate bad citizens in saying it would have to fix its compensation accounting. Monster cautioned it "has not yet determined which historical financial statements would be restated."
To listen to McKelvey's lawyer, though, financial statements aren't the only ones that could stand some revising. Steven Reich, McKelvey's counsel at Manat Phelps & Phillips, sent Monster's board an email Sunday backing away from comments McKelvey made in a discussion with directors that, in retrospect, didn't come out quite right.
"In looking back on that session," McKelvey's lawyer writes of a July interview with a Monster board committee, "it is now clear to Mr. McKelvey that he did not express his thoughts and recollections as clearly or accurately as he would have liked."
Dumb-o-Meter score: 91. "He continues to have the best interests of the company very much at heart," Reich writes of McKelvey.
Sounds like another restatement just might be in order.
3. Omnicare Fool Potential
Omnicare
(OCR)
can't seem to live up to its billing.
Shares of the Covington, Ky., pharmaceutical services company plunged 11% Tuesday after Omnicare posted
soft third-quarter earnings and slashed full-year guidance.
Some observers had
suspected a bad quarter was on the way. Omnicare has been struggling to integrate a big acquisition and to figure out the Medicare Part D reimbursement game. The shutdown of a drug-repackaging plant hasn't helped either.
But it was surprising indeed to see labor costs on the rise three just months after Omnicare set a bold plan to slash expenses.
"At Omnicare, we continually seek opportunities to streamline our operating infrastructure to improve customer service and maximize efficiencies," CEO Joel Gemunder said back in July. "This process, which builds on the 'hub-and-spoke' concept we have been developing for some time, has led us to the point where we are now ready to undertake 'Omnicare Full Potential.'"
The hub-and-spoke concept obviously hasn't reached its full potential, given the latest quarter's mess. But at least it makes more sense than most of Gemunder's comments on Tuesday's conference call.
"It became extremely difficult to try to remove what we call excess labor because the cascade effect happens when you have something like this," Gemunder said,
TheStreet.com's
Melissa Davis
reported. "In other words, it takes longer to get bingo cards processed internally."
Obviously, Omnicare's number hasn't been coming up lately.
Dumb-o-Meter score: 88. Gemunder said on Tuesday that he feels "proud that we kept the wheels on the metaphoric wagon."
4. Amerigroup's Pregnant Pause
Amerigroup
(AGP)
shareholders were crying like a baby this week.
The Virginia Beach, Va., managed-care provider got slapped in court Tuesday with a
$144 million judgment in a Medicaid discrimination case. Shares plunged 15% after the feds persuaded Illinois jurors that Amerigroup illegally sought to keep pregnant women in their third trimester from getting coverage.
"If they enrolled someone who was pregnant or sick, the HMO knew it would have to spend more money to care for them," Assistant U.S. Attorney Sam Cole said last month when the trial opened, the
Chicago Sun-Times
reported. "It's about discrimination. It's about profit. It's about greed."
No it's not, Amerigroup wails -- it's about "continuity of care." Or so the company's lawyer claimed in October.
Continuity of care clearly has been weighing heavily on the minds of busy Amerigroup execs. In 2001, the
Sun-Times
reports, the company's director of medical management sent out an email that read in part: "Please keep up the good work with the marketing reps of not trying to sign up pregnant women."
Amerigroup CEO Jeffrey McWaters pledges an appeal, saying Amerigroup openly disclosed its policies and was acting with the direction of the Illinois Department of Public Aid.
"We are a strong company," McWaters said Tuesday, "and will continue to work tirelessly to provide access to quality care for the 1.2 million low-income families, elderly and the disabled who depend upon us to do our job well."
For patients who aren't about to give birth, anyway.
Dumb-o-Meter score: 82. Jurors saw a videotape in which one executive said he sought out "the healthies" when signing up patients, the
Associated Press
reports.
5. Trade Dress for Success
Advancis Pharmaceutical
(AVNC)
is moving forward again.
The Germantown, Md., developer of anti-infective drugs agreed this week to rename itself. A federal court found in September that Advancis infringed on the trademark of France's
Sanofi-Aventis
(SNY) - Get Sanofi Sponsored ADR Report
. The companies agreed last month to a settlement under which Advancis will change its corporate name by June 30, 2007.
It's hardly a huge loss, given that Advancis wasn't exactly an apt moniker for much of the company's history. Advancis came public in October 2003 at $10 a share, but the stock traded above that level just briefly before plunging into the low single digits. Shares touched bottom back in August 2005 at 86 cents each.
But that's all changed in the last year. Advancis shares have tripled over the course of 2006, fetching a recent $4.11 apiece.
"We are gratified that we were able to reach a mutually acceptable agreement with Sanofi-Aventis to resolve the trademark issue without significant hardship or financial impact to Advancis," CEO Edward M. Rudnic said Tuesday. "We are pleased to have an ample period of time to effect an orderly transition to a new corporate identity and have recently started the process to select a new corporate name."
After this year's rally, at least they won't have to settle on "Declinis."
Dumb-o-Meter score: 79. Sanofi-Aventis, mired in its Plavix mess, finally found a courtroom battle it could win.
In our
award-winning effort to enrich the reader experience, the Five Dumbest Things Lab now scores each item using our proprietary Dumb-o-Meter. This cutting-edge technology employs a finely calibrated, 100-point scale measuring sheer Dumbness, as calculated via a closely guarded secret formula.
Got your own idea for the dumbest thing of the week?
Want to get your Five Dumbest in the mail? It's easy. Just become a TSC member -- it's free -- and you'll receive the Five Dumbest in our Before the Bell email newsletter every Friday. The rest of the week, before each trading day, Before the Bell gives you a comprehensive look at the stocks expected to move the market, plus access to a sampling of our premium content from RealMoney. Click here to sign up for Before the Bell!