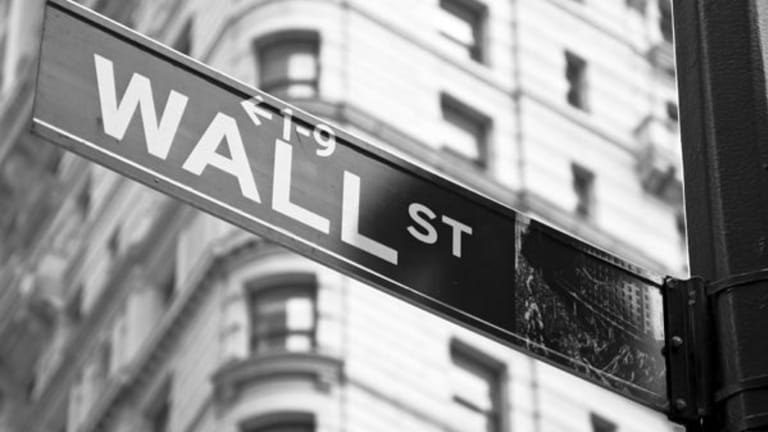 The Five Dumbest Things on Wall Street This Week
RadioShack hack; Renovis repressed; Enron ending; Getty go-getters; messy Medco.
1. Night and Day
RadioShack
(RSH)
is up to its old tricks.
Shares in the Fort Worth, Texas, electronics retailer fell this week after its
latest round of lousy numbers. RadioShack said sales in stores open at least a year dropped 9.6% from a year ago in the third quarter, even as cell-phone sales have skyrocketed elsewhere. A $16 million quarterly loss surprised analysts.
But then, surprises are nothing new at RadioShack. The company hired retail veteran Julian Day as its
turnaround CEO back in July, despite his seeming lack of electronics-industry experience. Perhaps RadioShack was just desperate to shake the shadow of former CEO Dave Edmondson, who
left under a cloud back in February.
"We really just shot ourselves in the head in the first quarter," Edmondson said in one memorable performance at a Merrill Lynch conference last year. "Some of
the reasons were related to very tough comps that we are going against in wireless, but I am not going to make any excuses."
There, at least, it's clear that Day will be making a clean break with the past. Wall Street seems curious to see how he'll keep RadioShack from going the way of the Wiz, the New York-area electronics chain whose stores closed for good back in 2003.
But Day indicates it's too early to stew over little details like that.
"Though too early in the management transition to see fundamental change in business trends, RadioShack made some important achievements in Q3 toward improving its operations," Day said in a Wednesday morning press release. "During the quarter, we streamlined costs; better aligned people and roles; and strengthened our balance sheet."
And reaffirmed RadioShack's reputation as a hopeless bumbler.
Dumb-o-Meter score: 91. "Capital will be allocated to projects which will yield the highest demonstrable return," Day revealed. What a novel concept.
To watch Colin Barr's video take of this column, click here
.
2. Saints and Sinners
Renovis
(RNVS)
investors were forced into a radical step this week.
Shareholders
fled the South San Francisco, Calif., biotech after they learned the company's anti-stroke drug had failed in a clinical trial. News of the setback, released at the eminently sensible hour of 2 a.m. EDT, sent Renovis shares plunging 73% in furious trading Thursday.
Renovis and partner
AstraZeneca
(AZN) - Get Astrazeneca PLC Sponsored ADR Report
had big plans for the drug, known initially as Cerovive and later designated NXY-059. The companies believed the drug had "free-radical trapping properties" that showed promise of helping stroke victims. They set up three clinical trials, optimistically designated Saint I, Saint II and Chant.
The Saint I study seemed aptly named. Renovis said in February that NXY-059 showed gains in reducing patient disability.
"If these data are supported by the Saint II results," CEO Corey Goodman said, "we believe that NXY-059 could become a broadly useful treatment for acute ischemic stroke patients."
But the halo came off Renovis when the results of Saint II, released Thursday, failed to support the earlier, hopeful findings. Shares careened deep into the single digits -- leaving them down 84% from their March high of $24.
"We are obviously very disappointed by the lack of efficacy shown by NXY-059 in the Saint II study," Goodman said. But, he added hopefully, "We expect that a compound from our collaboration with
Pfizer
(PFE) - Get Pfizer Inc. Report
to develop VR1 antagonists for pain will enter the clinic in 2007."
Renovis holders are well acquainted with pain by now.
Dumb-o-Meter score: 88. We can only imagine what some investors must be chanting.
3. Enron Ending
Former Enron chief Jeffrey Skilling is going away for a long time.
Skilling was sentenced Monday to
24 years in federal prison for his role in the collapse of the once-highflying energy trader. Skilling was
convicted back in May of conspiracy and securities fraud.
Jurors decided that Skilling repeatedly lied to investors about Enron's declining financial health during his run at the company, which ended just four months before its collapse. But the onetime star of Harvard Business School and the McKinsey consultancy maintains his innocence.
"I am innocent of every one of these charges," Skilling said Monday. "We will continue to pursue my constitutional rights, and it's not a dishonor to this court or anyone else who was involved in this, but I feel very strongly about this."
Of course, other people feel equally strongly.
"His crimes have imposed on hundreds if not thousands a life sentence of poverty," judge Sim Lake said, referring to workers and shareholders whose investments were rendered worthless by Enron's bankruptcy.
"The Enron fraud is as large and serious as any other fraud in this nation's history," chief prosecutor Sean Berkowitz said. Skilling, he added, "set the culture of what happened at Enron."
That may be evident in the reaction of Skilling's former assistant, Sherri Sera. Skilling, she told
The New York Times
, is "the most intellectually honest person you will ever meet."
He's just dishonest in all the other ways.
Dumb-o-Meter score: 85. "Enron has become a horror to me," Skilling told the judge. Join the crowd.
4. Glib Gab at Getty
The bad news is all blurring together at
Getty Images
(GYI)
.
Shares tanked 16% this week as the Seattle-based photo licensor posted
disappointing fiscal second-quarter earnings. The company said volume in its royalty-free business has been soft, though it quickly pointed to other highlights.
"Some of you may have noticed that we managed to not only shoot, but also distribute, what many described as the photographic tool of the century," CEO Jonathan Klein told analysts on a conference call Tuesday, according to the seekingalpha.com transcript. "That was the baby pictures from Angelina Jolie and Brad Pitt."
That momentous and unprofitable occasion aside, Getty's growth slowdown has fed rumors of massive layoffs. The company says no widescale firings are on the way, and that new jobs will be created by new business lines. On that point, Klein indicated on Tuesday that he has a bold vision for the future.
"We will manage aggressively through this transformation," Klein said, "directing resources to areas that provide the most compelling growth opportunities, thereby, setting the foundation for a new stage of growth."
But the new stage may well provide a better foundation for some Gettyites than for others, as Klein conceded last week in a note to employees.
"As part of our vision, there will be changes to some departments and job functions," he wrote. "This means some of our colleagues will not be part of the new structure."
They'll be out of the picture altogether, apparently.
Dumb-o-Meter score: 82. "Our entertainment imagery is exploding," Klein said, though imploding is probably a better word for the stock.
5. Medco's High Standards
Medco
(MHS)
just wants to do right by people.
That's why the Franklin Lakes, N.J., pharmacy-benefit manager agreed Monday to
pay $155 million plus interest to settle government false-claims allegations.
The Justice Department alleged that Medco submitted false claims to the government, solicited and accepted kickbacks from pharmaceutical manufacturers to favor their drugs, and paid kickbacks to health plans to obtain business.
As a condition of continued participation in government health programs, the feds required that Medco enter into a corporate compliance agreement with the Office of Inspector General and other government offices.
"Pharmacy-benefit managers are ultimately accountable to their patients and these agreements increase that level of accountability," said the U.S. Attorney for the Eastern District of Pennsylvania, Patrick Meehan. "Pressure by an employer to reduce costs and increase profits must never be allowed to coerce pharmacists into ignoring their duties to patients."
But at Medco, no one has even heard of coercion, let alone participated in it.
"After nearly seven years of inquiry, these issues end as they began -- with no finding of wrongdoing by Medco or any of its people," Medco spokeswoman Soraya Balzac said on Monday. "Even though we did nothing wrong, for our company and our clients, it is the right decision to put these aged matters in the past. Our business practices today are widely regarded as setting the standard for our industry."
And what a standard it is.
Dumb-o-Meter score: 75. Being right often costs $155 million, we find.
In our
award-winning effort to enrich the reader experience, the Five Dumbest Things Lab now scores each item using our proprietary Dumb-o-Meter. This cutting-edge technology employs a finely calibrated, 100-point scale measuring sheer Dumbness, as calculated via a closely guarded secret formula.
Got your own idea for the dumbest thing of the week?
Want to get your Five Dumbest in the mail? It's easy. Just become a TSC member -- it's free -- and you'll receive the Five Dumbest in our Before the Bell email newsletter every Friday. The rest of the week, before each trading day, Before the Bell gives you a comprehensive look at the stocks expected to move the market, plus access to a sampling of our premium content from RealMoney. Click here to sign up for Before the Bell!