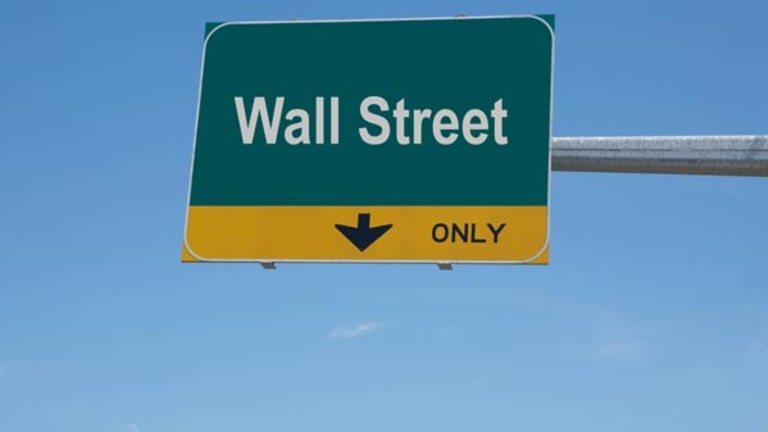 The Five Dumbest Things on Wall Street Thanksgiving Quiz
Test your knowledge of Wall Street's antics over the past few months.
NEW YORK (
) -- Happy Thanksgiving to Five Dumbest fans everywhere. We here at The Five Dumbest Lab certainly have a lot to feel thankful for, especially all those turkeys on Wall Street who continue to astonish and amuse us every week.
To show our heartfelt appreciation for all that inanity, we offer you The Five Dumbest Thanksgiving Quiz, recapping Wall Street's biggest flops this fall. Answering correctly could win you an autographed copy of
Jim Cramer's Getting Back To Even
and a handful of those squishy bulls he throws around the
Mad Money
set.
Enter by midnight Wednesday, Nov. 30, by emailing your answers
with the words "Contest Entry" in the subject line. We'll rerun the column Friday, Dec. 2, with the answers and the name of the winner. If there is more than one correct entry, we'll have a drawing, of course.
Good luck and Happy holidays!
1. In early September,
Dendreon
(DNDN)
CEO Mitchell Gold announced he was laying off about a quarter of the biotech company's workforce to reduce expenses in the face of less-than-expected sales of prostate cancer treatment Provenge. Among those sent packing was the company's chief marketing officer, who Gold specifically hired from
Bayer
the prior year for his marketing prowess. What was his name?
A. Jim King
B. Frank Knight
C. Hal Castle
D. Hans Bishop
2. Shares of
Jinko Solar
(JKS) - Get Report
got dumped in mid-September, losing almost 30% after the photovoltaic cell-maker got busted for doing what?
A. Dumping toxic waste into a Shanghai river
B. Dumping points in the Chinese corporate basketball league
C. Pumping and dumping its own stock
D. All the dumping above
3. A rogue trader was unearthed at
UBS
(UBS) - Get Report
in September and was reported to have lost the bank $2.3 billion. And if that wasn't bad enough, what did UBS CEO Oswald Gruebel tell analysts about his bank's risk management only three months before the jaw-dropping loss was discovered?
A. "Risk? We don't got no stinking risk!"
B. "We have no undue risk in our positions."
C. "Risk is my favorite game. Especially when I move troops into Siam."
D. "No Roger, no Rerun, no risk."
4. In early October, shares of home care providers
Amedisys
(AMED) - Get Report
,
LHC Group
(LHCG) - Get Report
and
Gentiva
(GTIV)
got slammed after a report released by the Senate Finance committee accused them of what illegal activity?
A. Texting while driving
B. Bilking Medicare by providing unnecessary home care
C. Impersonating a police officer
D. Practicing medicine without a license
5. In mid-October,
Netflix
(NFLX) - Get Report
CEO Reed Hastings did an about-face and decided to keep the company's DVD-by-mail and its streaming services under the Netflix umbrella. What was the name of the short-lived DVD rental business?
A. Trixter
B. Mister Mister
C. Qwikster
D. Tracy Flickster
6. What did
Research In Motion
( RIMM) offer its outraged customers in late October to compensate them for its multi-day Blackberry service outage?
A. Free Apps
B. Cash
C. Skee-ball Coupons
D. One free taco with the purchase of a large soda
7. What did hedge fund manager David Einhorn title his 110-slide presentation attacking
Green Mountain Coffee Roasters
(GMCR)
?
A. "Coffee Clash"
B. "No Greenback Mountain"
C. "River Deep Green Mountain Lies"
D. "GAAP-uccino"
8. In order to raise much needed capital to shore up its balance sheet,
Bank of America
(BAC) - Get Report
sold its stake in which pizza chain for $755 million in early November?
A. Godfather's Pizza
B. Chuck E. Cheese's
C. Pizza Hut
D. Ray's Original Pizza
E. Original Ray's Pizza
9.
Olympus
(OCPNY.PK)
stock sank over 30% in early November after the Japanese camera-maker admitted to which of the following offenses?
A. Improper accounting
B. Insider trading
C. Corporate espionage
D. Illegal music downloading
10. Which prominent economist criticized the 300-page revised Volcker rule, which prohibits banks from proprietary trading, saying it is "much more complicated than I would like to see?"
A. John Maynard Keynes
B. Friedrich Hayek
C. Salma Hayek
D. Paul Volcker
Bonus Question:
11. What does the "MF" in now-defunct brokerage firm
MF Global
(MFGLQ.PK)
stand for?
A. Man Financial
B. More Foolishness
C. Mister Finance
D. Mothers of Finance
--
Written by Gregg Greenberg in New York
.
Disclosure: TheStreet's editorial policy prohibits staff editors and reporters from holding positions in any individual stocks.