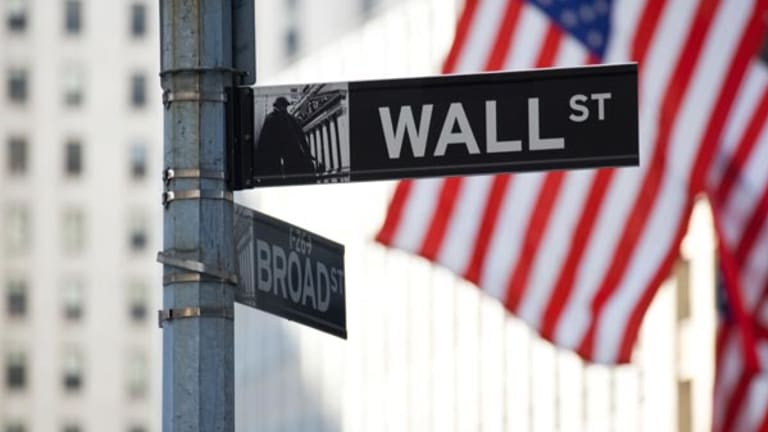 The Five Dumbest Things on Wall Street: Oct. 30
Baby Einstein inanity; Apollo's school daze; FairPoint's failure; Activision Blizzard's brain freeze; and Wal-Mart's death wish.
Baby Einstein Inanity
NEW YORK (
) -- Leave it to
Disney
(DIS) - Get Free Report
to do something goofy.
The Walt Disney Co. revealed last Friday it is escalating its refund program for its "Baby Einstein" videos in response to accusations about the legitimacy of its educational claims. The Mouse House is upgrading a customer satisfaction plan offering cash back on any DVDs purchased from June 5, 2004 to Sept. 4 of this year. Buyers can also swap the videos for a "Baby Einstein" book or music CD, or receive 25% off a "Little Einstein" product.
Oh, Mickey. Say it isn't so. We were so certain that you were turning America's toddlers into little atom-splitters. And now this?
The "Baby Einstein" brand was founded in 1997 by Julie Ainger-Clark, a mother and former educator, and was bought by Disney in 2001. The Campaign for a Commercial-Free Childhood, a Boston-based advocacy group, has been hounding Disney for years to stop claiming its DVD's could teach words to babies under two years old, only to be steamrolled by the creator of Steamboat Willie.
In May 2006, the group took its case to the Federal Trade Commission, saying claims made on "Baby Einstein" packaging and the Web site were not supportable by scientific research. The commission decided in December 2007 to take no formal action after investigating the matter, so the advocacy group threatened a class-action lawsuit against Disney in a letter to CEO Robert Iger in June 2008.
Now they are reveling in their hard fought "victory" over the Mouse House.
"We believe that this is an acknowledgment that baby videos are not educational," said Susan Linn, a psychologist and director of the campaign.
Maybe Disney should have done some product testing beforehand. Clearly the videos didn't help Donald Duck with his speech. And we've never heard Pluto speak at all.
Dumb-o-meter score: 95 -- What a letdown. Next they'll tell us a trip to Space Mountain won't get our kids into NASA.
Apollo's School Daze
The
Securities and Exchange Commission
is putting
Apollo Group
(APOL)
on not-so-secret double probation.
Shares of the online educator resembled a frat house the morning after a toga party on Wednesday, sinking 18% after the company admitted that federal regulators were delving into its revenue recognition practices. Apollo, the parent of University of Phoenix, said the SEC started inquiring about its accounting last week, but could not comment on the size or scale of the investigation.
Apollo's troubles infected higher education stocks, which have rallied strongly this year as the economic downturn has sent more Americans back to school. Shares of
Grand Canyon Education
(LOPE) - Get Free Report
,
Corinthian Colleges
(COCO) - Get Free Report
and
Career Education Corp.
(CECO) - Get Free Report
sold off in sympathy with Apollo, since most of the publicly traded colleges recognize revenue in a similar fashion.
The good news? The online University of Phoenix has no football team, and thus, will face no NCAA sanctions that could jeopardize a BCS bid.
The revenue recognition issue, which revolves around how Apollo books sales when a student drops out of a class, is not new to the company. Back in February, a separate division of the SEC was also poking around the company's accounting division.
Nevertheless, the latest inquiry arrives at a time when the Education Department is cracking down on so-called "diploma mills." So Apollo probably should have reviewed -- or completely changed -- its accounting practices before the SEC snuck up on them with its latest pop quiz.
Dumb-o-meter score: 90 - Luckily, the SEC has not found the virtual kegs in the freshman dorms. Whew!
FairPoint's Failure
Farewell
FairPoint Communications
. In the end, your ambition proved fatter than your wallet.
Fairpoint's quest to take over the New England telephone market ended in a Manhattan bankruptcy court this Monday. The company sought Chapter 11 protection after failing to absorb a mass of phone lines purchased from
Verizon
(VZ) - Get Free Report
that ballooned the company's customer base more than sixfold. FairPoint, which listed assets of $3.2 billion and debt of $3.2 billion as of June 30, reached a deal with its secured lenders on a restructuring plan that would slice $2.7 billion in debt by $1.7 billion.
The Charlotte-N.C. based-company spent $2.72 billion in 2008 to buy Verizon's land lines in Maine, Vermont and New Hampshire. At the end of June, FairPoint could boast an impressive 1.7 million subscribers, compared with 252,000 before the purchase.
Unfortunately, it's appetite for expansion caused it to take on an equally impressive debtload, one so big that it could choke a horse, or sink a telecom company, in a mere 18 months.
FairPoint had 975 employees and about 300,000 access lines nationwide before the deal. Verizon had more than 3,000 employees and 1.6 million access lines in northern New England. Opponents of the deal said then CEO Gene Johnson was biting off more than he could chew.
And boy, did the critics seem to know the size of Johnson's stomach better than he did.
FairPoint could not get it together almost from the get-go. Billing problems and technical snafus led to a stream of customer complaints that lit up the phone lines they paid so dearly for. Wall Street's credit crisis sent their debt costs skyrocketing. And Johnson was finally forced to "retire" in July.
Aside from dealing with bondholders, FairPoint is negotiating with 3,000 union employees in the Northeast for concessions in a cost-cutting maneuver. Union leaders are pushing back, however, claiming that FairPoint's financial problems were caused by "crushing debt and an organizational chaos," not by its workers.
Debt, chaos and delusions of grandeur. Don't forget that one guys.
Dumb-o-meter score: 85 - Hey, FairPoint. Size doesn't matter. Paying back your creditors does.
Activision Blizzard's Brain Freeze
Activision Blizzard
(ATVI) - Get Free Report
says its newest video game is designed to evoke the "atrocities of terrorism." We just call it an atrocity of taste.
Footage leaked this week from the company's upcoming "Call of Duty: Modern Warfare 2" shows players firing at innocent civilians in an airport, in a realistic portrayal of a terrorist assault. The game, which carries an "M" rating for mature audiences, is set to hit store shelves next month, just in time for the Christmas season.
Yes, what a wonderful way to celebrate the holidays. Peace on earth, good will towards men and a terrorist attack in every little boy's Christmas stocking.
Activision Blizzard said Wednesday in a statement that the footage was taken illegally and is not a true representation of the game's overall experience or purpose. The publisher claimed that the game is really about fighting terrorism as players "face off against a terrorist threat dedicated to bringing the world to the brink of collapse."
The publisher also says that gamers can choose not to play through the airport scene. Modern Warfare 2 is designed so the part can be passed over without losing any of the narrative.
Yeah right. Like that's going to happen.
"We want the player to be emotionally attached. We want them to be emotionally shocked," said Vince Zampella, head of the game's developer, Infinity Ward, in an interview before the footage was leaked.
We suppose they also want them in therapy too.
Dumb-o-meter score: 80 - Somewhere, Pac-Man weeps at his lost innocence.
Wal-Mart's Death Wish
We finally have proof that
Wal-Mart
(WMT) - Get Free Report
will not stop until it captures the American consumer's very last dollar. Be they dead or alive.
Yep, Wal-Mart is now selling caskets and urns online, joining fellow discounter
Costco
(COST) - Get Free Report
in the funereal business. And considering Wal-Mart's steamroller approach, their new line of cut-rate coffins will most likely bury this lucrative side business of funeral homes, which are required by federal law to accept third-party caskets. All are less than $2,000 and ship within 48 hours, except for the Sienna Bronze Casket, which sells for $3,199.
Taking over the world is not enough. Wal-mart plans to take over the afterworld.
Wal-Mart's caskets are supplied by McHenry, Ill.-based Star Legacy Funeral Network Inc., which sells the same caskets for about the same price, as well as others, on its Web site. A Wal-Mart spokesman said more than 200 Star Legacy products, including pet urns and memorial jewelry, and eventually more than two dozen caskets, will be available at walmart.com.
As for financing, walmart.com is allowing people to pay for the caskets over 12 months, with no interest.
The company didn't say anything about their return policy, if the end user is dissatisfied.
Dumb-o-meter score: 75 -- Need some flowers to go with that casket? Try the samsclub.com arrangement for about $300. Seriously.
--
Written by Gregg Greenberg in New York
.
Before joining TheStreet.com, Gregg Greenberg was a writer and segment producer for CNBC's Closing Bell. He previously worked at FleetBoston and Lehman Brothers in their Private Client Services divisions, covering high net-worth individuals and midsize hedge funds. Greenberg attended New York University's School of Business and Economic Reporting. He also has an M.B.A. from Cornell University's Johnson School of Business, and a B.A. in history from Amherst College.