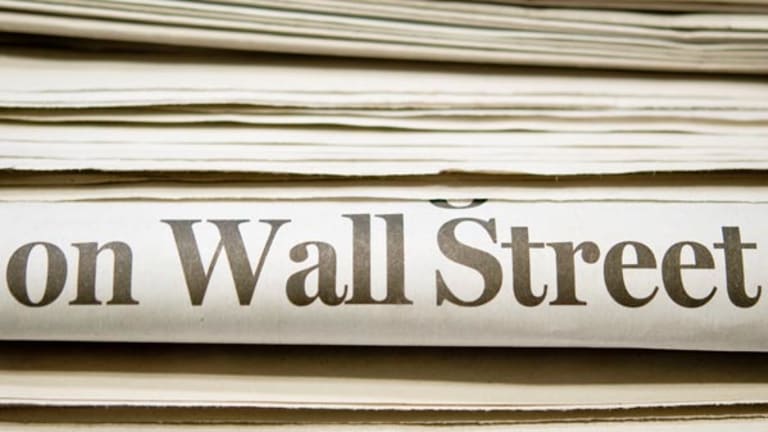 The Five Dumbest Things on Wall Street -- Midyear Quiz!
Try our midyear quiz and get a shot at a Cramer book!
The first half of the year is coming to an end, so it's time to review those asinine Wall Street antics in The Five Dumbest Things First-Half Quiz. Answering correctly could get you a shot at an autographed copy of Jim Cramer's
.
Enter by midnight Tuesday, July 3, by emailing your answers
with the words "Contest Entry" in the subject line. We'll rerun the column Friday with the answers and the name of the winner. If there's more than one correct entry, of course, we'll have a drawing.
So, sharpen your No. 2 pencils. Good luck!
1. Rupert Murdoch's
News Corp.
(NWS) - Get News Corporation Report
hatched a surprise $5 billion bid for
Dow Jones
( DJ) this spring. Name the family whose supervoting shares give members effective control of the publisher of
The Wall Street Journal
.

The Barrons
The Bancrofts
The Dows
The Joneses
2.
Alcoa
(AA) - Get Alcoa Corporation Report
surprised investors in May with an unsolicited $27 billion cash-and-stock bid for rival
Alcan
(AL) - Get Air Lease Corporation Class A Report
. Alcan's board promptly rejected the proposal, but Alcoa forged ahead anyway. What did Alcoa CEO Alain Belda say in filing for regulatory approval of the deal?

"It is clear to us that Alcan and Alcoa have fundamentally different approaches and track records in creating shareholder value."
"We are clearly the optimal partner for Alcan, bringing a strong strategic rationale and a significant synergy footprint to this combination."
"The value is well below the market price and well below what we think the company is worth."
A and B.
3. Three of the groups listed below have announced their support for the merger of satellite radio broadcasters
Sirius
(SIRI) - Get Sirius XM Holdings Inc. Report
and
XM
( XMSR). Which one hasn't?

The League of Rural Voters
The National Council of Women's Organizations
Women Involved in Farm Economics
The National Association of Broadcasters
4. Last month,
Bausch & Lomb
( BOL) announced a $3.7 billion deal to be taken private by Warburg Pincus. A week later, rival eyecare company
Advanced Medical Optics
(EYE) - Get National Vision Holdings Inc. Report
said it might be interested in bidding for Bausch, whose shares had been hit hard by the infection-related recall of a contact lens solution.
What did Advanced Medical do the day after it declared its interest in Bausch?

It backed away from the comments, saying they had been taken out of context.
It recalled some of its own lens solution due to a different infection outbreak.
It got a takeout bid from a group led by Blackstone.
It changed its name to Message: Eye Care.
5. Match the
Motorola
( MOT) comment with the event that provoked it.

Dissident shareholder seeks election to board.
CEO Ed Zander explains first-quarter loss on conference call.
Operating chief Greg Brown admits 2007 earnings won't hit lowered target.
Finance chief Tom Meredith sets plan to cut 7,500 jobs.

"We will not allow Carl Icahn to use Motorola as his self-serving platform."
"Across the company, the previously announced cost-reduction actions are on schedule."
"Long-term, sustainable profitability is -- and always has been -- Motorola's top priority."
"I don't know how many ways there are to make phones. We have to be careful not to build things like Swiss army knives."
6. Name the CEO who quit over a tabloid newspaper article that the executive characterized as "full of misleading and erroneous claims."

Yahoo!'s (YHOO) Terry Semel
Monster's (MNST) - Get Monster Beverage Corporation Report William Pastore
BP's (BP) - Get BP p.l.c. Report John Browne
Avici's( AVCI) Bill Leighton
7.
Wendy's
(WEN) - Get Wendy's Company (The) Report
has been under pressure from activist shareholders who want management to boost the stock price. What actions did the burger chain take during the second quarter to placate them?

It hired a new CEO.
It set plans to spin off its Frosty frozen dessert unit into a separate publicly traded company.
It rolled out a new marketing campaign focusing on the squareness of its hamburger patties.
It repeatedly said it's trying to find a buyer.
8. The Federal Trade Commission filed this month to block
Whole Foods'
( WFMI) proposed $565 million purchase of rival
Wild Oats
( OATS). Why does the agency believe the merger plan is anticompetitive?

Whole Foods chief John Mackey told his board the deal would allow the company to raise prices.
Whole Foods internal documents sketch out a plan to corner the U.S. market for organic guacamole.
The merger could lead to a bidding war for the rights to Wild Oats' sought-after ticker symbol, OATS.
A deal could allow Mackey to raise his annual salary from the current $1.
9.
Navistar
( NAVZ) has doubled since last November as the truck manufacturer has emerged as a major player in the competition to build blast-resistant vehicles for the Army. What did finance chief Bill Caton recently call the company's "No. 1 priority"?

Getting more armored-truck orders.
Regaining a New York Stock Exchange listing.
Filing accurate financial restatements.
Settling a legal dispute with Ford (F) - Get Ford Motor Company Report.
10.
Optionable
(OPBL)
shares plunged 90% in a single week last month after its biggest customer suffered a $615 million loss on a natural gas options trade.
Where is the customer,
BMO Bank of Montreal
(BMO) - Get Bank Of Montreal Report
, headquartered?

Montreal
New York
Toronto
Jakarta
In our
award-winning effort to enrich the reader experience, the Five Dumbest Things Lab now scores each item using our proprietary Dumb-o-Meter. This cutting-edge technology employs a finely calibrated, 100-point scale measuring sheer Dumbness, as calculated via a closely guarded secret formula.
Got your own idea for the dumbest thing of the week?
Want to get your Five Dumbest in the mail? It's easy. Just become a TSC member -- it's free -- and you'll receive the Five Dumbest in our Before the Bell email newsletter every Friday. The rest of the week, before each trading day, Before the Bell gives you a comprehensive look at the stocks expected to move the market, plus access to a sampling of our premium content from RealMoney. Click here to sign up for Before the Bell!