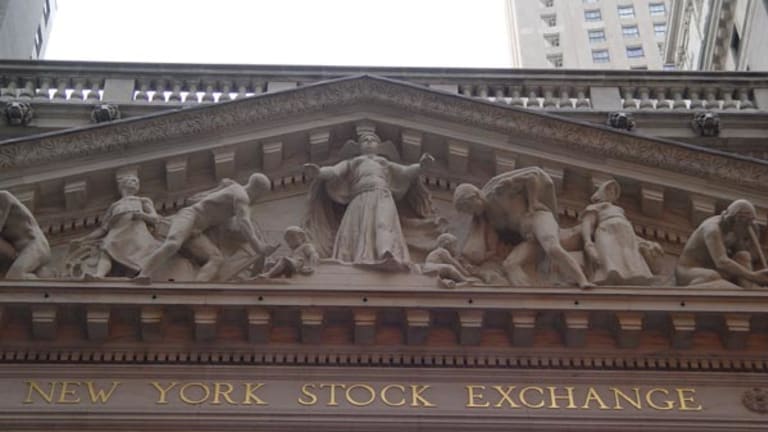 The Five Dumbest Things on Wall Street: May 28
Javelin's unravelin'; DreamWorks' nightmare; EMC pays to play; Perrigo needs a maid; Disney's dopey duo.
Javelin's unravelin'; DreamWorks' nightmare; EMC pays to play; Perrigo needs a maid; Disney's dopey duo.
5. Javelin's Fall
"Never catch a falling knife" is the Wall Street adage traders cling to during volatile markets like these. If you ask us, they may want to avoid a falling
Javelin
( JAV) as well.
Shares of Javelin Pharmaceuticals lost a quarter of their value Monday after the company said its licensee for the pain treatment Dyloject has withdrawn all batches of the drug from the U.K.
Therabel Pharma UK Ltd.
yanked Dyloject after finding the presence of a "white particulate matter" in some of its vials.
What's the matter with a little extra "matter," you ask?
Well, aside from safety questions and the
ick
factor, this unexplained "matter" matter could undermine a major merger. (Say that sentence three times fast and you may need a pain treatment yourself!)
Javelin, you see, is the subject of an all-cash, $145 million tender offer, or $2.20 per share, from drug and medical device maker
Hospira
(HSP)
, which snatched the company from rival
Myriad Pharmaceuticals
(MYRX)
in April with a better offer. After Monday's selloff, Javelin's market cap has been reduced to $80 million, and its shares now trade around $1.20 a share.
Javelin stranded Myriad at the altar last month. Now it is the one being sacrificed.
Dumb-o-meter score: 75 -- Javelin is unravelin'.
4. DreamWorks' Nightmare
The folks at
DreamWorks
(DWA)
are waking up to their worst possible nightmare. Yep,
Shrek
has grown stale.
Shares of DreamWorks Animation SKG sank 11% Monday as its high-profile summer release
Shrek Forever After
won the weekend's box office battle but failed to live up to the results of its predecessors and, more importantly, Wall Street's fairy tale expectations. The fourth installment of the series pulled in $71.3 million in North America, far less than the $100 million-plus haul most analysts were expecting.
Shrek The Third
made $121.6 million on its opening weekend in 2007, and
Shrek 2
turned in $108 million in 2004.
On the bright side, it beat the heck out of
MacGruber,
which took in a meager $4.1 million in ticket sales. (When will Hollywood learn that successful
Saturday Night Live
spinoffs died with John Belushi?)
What made the opening weekend for
Shrek
especially disappointing was the number of 3-D screens available for the release. More than 2,300 of the 4,359 theaters that played the film were 3-D equipped, meaning each movie-goer at those venues paid a premium. In Manhattan, for example, patrons reportedly shelled out as much as $20 a ticket for their kids to see the film, despite its $135 million budget and marginal reviews.
Even for New York City that's a giant ripoff. And not a jolly green one.
Dumb-o-meter score: 80 -- Thankfully, the studio has promised this will be the last in the Shrek series. We wouldn't count on a 'MacGruber II' either.
3. EMC Settles
EMC
(EMC)
is paying the government $87.5 million for something it says it absolutely, positively did not do.
Jeez, following the law is sure getting awfully expensive these days.
The data-storage provider agreed on Tuesday to settle decade-old charges that it illegally overcharged the government. The Justice Department accused EMC of lying to the General Services Administration in contract negotiations about its efforts to get the government the lowest prices.
Furthermore, the feds also accused EMC of profiting from an illegal kickback scheme in which consulting companies were paid by EMC each time they recommended an EMC product to a government agency. EMC continues to deny the charges, but said it was pleased "that the expense, distraction and uncertainty of continued litigation are behind us."
"Misrepresentations during contract negotiations and the payment of kickbacks or illegal inducements undermine the integrity of the government procurement process," Tony West, assistant attorney general for the Justice Department's civil division, said in a statement.
That's no baloney, Tony! If Uncle Sam is going to overpay for something, he doesn't need any help. He can throw money away just fine without EMC's meddling.
Dumb-o-meter score: 85 -- EMC learned the hard way that 'You can't fight City Hall'. You just have to pay them millions to go away.
2. Perrigo's Polluted Pills
Welcome to the "Polluted Plant Club,"
Perrigo
(PRGO) - Get Report
! Or should we say, "Welcome back."?
Non-prescription drugmaker Perrigo was forced to yank its ibuprofen tablets from the market this week after regulators found metal shavings in some of the pills manufactured in its Allegan, Mich., plant. According to an FDA warning letter, the company failed to thoroughly investigate why some tablets were the wrong size and why they failed to inspect packaging equipment between batches.
Jeez, lately these dirty-plant drug recalls are getting to be more regular than bank failures. In the past year we've seen
Johnson & Johnson
(JNJ) - Get Report
,
Genzyme
( GENZ), Javelin and Perrigo all get busted for quality-control problems. Will somebody grab a mop and start cleaning these joints before somebody really gets hurt?
What makes Perrigo's lapse all the more sorry is that it's not the first time the company has been flagged by the FDA for unclean facilities. In 2006, the company had to recall 11 million bottles of acetaminophen pills containing pieces of wire as long as 8 millimeters.
"Your firm continues to receive complaints regarding these issues, and despite past assurances that previous enhancements would control the problem, deviations continue," wrote Joann M. Givens, director of the FDA's Detroit District Office, in a letter.
Good point, Ms. Givens. Maybe they would listen more closely by taking the cotton from their ears and putting it in the medicine bottles where it belongs.
Dumb-o-meter score: 90 -- Perrigo should be cleaning up from J&J's infant Tylenol recall. Instead they are cleaning house.
1. Disney's Dumbos
A pair of idiotic criminals are once again creating a stir at
Disney
(DIS) - Get Report
, and no, we are not talking about a remake of
The Apple Dumpling Gang
.
A dim-witted Disney employee and her even dumber boyfriend were charged with insider trading Wednesday. U.S. prosecutors accused Bonnie Hoxie, an assistant to Disney's corporate communications chief, and her beau, Yonni Sebbag, of attempting to sell insider information to more than 30 U.S. and European hedge funds. The couple were busted in an undercover sting after government agents nailed Sebbag trying to peddle a story that the media giant was in advanced talks to sell its ABC-TV network, a claim that Disney officials quickly denied.
So what motivated these insipid insiders to try to profit illegally from the Mouse House? For him, it was the money. For her, it was -- get this -- the shoes.
On the very day she sent confidential earnings information, Hoxie sent her boyfriend a photo of a $700
Stella McCartney
designer handbag she wanted, according to the
Securities and Exchange Commission
complaint. Sebbag graciously replied to his lover's request with an email saying, "I may be able to (buy) u 2 of them, lol."
"In that case, I also love love these shoes," responded Hoxie.
Yes, dear readers, our culprit is a criminal version of Carrie Bradshaw from
Sex and the City.
She's not so smart, very stylish and loyal to her Mr. Big. Unfortunately, this Mr. Big may soon be headed to the big house.
Dumb-o-meter score: 95 -- Dumpling Gangers Don Knotts and Tim Conway were geniuses compared to Hoxie and Sebbag.
Before joining TheStreet.com, Gregg Greenberg was a writer and segment producer for CNBC's Closing Bell. He previously worked at FleetBoston and Lehman Brothers in their Private Client Services divisions, covering high net-worth individuals and midsize hedge funds. Greenberg attended New York University's School of Business and Economic Reporting. He also has an M.B.A. from Cornell University's Johnson School of Business, and a B.A. in history from Amherst College.