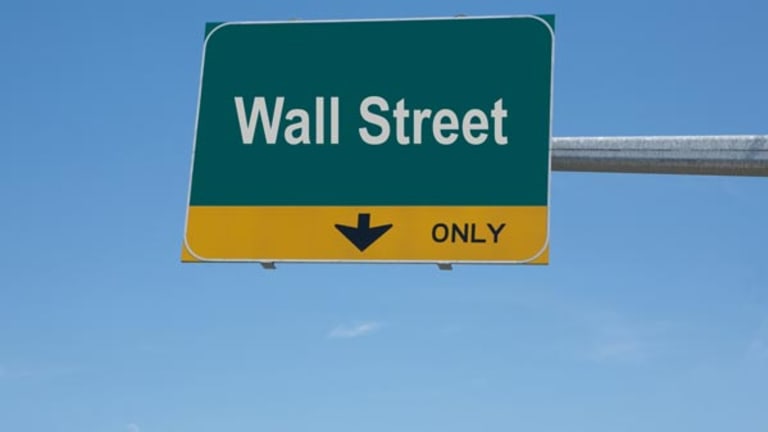 The Five Dumbest Things on Wall Street: March 28
Bill Miller's bailout; Cablevision's vision of the press; McCain's 0% home-ownership solution; Clear Channel's legal vows; buy Bear on eBay.
Bill Miller's bailout; Cablevision's vision of the press; McCain's 0% home-ownership solution; Clear Channel's legal vows; buy Bear on eBay.
1. Bill Miller's Bailout
When the going gets tough, the tough get going. But from the looks of it, that charming old aphorism doesn't apply to Wall Street, where the better portion of the tough currently appear to be getting their foreheads hit by the flat side of an ax.
Take Bill Miller, the legendary fund manager at
Legg Mason
(LM) - Get Report
. If the stock market is like some archaic lock assembly, Miller has shown over time that he is one of the few men with the pick. That is, until
Bear Stearns
( BSC). Anyone -- even the Sage of Baltimore -- can be unlucky enough to amble under a ceiling at the precise moment it collapses.
But Miller suffered a far worse fate, because he was standing at a dais delivering a public speech on what a good deal Bear was at the precise moment it was collapsing toward what would become known as its take-under price.
When a smart aleck at the Q&A asked the Sage of Baltimore if he was aware of the stock's (bowel) movement as he spoke, Miller reportedly responded in the way any of us might: He turned ashen.
And how did this big holder face this tougher turn? Mostly by whining. Moreover, his particular form of whining managed to dumbly obscure the difference between a stock and bond holder.
See, the way things always work is that creditors get paid off first. Equity holders? Well, he who lives by the stock dies by it. Reeling, though, Miller tried to talk capitalism out of its most basic tenet. By making its guarantees, the
Fed
bailed out those "who loaned them all the money" while the shareholders got banged up pretty good, Miller said, neglecting to add that bankruptcy (the alternative) runs exactly the same way.
Dumb-o-meter score: 95. At least Miller didn't ask for a federal bailout of fallen fund managers. Still, considering he was also a big holder of Countrywide( CFC), let's rename him the Tarragon of Baltimore.
2. Cablevision's Vision of the Press
The latest evidence that the newspaper saviors are beginning to cry for mercy? Sam Zell, last seen
cursing randomly at newsroom employees
during a morale-building visit, might now be unloading
Newsday
, the reeling Long Island daily.
Such is life in the fast lane of newspaper turnaround. So who's the next angel of mercy for the dead-tree press?
Cablevision
(CVC)
.
That's right: The company that owns cable television properties, plus the Knicks and Rangers and believes the media has all the charm and utility of a fire in a cockloft might just be running toward the front of the newspaper parade.
Unfortunately, of course, that parade is marching in lockstep off the lip of a cliff ... but, again, that's about newspaper finances, which is an old story. This is about the future of news and how a company that all but rolls down steel gates to keep reporters from the teams they actually serve to keep in front of the public's eyes will function as ... the public eye. Perhaps failed family scion Jimmy Dolan, who is currently working diligently to drive Madison Square Garden into a ditch, will be reassigned to
Newsday
and earn his way back into good public graces as the cub reporter Jimmy Dolan Olsen?
Seeing this latter-day Olsen with a pen and sliver-thin pad might give rabbit punches to the guts of others in the press corps. But maybe he would have an idea of where to stake out the next fired Knick coach along the roadside, as certain reporters had to do when
was bound and gagged while awaiting his firing in enforced silence.
Dumb-o-meter score: 85. Rupert Murdoch's News Corp. (NWS) - Get Report and Mortimer B. Zuckerman, who owns the New York Daily News, also are reportedly interested. But seeing a company that requires a Freedom of Information Act to interview a backup point guard transforming its employees into ink-stained wretches might be worth the price of admission. Spare change and pocket lint on the newsstand.
3. McCain's 0% Home-Ownership Solution
In Barack Obama's America, banks and homeowners will just sit down and come to magical understandings with each other. Well, John McCain has a different idea. In fact, this week he apparently had two different ideas.
For starters, the Captain of the Straight Talk Express spoke courageously in California, a state that sits at the seat of the nation's housing trouble. Refusing to pander, McCain said that there should be no rapid intervention for homeowners or banks.
In fact, he said, seemingly willing to sign California over to the Democrats in order to stand on principle, there should be no intervention. "It is not the duty of government to bail out and reward those who act irresponsibly, whether they are big banks or small borrowers," he said.
Obama and Hillary were tumbling over each other to dole out billions in relief packages to homeowners, and McCain actually described some homeowners as greedy and reckless. Maybe, some thought, the political world is changing and not because of Obama's promise to get lions to lay down with lambs.
That lasted about six seconds, of course, when the Straight Talk express veered into oncoming traffic.
McCain, perhaps sensing that he had lobbed a hanging curve to Democrats looking to paint him as in the pocket of big business, referenced
General Motors'
(GM) - Get Report
great move in going to 0% financing after 9/11. He appeared to say that banks should do the same.
I'll let the political animals sort out the truth, but let's wind our way back to his showcasing of GM. With the benefit of hindsight, how did that 0% financing impact the fast-failing auto company? Uh, maybe big business should go for Obama, who may be able to get American auto companies and their foreign competitors to run through fields holding hands.
Dumb-o-meter score: 85. Conspiracy kooks, an exceedingly large voting block, immediately saw McCain's zero-financing push in the context of his recent trip to the Middle East, which obviously had him fixated on the Islamic standing against charging interest. Is the double agent Manchurian Candidate in this race not the foreign-educated Obama but the Naval Academy's McCain?
4. Clear Channel's Legal Vows
In many ways, Wall Street can be seen as the economy's high school boyfriend. They both want to break up, but they're inseparable. And while every human and business relationship can degenerate into a troubled product of combustion,
Clear Channel Communications
(CCU) - Get Report
actually got a restraining order this week against a consortium of Wall Street firms, which presumably must not come within 100 yards or call drunk in the middle of the night.
Wall Street firms told to shut up and behave by the long arm of the law? Can economic recovery be far behind in the form of a new, better boyfriend who really cares?
Clear Channel was on the path toward a future of better things, one with two chivalrous private-equity partners. The Texas judge's order against the louts came Wednesday. These overbearing, controlling investment banks will not be allowed to "interfere with or thwart consummation of the merger agreement," said the judge, scoring one for those everywhere who have tried to get on with their lives without previously rejected suitors crawling out from the woodwork to make trouble.
Apparently, the likes of
Citigroup
(C) - Get Report
,
Credit Suisse
(CS) - Get Report
and
Wachovia
(WB) - Get Report
will have to finance consummation of the deal, no more questions asked. Wow. Making the dumb, out-of-control bad boys of the world pay for the wedding of those who don't fear a healthy (if debt laden) relationship. That, my friends, is progress.
Dumb-o-meter score: 85. Never date -- let alone marry -- a scoundrel. Words to live by, on Wall Street and Main.
5. Buy Bear on eBay
Bear Stearns shareholders received a small mercy this week when
JPMorgan Chase's
(JPM) - Get Report
offer for their once-highly valued stock was raised to $10 from $2. But alas, more indignity lurked where indignity often does: in the dirty laundry pile.
Remember how the stock was trading at $170 a year ago? Well, a Bear Stearns T-shirt sold on
eBay
(EBAY) - Get Report
for $151, only 19 bucks off the high the stock traded at.
The ghoulish habit of buying trinkets from failed companies has some precedence in the (in)famous tilted Enron E, for example, which fetched $44,000 at auction a few years back, making the Bear Stearns T-shirt look like a bargain. Some might question the wisdom of allowing a product with such bad vibes into your home, but maybe by tilting the E the other way or washing the T-shirt, you can cleanse away the bad. That said, it's now beginning to make sense that my golf game has been a bit off for the past, oh, two decades.
Dumb-o-meter score: 85. Anyone want a bag of Drexel Burnham Lambert imprinted golf Tees? Going once, going twice...
At the time of publication, Fuchs had no positions in any of the stocks mentioned in this column.
Marek Fuchs was a stockbroker for Shearson Lehman Brothers and a money manager before becoming a journalist who wrote The New York Times' "County Lines" column for six years. He also did back-up beat coverage of The New York Knicks for the paper's Sports section for two seasons and covered other professional and collegiate sports. He has contributed frequently to many of the Times' other sections, including National, Metro, Escapes, Style, Real Estate, Arts & Leisure, Travel, Money & Business, Circuits and the Op-Ed Page. For his "Business Press Maven? column on how business and finance are covered by the media, Fuchs was named best business journalist critic in the nation by the Talking Biz website at The University of North Carolina School of Journalism and Mass Communication. Fuchs is a frequent speaker on the business media, in venues ranging from National Public Radio to the annual conference of the Society of American Business Editors and Writers. Fuchs appreciates your feedback;
to send him an email.