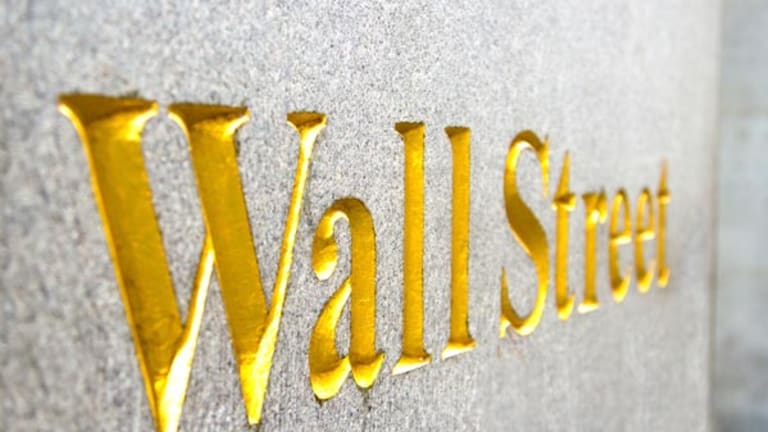 Publish date:
The Five Dumbest Things on Wall Street: June 11
Escape from New York & Co.; Goldman's Galarraga moment; Pharmacy foolishness; Sprint stumbles on math; AT&T's ongoing ineptitude.
Escape from New York & Co.; Goldman's Galarraga moment; Pharmacy foolishness; Sprint stumbles on math; AT&T's ongoing ineptitude.
Escape From New York & Co.
Start spreading the news, shareholders are leaving today. They don't want to be a part of
New York & Co.
(NWY)
.
The
women's clothing store chain lost
more than a quarter of its stock market value on Tuesday, closing at $2.31 per share, after it said its second-quarter loss will surpass the $4.8 million in red ink it spilled last year.
How much more will New York & Co. lose than last year?
We don't know. They didn't tell us, or anybody else for that matter, which is why the stock fell faster than a New York minute on Tuesday morning.
The company did send out a press release on Monday evening alerting investors that its quarterly results were not looking pretty. New York & Co. said comparable-store sales were flat, costs were up and margins were down. Or, as they say in New York's Garment District:
Oy, oy and oy vey
.
Still, if the company wants to make it there -- the
New York Stock Exchange
that is -- or make it anywhere, it needs to give Wall Street analysts precise information. Not loose ends.
And that's up to you New York & Co.
Dumb-o-meter score: 75 -- New York needs better fashion -- and financial -- sense.
Goldman's Galarraga Moment
For an operation whose traders made money every day of the first quarter by being a step ahead of their competitors,
Goldman Sachs'
(GS) - Get Report
decision to downgrade the drillers sure looks laggardly.
The super-slick investment bank
cut its ratings
on oil drillers
Transocean
(RIG) - Get Report
and
Noble
(NE) - Get Report
to neutral from buy on Tuesday, a full 49 days after the
BP
(BP) - Get Report
oil spill tragedy began. On April 20, the day the Deepwater Horizon rig exploded, Transocean stock was trading around $92, compared with a $49-per-share price tag on the morning of June 8 when Goldman released its research report. Shares of Transocean finished the day just above $46.
Yep, Goldman waited until the stock was almost cut in half before telling its clients to bail out. We haven't seen a call that bad since umpire Jim Joyce took away Detroit pitcher Armando Galarraga's perfect game.
"We believe that the Macondo oil spill is likely to have a long lasting impact on the industry and most negatively impact the deep water drillers," said Goldman Sachs in its note.
Thanks so much for the heads up, Goldie. Unfortunately, now that the stocks have gotten hammered, we doubt we will be able to profit from it.
But that's OK. We know you will.
Dumb-o-meter score: 80 -- Goldman pitched a perfect game in the first quarter. If only it wasn't a shell game.
Pharmacy Foolishness
We can see only one winner in the escalating war between
CVS Caremark
(CVS) - Get Report
and
Walgreen
(WAG)
and that's The Five Dumbest Lab. Their stocks go lower, and our chuckles get louder.
The latest salvo in this foolish feud came Wednesday when
CVS Caremark announced it will terminate Walgreen's participation
in its retail pharmacy network starting next month. As a result, people whose prescription drug benefits are handled by Caremark will not be able to be reimbursed for prescriptions filled at one of Walgreen's 7,000 pharmacies. The move was clearly in retaliation for Walgreen's decision earlier in the week not to do any new business with Caremark because it objects to policies that drive customers to CVS stores.
As one of the largest pharmacy benefits management networks, CVS Caremark pays pharmacies to fill prescriptions and it makes money by reducing costs for plan members and sponsors. Pharmacy giant Walgreen, on the other hand, wants to be paid more for filling prescriptions. Walgreen gets about 7% of its revenue from Caremark prescriptions, or about $4.5 billion in its last fiscal year. Caremark handled almost 660 million prescriptions in 2009.
The trouble is, while these morons are engaging in tit-for-tat tomfoolery, their shareholders are swallowing losses like bitter pills. CVS shares have fallen 12% over the past month, while Walgreen's stock has dropped more than 13%.
Walgreen said in response to the CVS announcement that it was "disappointed but not surprised" by its rival's decision to cut them off.
Why should they be surprised? It's just a dose of their own medicine.
Dumb-o-meter score: 85 -- These pharmacy fools need to take a chill pill before their stocks really tank.
Sprint's Stumble
If only
Sprint Nextel
(S) - Get Report
could do some simple math, then it would not appear to be so stupid.
Sprint revealed Tuesday that it flubbed its initial sales figures for its new flagship smart phone, vastly overstating its first weekend results. The company originally announced on Monday that first-day sales of the HTC EVO 4G had tripled the combined first three-day sales totals of its next best-selling phones, the
Samsung
Instinct and
Palm's
( PALM) Pre. In a revised release, however, the company admitted that EVO's first-day sales were actually equal to the
combined three-day sales
of the other two phones.
A Sprint spokeswoman blamed the faulty comparison on "human error." We say they have got to be insane to make silly -- and flat out inaccurate -- boasts just as the industry's 800-pound gorilla,
Apple
(AAPL) - Get Report
, is rolling out its next generation iPhone.
Stock analysts are already reducing their earlier predictions for EVO sales. One Wall Street bank is reporting that many stores have already sold out of EVOs, despite Sprint's insistence that it was ready for heavy demand.
From our perch, it doesn't seem like Sprint is ready for anything, especially Apple's impending onslaught.
Dumb-o-meter score: 90 -- For a company called Sprint, it sure acts slow.
AT&T's Ongoing Ineptitude
Steve Jobs, lord of the technology universe, must be a very compassionate and merciful deity. How else can we explain his continued support of
AT&T
(T) - Get Report
after all its bungling?
The telco's latest display of ineptitude was revealed this Wednesday when the company acknowledged a
that exposed the email addresses of more than 100,000 iPad users, including some of the U.S. military's top brass and Wall Street CEOs. The vulnerability only affected iPad users who signed up for AT&T's "3G" wireless Internet service.
Even President Obama's right-hand man Rahm Emanuel was reportedly put at risk of having his emails hacked into, according to
Gawker
, which first reported the security problem. And that's a guy you certainly don't want to piss off.
"We take customer privacy very seriously and while we have fixed this problem, we apologize to our customers who were impacted," the company said in a statement.
AT&T plans to alert all iPad users whose email addresses may have been compromised. We here at the Dumbest Lab, however, suggest they do it on another network. With the new iPhone coming out and increasing pressure on Apple to select another carrier, this is one call they don't want to see dropped.
Dumb-o-meter score: 95 -- We see big changes for Apple on the Verizon (VZ) - Get Report ... we mean horizon.
Before joining TheStreet.com, Gregg Greenberg was a writer and segment producer for CNBC's Closing Bell. He previously worked at FleetBoston and Lehman Brothers in their Private Client Services divisions, covering high net-worth individuals and midsize hedge funds. Greenberg attended New York University's School of Business and Economic Reporting. He also has an M.B.A. from Cornell University's Johnson School of Business, and a B.A. in history from Amherst College.