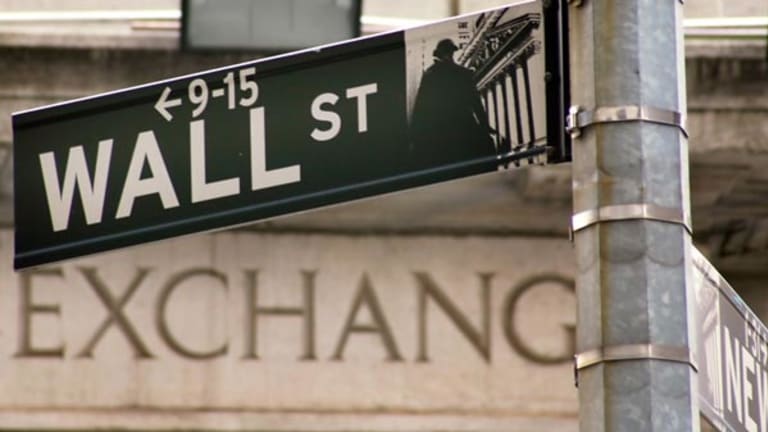 The Five Dumbest Things on Wall Street: July 16
BofA's bogus bottom line; Toyota's 'told you so'; adios, ADC; Nestle's nonsense; one bad Apple.
BofA's bogus bottom line; Toyota's 'told you so'; adios, ADC; Nestle's nonsense; one bad Apple.
BofA's Bogus Bottom Line
What's the real difference between Lehman Brothers' bogus Repo 105 transactions and
Bank of America's
(BAC) - Get Report
"dollar rolls?"
Easy. Lehman Brothers isn't around anymore to offer a lame defense of its shady off-balance sheet shenanigans.
Bank of America, or Bank of America/Merrill Lynch, or whatever you want to call the TARP-made monstrosity, disclosed details of six repurchase agreements, or repos, that it incorrectly classified as sales last Friday. The so-called mistakes, which the bank acknowledged in a letter filed Friday with the
Securities and Exchange Commission
, effectively hid billions of dollars of debt between 2007 and 2009.
The questionable transactions were called "dollar roll" trades because the bank's investing-banking unit transferred -- or rolled -- mortgage-backed securities to an unidentified trading partner and simultaneously agreed to repurchase similar securities from the partner soon afterward. The first such error occurred on March 31, 2007, and totaled $4.5 billion in securities. The largest misclassification was $10.7 billion on Sept. 30, 2008.
In other words, just like the now-defunct Lehman Brothers did with its ridiculous Repo 105 deals, Bank of America would play a game of Hide the Toxic Assets at the end of every quarter to make it look more attractive to regulators and Wall Street analysts.
"The transactions did not have a material impact on the bank's earnings or balance sheet," said a BofA company spokesman.
Not material? Give us a break! How about the tens of billions of bailout dollars you received? Were they of any consequence in keeping BofA from going under?
We thought so.
Dumb-o-meter score: 75 -- Lehman died for Wall Street's sins.
Toyota's 'Told You So'
Somebody owes
Toyota
(TM) - Get Report
an apology. Not us, of course, but some lead-footed drivers with loud-mouth lawyers.
On Wednesday, the Japanese automaker said that its internal investigation of nearly 2,000 cases of unintended acceleration uncovered no problem with its electronic throttle system. Driver error was to blame in some cases. Toyota released its findings after
The Wall Street Journal
reported that the early results from the U.S. government's analysis of dozens of data recorders in Toyota vehicles also suggested that the so-called sudden acceleration problem was primarily a function of "pedal misapplication."
Oh man. That is just too dumb even for us. Toyota basically lost billions of dollars in market cap earlier this year because a bunch of Nascar wannabes put their pedals to the metal instead of slamming on the brakes.
Worries over a faulty throttle system and mechanical glitches fueled the worldwide recall of more than 8 million Toyota and Lexus vehicles in October 2009 and January 2010 for unintended acceleration. Toyota CEO Akio Toyoda even bowed before an angry American Congress in February, taking "full responsibility" for his supposedly defective cars.
The
Journal
story points out that the Department of Transportation's initial findings don't exonerate Toyota from two known issues of the problem -- sticky gas pedals and faulty floor mats. Nevertheless, at least Toyota can finally say "I told you so" to the late-night comics, puffed-up politicians and loathsome litigators who drove the company's stock price off a cliff.
Dumb-o-meter score: 80 -- Toyota needs better driver's ed classes, not new electronic systems.
Adios, ADC
Forgive our brief bout of nostalgia, dear readers, but we were visited by the Ghost of Dumbest Past this week when
Tyco Electronics
(TYC)
announced it was buying broadband specialist
ADC Telecommunications
( ADCT) for $12.75 a share. In fact, it was 10 years ago this month that ADC hit its all-time high of just under $300 a share.
Ah, those were the days!
Back then, a bubble was a bubble. The
Nasdaq
was hopping with unprofitable IPOs, and Wall Street was humming with unethical analysts. And when the whole thing popped, you only lost your retirement savings -- not your job to a Chinese worker and your home to foreclosure.
Not to forget the Internet era's wild bashes. Former Tyco chief Dennis Kozlowski went to prison for spending company money on his wife's multimillion dollar birthday bacchanal in Sardinia, which included an ice sculpture of David urinating vodka. Say what you want about him, but unlike the Wall Street CEOs who cashed in on the subprime crisis, the Koz knew how to party.
Sure,
ADC's shares surged 41% on Tuesday when news of the deal with Tyco
was released. Analysts quickly blessed the deal, giving us the same old Wall Street jive about synergy and cost reduction.
Still, we say bring back the sky-high, Henry Blodget price targets and conga line conglomerates. Back in the day, stocks popped like that all the time.
Until, of course, they didn't.
Dumb-o-meter score: 85 -- When Pets.com went bust, we didn't need billions in TARP dollars to save it. Now did we?
Nestle's Nonsense
Thank you, FTC for putting an end to
Nestle's
(NSRGY) - Get Report
nutritional nonsense. Antibiotics help children get better. Probiotics as a cure is pure promotional poppycock.
The Federal Trade Commission said Wednesday that it reached a settlement with a Nestle subsidiary to stop it from advertising that its children's drink Boost Kid Essentials can prevent illness and increase immunity. The FTC deal is part of a larger push to crackdown on "bogus health claims" on consumer products. Probiotics are live bacteria found naturally in many foods and are touted for aiding digestion and fighting harmful bacteria.
"Parents want to do right by their kids, and the FTC is helping them by monitoring ads and stopping those that are deceptive," said David Vladeck, director of the FTC's Bureau of Consumer Protection.
That's right! You tell 'em, Dave. The government may have whiffed on the financial crisis,
BP's
(BP) - Get Report
oil spill and Middle East peace, but is unstoppable when it comes to keeping our children safe from crooked cereal and juice commercials.
Now excuse us while we finish our Cocoa Krispies. We hear that a bowl a day keeps the doctor away.
Dumb-o-meter score: 90 -- Boost energy drink as a medicine? That's pure bunk!
One Bad Apple
Apple's
(AAPL) - Get Report
new iPhone 4 may not be as bad as the company's infamous Newton, yet that is not stopping
Consumer Reports
from bonking Steve Jobs on the head.
Shares of Apple sank over 2% Tuesday even as the tech-heavy Nasdaq surged 2%, due to a troubling
Consumer Reports
review of the newest iPhone. The review, which otherwise spoke glowingly about the phone, concluded that "Apple needs to come up with a permanent -- and free -- fix for the antenna problem before we can recommend the iPhone 4."
The major malfunction with Apple's newly redesigned iPhone is a faulty antenna that gets knocked out when the phone is held a certain way. The problem has persisted since the phone's introduction last month, a rollout that had early adopters sleeping in the streets to be the first ones on their block with Apple's supposedly sublime smartphone.
Curiously, Apple seems unwilling to accept the fact that one of its gadgets has a problem at all. Like a parent who does not want to admit that his child is indeed imperfect,
for reception difficulties, telling them to hold the phone differently. Then, more recently, Apple changed its story and said its signal strength meter was faulty. At last check,
Apple said it will hold a press conference
this afternoon to announce an
.
Consumer Reports
said a temporary solution is to simply apply duct tape to the iPhone. We say Apple CEO Steve Jobs would have a better chance at curing the company's ills by taking the duct tape off his ears and listening to his customers complaints.
Dumb-o-meter score: 95 -- Can you hear me now, Steve Jobs? No, this is not a Verizon (VZ) - Get Report commercial. It's a disgruntled iPhone user.
Before joining TheStreet.com, Gregg Greenberg was a writer and segment producer for CNBC's Closing Bell. He previously worked at FleetBoston and Lehman Brothers in their Private Client Services divisions, covering high net-worth individuals and midsize hedge funds. Greenberg attended New York University's School of Business and Economic Reporting. He also has an M.B.A. from Cornell University's Johnson School of Business, and a B.A. in history from Amherst College.