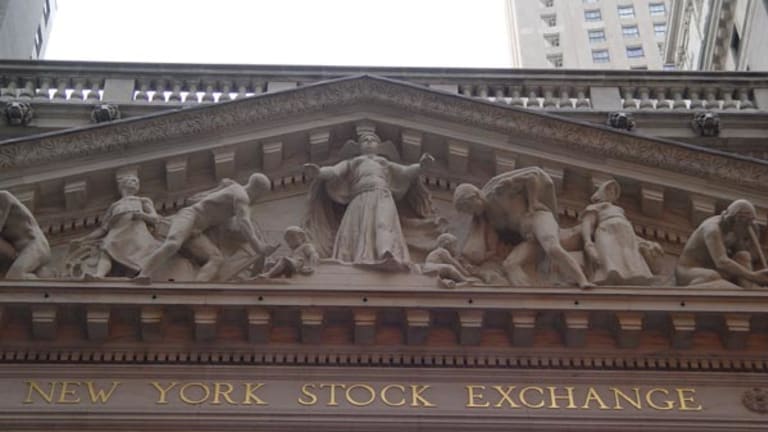 The Five Dumbest Things on Wall Street: First-Half 2006 Quiz
Take a shot at winning an autographed copy of Jim Cramer's RealMoney book.
The first half of the year ends today. That means it's time to review those asinine Wall Street antics in The Five Dumbest Things First-Half Quiz. Answering correctly could get you a shot at an autographed copy of Jim Cramer's
RealMoney: Sane Investing in an Insane World
.
Enter by midnight Tuesday, July 4, by
with the words "Contest Entry" in the subject line. We'll rerun the column Friday with the answers and the name of the winner. If there's more than one correct entry, of course, we'll have a drawing.
So, sharpen your No. 2 pencils. Good luck!
1.
General Motors
(GM) - Get General Motors Company Report
CEO Rick Wagoner has been extolling the automaker's turnaround progress. Which Wagoner-designated milestone did GM pass in the first half?





Reversing its long market-share slide.
Earning a billion dollars in the first quarter.
Agreeing to sell most of its only consistently profitable business.
Showing a profit in the key North American auto operations.
2. Former
Enron
CEOs Jeff Skilling and Ken Lay
were found guilty this spring on federal securities fraud charges. What did Skilling recently say about the 2004 indictment that led to his conviction?





"Some things work and some things don't."
"That's when I started climbing back."
"I had lost credibility with the Street, meaning Wall Street."
"I had a good run there."
3. Match the inane if hard-hitting comment with the appropriate event.





"Success is the byproduct of an unwavering commitment to customers, employees, partners and shareholders."
The board "consists of individuals of significant character and credibility, selected for their acumen and ability to challenge and add value to management."
The CEO "and his management team are very impressive, and I'm confident the company will not miss a step."
"As we say in France ... the mayonnaise did not hold."





Microsoft promotes Ray Ozzie and Craig Mundie.
U.S. attorney asks Juniper for stock-option information.
Alcatel revives failed plan to buy Lucent .
Cisco giving CEO John Chambers an added chairman's post.
4.
Vonage
(VG) - Get Vonage Holdings Corp. Report
managed to raise $531 million in a May initial public offering, but shares of the Holmdel, N.J., Internet phone company tanked soon after they started trading on the New York Stock Exchange. How did Vonage execs describe their marketing strategy in a June press release?





"Sometimes doing stupid things has its smarts."
"It just won't work."
"In my mind, I don't own this stock."
"I had the juice. I could have done something."
5.
Sirius
(SIRI) - Get Sirius XM Holdings Inc. Report
and
CBS
(CBS) - Get CBS Corporation Class B Report
agreed last month to settle a huge legal dispute over shock jock Howard Stern's actions in his last year with CBS' radio unit. How much did Sirius agree to pay CBS to settle the suit?





$24.5 million
$22.7 million
$18.3 million
$2 million
6.
Fannie Mae
undefined
agreed in May to pay $400 million to settle a long-running investigation of its accounting. The company fostered an "arrogant and unethical corporate culture" under former chief Frank Raines, charged the
Securities and Exchange Commission
and the Office of Federal Housing Enterprise Oversight. Match the Fannie watcher with his response.





Rep. Richard Baker
OFHEO chief James Lockhart
Former Sen. Warren Rudman
Raines lawyer Robert Barnett





Former top execs "did serious harm to Fannie Mae while enriching themselves through earnings manipulation."
Raines "should be accountable for what happened within the organization, regardless of personal involvement or fault."
"Even after Fannie's accounting problems initially came to light, senior management at Fannie acted like a thug."
Raines "contributed to a culture that improperly stressed stable earnings growth."
7. Name the executive who
didn't
leave his
CA
post this year.





Operating chief Jeff Clarke
CEO Sanjay Kumar
Finance Chief Robert Davis
Sales Executive VP Gregory Corgan
8. Match the management change with the company comment.





Scott McNealy giving up the CEO post at Sun Micro .
Chairman John Morgridge retiring from Cisco.
Bill Gates stepping back at Microsoft.
CEO Hong Lu resigning from UTStarcom .





"I believe that now is the right time for me to pass the company's leadership to a new management team."
"He steered the company through multiple corporate milestones ... and helped set the culture ... of innovation, empowerment, frugality and giving back."
"We've helped shape the industry as it is today and the opportunities before us are immense."
"As I prepare for this change, I firmly believe the road ahead ... is as bright as ever."
9.
XM Satellite Radio
(XMSR)
shares have lost half their value this year amid what the pay-radio company delicately terms "regulatory and legal challenges." On the bright side, which of these events did the company call "a big win for everyone"?





April 24: "Opie & Anthony Return to CBS Radio."
May 22: "XM Wins 2006 Brandweek Customer Loyalty Award."
May 24: "XM Reaffirms Guidance for Positive Operating Cash Flow."
June 14: "U.S. Open Golf Tournament to Air Live on XM Satellite Radio."
10.
Raytheon
(RTN) - Get Raytheon Company Report
learned this spring that CEO William Swanson had plagiarized portions of his management how-to pamphlet,
Swanson's Unwritten Rules of Management
. How did the board respond?





It fired Swanson.
It froze his salary and cut his restricted stock award.
It sentenced him to read the collected works of Kaavya Viswanathan.
B and C.
In our
award-winning effort to enrich the reader experience, the Five Dumbest Things Lab now scores each item using our proprietary Dumb-o-Meter. This cutting-edge technology employs a finely calibrated, 100-point scale measuring sheer Dumbness, as calculated via a closely guarded secret formula.
Got your own idea for the dumbest thing of the week?
Want to get your Five Dumbest in the mail? It's easy. Just become a TSC member -- it's free -- and you'll receive the Five Dumbest in our Before the Bell email newsletter every Friday. The rest of the week, before each trading day, Before the Bell gives you a comprehensive look at the stocks expected to move the market, plus access to a sampling of our premium content from RealMoney. Click here to sign up for Before the Bell!