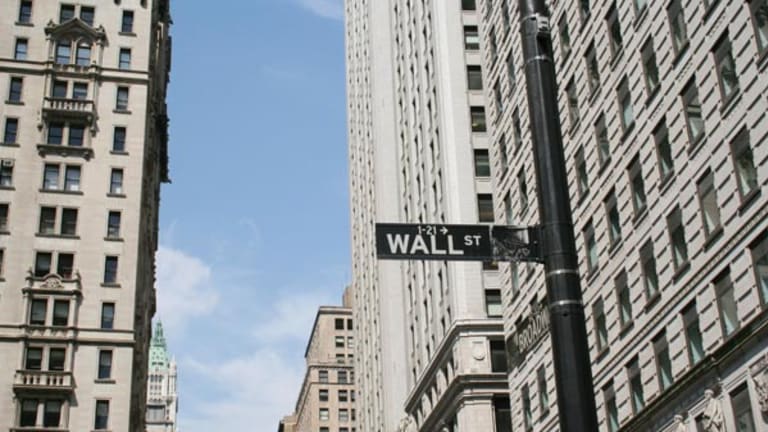 The Five Dumbest Things on Wall Street: Feb. 29
Talk depresses Toll; Pfizer's phony rowing; Another Countrywide cancellation; Citi Traders' high water mark; Yahoo!'s galvanizing distraction.
1. Toll's Take on Depressing Talk
Take a sounding of the housing market at any depth and you'll agree that it can be officially declared a "Worst Since Market," as in "worst sales since the early '80s," or "worst drop in home prices since the Louisiana Purchase."
On top of that, we're in a credit crunch, and with indisputably slower economic growth, a recessionary environment is at hand.
Wait. Did I say there was a possible recession at hand?
There I go again. Flapping my gums without thinking, and in the opinion of
Toll Brothers'
(TOL) - Get Free Report
CEO Robert Toll, destroying home prices with my keyboard and a song.
You, dear reader, thought past overbuilding and current credit restrictions were at fault? I did too until I heard Mr. Toll -- while reporting his company's biggest loss in 22 years and one that was way worse than analysts expected -- tell me the following:
"Ceaseless talk of a recession continues to dampen the mood of consumers. This drumbeat, coupled with concerns over mortgages, the direction of home prices, and foreclosures has kept pent-up demand on the sidelines."
Do you unenlightened out there get it now?
It is not the possible actual fact of an economy slowing into a recession or the apparent notion that Toll's houses are simply not affordable anymore based on carrying costs. It's talk -- yes, idle chatter -- about a recession that has the housing market in the worst shape in memory.
Thank you, Mr. Toll, for sitting on your perch as head of an overextended company and setting me straight as an arrow. I promise not to mention anything about a slowing economy, and maybe soon, the housing market can improve markedly, climbing in stature until it can be labeled the "Worst Since the Franco-Prussian War," a marked improvement from the Louisiana Purchase-era pricing.
Dumb-o-meter score: 95. Toll also mentioned in the release that the year-over-year decline in the average selling price of the company's homes was caused by a shift in product mix and the addition of incentives. Why are you letting chatter off scot-free here, Mr. Toll? They would have bought your more expensive homes -- and without incentives -- if it weren't for the chatter. No need to be magnanimous about who is at fault with this crowd, sir; you are among believers.
2. Jarvik's Artificial Rower
Pfizer
(PFE) - Get Free Report
, we've missed you. Drug companies tend to provide plenty of dumbness, and Pfizer has been a stalwart, but had gone missing of late.
They're back. So where to start with this tale of free-form idiocy that took the form of now dearly departed commercials about a pill? The company set out to impress potential statin users by employing Dr. Robert Jarvik, the artificial heart pioneer, as their commercial spokesman and got accused of speaking falsely, but that wasn't the dumb part.
No, this huge drug company was forced to pull its big commercial campaign on Lipitor, the big cholesterol drug, because it was thought to be misleading in featuring Jarvik rowing a boat. Apparently, to make its shill look vibrant, Pfizer had to use a stunt double. You know how these nerdy medical sorts can be.
Dr. Jarvik supposedly cannot row an oar and chew gum at the same time. And, oh, by the way, he is also not technically a doctor -- at least one certified to practice --so making it seem like he is giving medical advice got a bit of a hairy eyeball from regulators, the fusspots. What could be next, filling out prescriptions with your Series 7? Puh-leez.
And now for the dumb part.
Pfizer sought to peddle a drug that is supposed to reduce the presence of an unseen substance so you can live a normal life ... with a guy most associated in the public consciousness still with a Dr. Seuss machine to substitute for the heart that kept Barney Clarke, a retired dentist, alive for a few extra, chained months.
Even someone not well versed in the field of advertising can conjure up better associations than this. But here is the association we are left with, after the intervention of Washington. The House Energy and Commerce Committee has, it was reported this week, asked the (count 'em) 10 advertising firms who worked on this stellar campaign to give up documents. About what, you ask? The use of body doubles.
Dumb-o-meter score: 88. Dr. Jarvik, you were getting paid over $1 million to peddle this drug. That would have covered a few rowing lessons, dude. Now, with a war still waging, Washington has to take their precious time from investigated Roger Clemens abscessed buttock cheek. Shame on you, sir.
3. Another Countrywide Cancellation
How does a business get the client to keep coming back for more even though you keep selling the sucker products sure to detonate? Why, you pay the sucker, err king, a shilling.
All you exploding cigar salesmen out there know what I'm talking about. Take the client out for well-seasoned steaks followed by good seats at an upmarket sporting event and he'll be sure to buy another box, singed eyebrows and all.
You can call it an edible bribe if you want, but remember ... there is sport involved too.
That is why, considering the national mood has become a bit inconveniently unreceptive to predatory lenders, it was one level of stupidity that
Countrywide
(CFC)
, the two-bit subprime outfit formerly known as the largest and most respected home lender in these United States, had scheduled a splashy junket for clients.
But Countrywide wasn't content to stand there. No, the company promptly climbed higher up the ladder of stupidity. They canceled the Aspen junket, all because of bad publicity that included a
New York Post
headline: "Let 'Em Eat Kobe Steaks."
What should these mortgage industry greats eat to fortify themselves for the task of foreclosing on thousands ... granola and broccoli sprouts? More importantly, how can those making shady loans do so in good consciousness unless they are given three nights of Kurobuta pork osso bucco from Spago and caviar that cost what some of these whining layabouts can use for a monthly payment.
Who is running Countrywide anyway? The
New York Post
or its rightful leader -- the orange hued Angelo Mozilo. Angelo, I beseech you. Throw off the leg shackles of public outrage and run your operation the only way you know how!
Dumb-o-meter score: 82.No word if Spago makes good or if Countrywide will be hit for another charge --this one for returned Kurobuta pork osso bucco.
4. Citi Traders' High Water Mark
Any trader with a malfunctioning intellect and a snoozing risk manager can lose $100 million in one single day. But it's not just any trader that can lose $100 million for well nigh the biblical benchmark of 40 (remember all that rain?), and when that happens, well we here at Five Dumbest are obliged to salute you.
Ladies and gentlemen, meet the Wrong Way Corrigans who trade in
Citigroup's
(C) - Get Free Report
, investment bank division. These knights of the pits lost at least $100 million on 15 separate trading days in 2007. Come out and take a bow, fellas, but well, based on your record, watch out for the orchestra pit.
In any case, despite the crafty accomplishment of this group that could probably turn water into ... less water after spilling some, they are surprisingly modest. Why, Citigroup did not disclose the august accomplishment until
, just released, and boy was the news needlessly buried.
Forget the biblical proportions of this skein, let's look at where this streak falls out in the earthly realm. From Lou Gehrig's streak of consecutive games to Hank Aaron's home run record, benchmarks are set only to be assumed unreachable and then eventually broken.
But this? Fifteen days of losing $100 million. It's almost impossible to envision someone doing 16 days.
This one might just stand for the ages.
After all, there are only so many hours in the trading day. The accomplishment of the boys and girls at Citigroup boils down to just shy of $20 million in losses per hour of the standard trading day, which takes a level of concentration over the long haul that puts in on par with Joe DiMaggio's streak of hits in 56 straight games, still unbroken.
Dumb-o-meter score: 80.An analyst was quoted in The Wall Street Journal with a one-word appraisal of the losses that proved the best economy of words since: "And there was light." He said: "Ouch."
5. Yahoo!'s Galvanizing Distraction
A single word uttered by
Yahoo!'s
(YHOO)
fearful leader this week caught our fancy and earned Jerry Yang a candidacy for this week's list. But then he uttered a second, which vaulted him over the top.
First up, though: the first.
Pontificating at the Interactive Advertising Bureau conference this week, Yang, who came back to lead Yahoo! and has succeeded only in spinning the company's wheels as it remains stuck in the swamps of Sunnyvale, said that
Microsoft's
(MSFT) - Get Free Report
unsolicited $42 billion bid had "galvanized" Yahoo!.
"We are very focused," he said. "It's been a galvanizing event for everyone at Yahoo!"
Many who heard the remark were also focused on it, to the point of furrowing their brows and scratching out their ear canals. I guess one man's galvanized is another man's euthanized.
Let me explain. It is indeed a fair estimate to say that a $42 billion bid is an energizing, take-notice gesture if ever there were one. As a result, Yang's first comment deserves inclusion on this list for the pure audaciousness with which Yang reaches for the obvious.
But generality is the enemy of both art and public statements, and the fact that you can drive a flatbed through the meaning of the word galvanized makes it even dopier. Galvanized to finally get Yahoo! in fine fettle?
Or galvanized to take that Gates loot and run? We may never know, but what we do know is this: just a couple of days later, Yahoo! whined in an
filing that Microsoft's bid had been -- well, the antonym of galvanized, if there even is one.
After 48 hours or so of deep reflection, the leaders of Yahoo! intoned: The Microsoft bid had proved: "a significant distraction for our management and employees."
But I thought counting unrealized gains was galvanizing? Can it possibly be galvanizing to the point of distraction?
Dumb-o-meter score: 75.The most unfortunate side-effect of this dim use of language is not that shareholders have to take a protective order out on Yahoo!'s next utterance. It's the wincingly bad headlines that follow. Look at this dark beauty from the New York Post: "Yahoo! Chief's Yin, Yang on M'Soft Bid."
At the time of publication, Fuchs had no positions in any of the stocks mentioned in this column.
Marek Fuchs was a stockbroker for Shearson Lehman Brothers and a money manager before becoming a journalist who wrote The New York Times' "County Lines" column for six years. He also did back-up beat coverage of The New York Knicks for the paper's Sports section for two seasons and covered other professional and collegiate sports. He has contributed frequently to many of the Times' other sections, including National, Metro, Escapes, Style, Real Estate, Arts & Leisure, Travel, Money & Business, Circuits and the Op-Ed Page. For his "Business Press Maven? column on how business and finance are covered by the media, Fuchs was named best business journalist critic in the nation by the Talking Biz website at The University of North Carolina School of Journalism and Mass Communication. Fuchs is a frequent speaker on the business media, in venues ranging from National Public Radio to the annual conference of the Society of American Business Editors and Writers. Fuchs appreciates your feedback;
to send him an email.