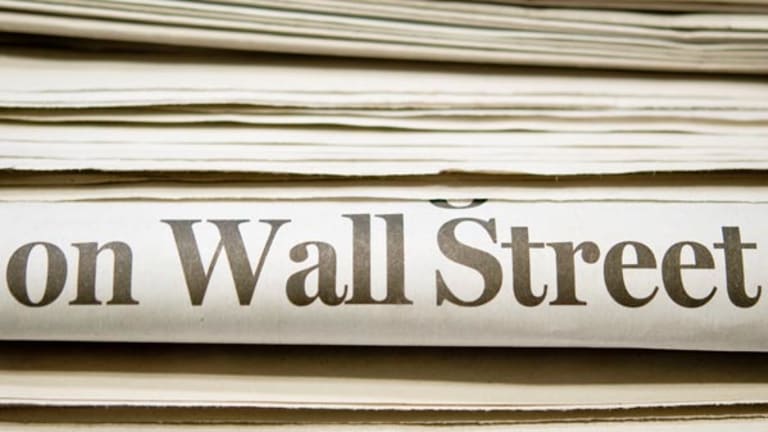 The Five Dumbest Things on Wall Street: Aug. 6
College craziness; Dov vs. Deloitte; EA's Madden money; H-P's penalty; Disney's new doghouse.
College Craziness
Here's our idea for a great new course at America's for-profit colleges: Scam the Government 101.
The Government Accountability Office released a study Tuesday saying that more than a dozen for-profit colleges encouraged fraudulent practices and made deceptive statements to prospective students. Posing as students, GAO investigators applied for admission at 15 for-profit colleges across the U.S. only to find that school personnel coached them on falsifying financial aid forms.
How cool is that? The feds went
Back To School
just like Rodney Dangerfield. Unfortunately, in this case the result was not nearly as funny, as shares of U.S. education companies got slammed with market-leaders
Apollo Group
(APOL)
and
Corinthian Colleges
(COCO) - Get The Vita Coco Company Inc. Report
both finishing down nearly 5% on the news.
The initial release did not identify any schools, but did cite examples where financial aid reps told the undercover undergraduates not to report $250,000 of savings, thus making them eligible for federally subsidized loans. The "students" also found that tuition at the for-profit colleges was "substantially more" than for comparable programs at nearby public colleges. For example, the study found that a massage therapy program certificate cost $14,000 at a for-profit college but was just $520 at a local community college.
That's more than massaging the numbers in our opinion. That's ripping off taxpayers, which is why we think these so-called places of higher learning deserve to get the third degree.
And we're not talking about the kind they can frame and hang on the wall.
Dumb-o-meter score: 85 -- Senator Blutarski was not overseeing the for-profit college hearings on Capitol Hill this week. That role was taken by former SNL star Sen. Al Franken (D., Minn.).
Dov vs. Deloitte
As if feminists, journalists, lawyers and Academy Award-winning film directors weren't enough,
American Apparel
(APP) - Get Applovin Corporation Report
founder Dov Charney has a brand new class of people running away from him: Certified public accountants.
Hip clothing seller American Apparel revealed late last week that
Deloitte & Touche
, its independent auditor for over a year, resigned earlier this month.
The Los Angeles-based retailer said it rehired Marcum LLP as its not-so-new auditor. The firm, then known as Marcum & Kliegman, was fired from that role in April 2009. Shares of American Apparel fell 14% on the news to $1.55.
In a filing with the
Securities and Exchange Commission
, Deloitte said it identified "material weaknesses in internal control over financial reporting" at American Apparel.
By now, readers of The Five Dumbest column should be well aware that accounting is the least of Dov's "control" problems. Aside from being busted by the feds for hiring illegal workers, the behaviorally challenged CEO has been hit with multiple sexual harassment lawsuits and was even sued by Woody Allen for using the director's image without permission.
Why would Marcum come back to do business with Dov? We have no idea.
Why would Dov annoy Deloitte into quitting a lucrative job? Well, if you know Dov like we know Dov, that's an easy one.
Dumb-o-meter score: 75 -- Don't worry Dov. The Five Dumbest Lab will always be here for you.
EA's Madden Money
Electronic Arts
( ERTS) must not care about getting sacked because it blatantly refuses to watch its blind side.
Former Bengals and Bucs RB Tony Davis filed a class-action lawsuit against the video game-maker this Monday on behalf of nearly 6,000 retired NFL players over its
Madden NFL 09
edition. The suit, which was first reported by gaming site IGN, claims that EA "knowingly and intentionally" used player likenesses in its historic edition in such a way that the company would avoid paying licensing fees.
Despite EA's so-called "scrambling" of the retired NFL players' numbers, the suit says the game made the players' height, weight and skill level so close to the living player's characteristics "that the consumers of the game could readily discern what player was being represented."
Come on, EA! Do you really think a simple number change will fool us? We may be used to today's spoiled rotten free agents changing uniforms as quickly as their undergarments, but not our heroes from yesteryear.
Futhermore, it's not like this is the first time EA has attempted to profit from athletes without ponying up. The NCAA has a similar suit against EA currently in the court system. And the NFL players, who are seeking statutory damages, actual damages and punitive damages, are a much more formidable opponent than a bunch of college kids. In 2008, retired football players were awarded $28 million in a lawsuit against the NFL Players Union after the organization didn't pay them their share of the royalties from
Madden NFL
.
Look, if it walks, talks and acts like a duck, then it's a duck. If it punts, passes and kicks like an NFL legend, then EA better pay up.
Dumb-o-meter score: 80 -- EA scored a touchdown this week, beating Wall Street profit expectations. Upon further review, they may need to make some provisions for their mounting legal exposure.
H-P's Penalty
For those keeping score, add
Hewlett-Packard
to the growing list of American companies paying the government millions of dollars for crimes they supposedly didn't commit.
The tech heavyweight said Monday that it has agreed in principle to settle a lawsuit by the Department of Justice alleging that it paid kickbacks to
Accenture PLC
(ACN) - Get Accenture plc Class A (Ireland) Report
in exchange for government work. HP denied "engaging in any illegal conduct." Still, the deal will reportedly lower the company's fiscal third-quarter profit by 2 cents per share, which works out to about $50 million.
"We believe it is in the best interest of our stakeholders to resolve the matter and move beyond this issue," H-P said in a statement.
H-P may soon have some company from Silicon Valley as well. Last week, the Justice Department announced it was joining a fraud lawsuit against
Oracle
(ORCL) - Get Oracle Corporation Report
related to software contracts worth hundreds of millions of dollars, and in all likelihood it will be settled in the same guilt-free manner.
That's right, guys. Just pay the fine and move on. The line forms to the left of the Treasury Building. Please take your receipt and go back to business as usual.
Dumb-o-meter score: 90 -- Crime does not pay, but paying to get out of a crime sure does.
Disney's New Doghouse
Sorry to sound like Scrooge McDuck, but to our ears,
Disney's
(DIS) - Get The Walt Disney Company Report
new pet resort sounds a bit daffy.
According to a report this Wednesday from the
AP
, Best Friends Pet Resort will open its gates on Aug. 27 within the Disney World complex in Orlando, Fla. The luxury, 50,000-square-feet facility will accommodate 270 dogs, 30 cats and assorted other animals, including birds, potbellied pigs and small mammals like hamsters and guinea pigs. (There is no vacancy for reptiles, however.)
It's not the size of the new, high-end kennel that gets our goats though (We don't know if goats are welcome. We'll check.). It's the amenities.
Standard indoor boarding for dogs runs $37 nightly, yet customers can pamper their pooches with bedtime stories for an additional fee. They can also upgrade to a doggie vacation villa with outdoor patios and flat-screen TVs if they pony up even more (We don't know if ponies are welcome. We'll check.) Finally, for the pet-owner who can deny his or her pet nothing, there is the true animal kingdom of a 226-square-foot luxury suite with private outdoor play yard and personal pet concierge.
Of course, all those extras come on top of the water park, outdoor runs, walking trails and areas for playing ball or Frisbee, which are available for all guests.
(We don't know if humans are welcome. We'll check.)
Dumb-o-meter score: 95 -- It may be a dog's life, but we'll take it!
Disclosure: TheStreet's editorial policy prohibits staff editors and reporters from holding positions in any individual stocks.