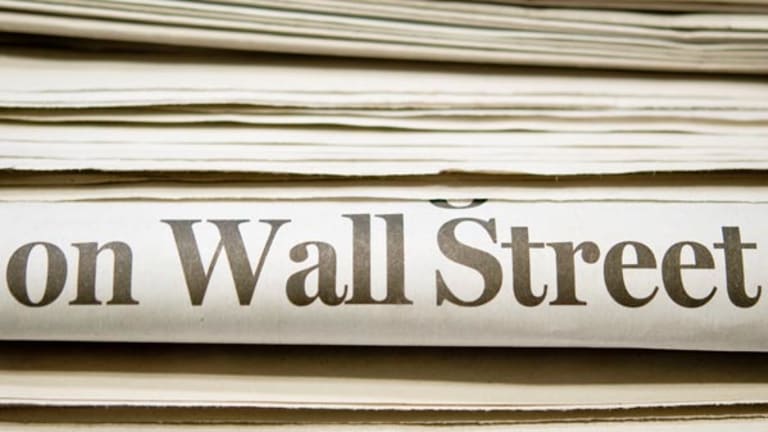 The Five Dumbest Things on Wall Street: Aug. 28
Bud's college try; Mackey's Whole Foods fight; tech trade show's tiff; stimulus stupidity; WPT Enterprises folds 'em.
Bud's college try; Mackey's Whole Foods fight; tech trade show's tiff; stimulus stupidity; WPT Enterprises folds 'em.
Bud's College Try
Sorry, Brother Bluto. It looks like the Federal Trade Commission wants to put
Anheuser-Busch InBev
(BUD) - Get Report
on double secret probation for its college promotion.
In a move that would make
Animal House
nemesis Dean Vernon Wormer stand up and cheer, the FTC is putting the heat on the brewer's controversial marketing campaign that features Bud Light cans painted in college team colors, according to
The Wall Street Journal
.
The federal agency is concerned that the campaign could encourage underage and binge-drinking on college campuses and is urging the beer-selling behemoth to scrap plans for similar promotions.
Janet Evans, a senior FTC attorney who oversees alcohol advertising, says the marketing plan "does not appear to be responsible activity" even though the cans do not bear a school logo or name. The Bud Light campaign, which involves 27 different color combinations, began rolling out this month with roughly half of its wholesalers participating.
C'mon Janet, stop being such a buzz-kill and give America's scholars some credit. College students could not care less about the color of their beer cans. What matters most to them are temperature and price -- as in the colder and cheaper the better. (Coincidentally, Bud sent a chill through Delta House this week when it announced it would raise beer prices.)
Not wanting to tangle with the government on such a no-win -- and, in our opinion, nonsensical issue, at least 25 schools formally told Anheuser-Busch to stop distributing the themed beer near their campuses. In response, Anheuser-Busch has ceased distributing the cans in areas where colleges have formally complained.
The University of Michigan in particular is really fired up over colored cans, says the
WSJ
. The university is threatening legal action for alleged trademark infringement and demanding that Anheuser-Busch not sell the "maize and blue" cans in the "entire state."
We say they should chill out and give the new cans a chance. After losing to rival Ohio State in football for five years straight, the Wolverines need all the help they can get.
Dumb-o-meter score: 90 -- Molson Coors (TAP) - Get Report better watch out or the Pentagon will go after their silver bullets
.
Mackey's Whole Foods Fight
Whole Foods
(WFMI)
CEO John Mackey should stick to selling healthy foods, rather than health care plans, if he wants to avoid irrational union headaches.
A group of unions responded Tuesday to a
Wall Street Journal
opinion piece on health care written earlier this month by Mackey by demanding his resignation. The CtW Investment Group, a part of the Change to Win federation of unions that advocates on behalf of workers' investments in pension funds, said it is calling on the Whole Foods board to remove Mackey as chairman and find a new CEO.
In a statement, CtW Investment Group's Executive Director Bill Patterson accused Mackey of attempting to "capitalize on the brand reputation of Whole Foods to champion his personal political views, but has instead deeply offended a key segment of Whole Foods consumer base."
Also on the attack, the United Food and Commercial Workers Union said Mackey's op-ed was an "attempt to undermine Obama's health-care reform" and will be distributing its own health care propaganda to Whole Foods shoppers.
It's worth noting here that Whole Foods is not even unionized. But that's only part of what makes this entire episode bizarre.
As far as we can tell, these groups just want to muzzle Mackey, whose platform, especially compared to his wild blogging exploits, is politically conservative but definitely not wacky. Most of all he worries about the "hundreds of billions of dollars of new unfunded deficits" that would move the country "closer to a government takeover of our health-care system." Basically, nothing we haven't heard yelled at a congressman in a raucous town hall meeting.
Even if you disagree with him, Mackey is offering his ideas civilly and, as Whole Foods shoppers would certainly appreciate, organically. It's the unions who need to get it together.
Dumb-o-meter score: 85 -- Kroger (KR) - Get Report management enters the Middle East debate at its own peril.
Tech's Trade Show Tiff
It's not virtual, it's really happening. Tech titans
Microsoft
(MSFT) - Get Report
,
Citrix
(CTXS) - Get Report
and
VMware
(VMW) - Get Report
are acting like schoolchildren over the sponsorship of a trade show.
Microsoft and Citrix are stepping down as sponsors of next week's VMworld virtualization conference due to conflicts with rival VMware, according to
NetworkWorld
. Both companies will attend the San Francisco conference, which is hosted by VMware as opposed to a neutral party, but will only participate in a limited capacity as exhibitors.
Microsoft and Citrix, formerly "gold sponsors" at the high profile shindig, are claiming that VMware is unfairly limiting competition at the show. VMware denies the charge, saying its exhibitor sponsorship contract is "standard across the industry" and there is nothing "out of the ordinary or meant to limit the value of VMworld."
Oh come on. It's a virtualization conference, not a gang war. Can't all you nerds put down your pocket protectors and get along?
Speaking of ganging up, it's no surprise that Microsoft and Citrix are joining forces against VMware. They have a tight partnership as they attempt to beat back VMware in the x86 virtualization market, reports
NetworkWorld
. And resentments have been boiling over from last year when Microsoft passed out fake casino chips directing attendees to a Web site titled "VMware Costs Way Too Much."
Citrix CTO Simon Crosby said his company was unable to organize a meeting at a hotel near the site where this year's VMworld is being held, because VMware allegedly banned the hotel from renting facilities to VMware competitors. VMware denies the charge, but Crosby remains charged up.
Said Crosby, "The ridiculous thing about this is that I thought that VMware was trying to convince us that VMworld is an industry show for virtualization.
But It clearly isn't."
Stop being such a simpleton, Simon. Of course it's not.
Dumb-o-meter score: 90 -- Microsoft can't bear to be anything but the monopolist. Can it?
Stimulus Stupidity
Wondering where all that government stimulus money is going? Fear not. The check is in the jail.
Seriously.
The federal government sent nearly 3,900 economic stimulus payments of $250 each this spring to prison inmates, according to the
Boston Herald
. The checks were a component of the huge economic recovery package approved by Congress and President Barack Obama in February. About 52 million Social Security recipients, railroad retirees and those receiving Supplemental Security Income were eligible for the one-time checks that were supposed to be used to jump-start the economy.
Unless they jump the wall for one big shopping trip to
J. Crew
(JCG)
or the
Gap
(GPS) - Get Report
, don't expect 2,200 of those inmates who received checks to spend them all in one place.
They may be doing hard time, but they are entitled to keep those not-so hard-earned dollars because they were legally eligible, according to the Social Security Administration. Prison inmates are generally ineligible for federal benefits. However, this lucky crew gets a break because they weren't incarcerated in any one of the three months before the recovery package was enacted.
The other 1,700 checks totaling about $425,000 were just a screw-up.
"We are currently reviewing each of those cases to determine whether or not the recovery payment was due," Social Security Commissioner Michael J. Astrue said in a statement issued Wednesday evening. "Where we determine payment was not due, we will take aggressive action to recover each of these erroneous payments."
Oh sure, you can count on those convicts to do the right thing and return the money. We have the utmost confidence in them.
It's the folks down in Washington who are testing our faith.
Dumb-o-meter score: 75 -- Stimulus Monopoly: Go directly to jail and collect $200. Then collect another $200.
WPT Enterprises Folds' Em
We may never know if poker legend Doyle Brunson's $700 million bid for
WPT Enterprises
(WPTE)
was a bluff. But we do know the company is being sold for far, far less than that amount.
WPT Enterprises, otherwise known as World Poker Tour, announced Tuesday its plans to sell its assets to British online-gaming group
PartyGaming
for $12.3 million. PartyGaming will also pay WPTE an ongoing 5% participation in gaming and other revenue generated by the assets, which include WPTE's television library, intellectual property rights, brand names and trade names. WPTE closed at $1.01 a share on Tuesday.
The deal trumps a previously announced bid of $9.075 million from private investment consortium
Gamynia
. However, it's still well below the $29.50-a-share offer made by Brunson in July 2005. Los Angeles-based WPT Enterprises was founded in March 2002 and went public at the height of the poker craze in August 2004 at $8 a share -- the same rage that swept up casino stocks and gaming stocks like
International Game Technology
(IGT) - Get Report
,
WMS Industries
(WMS) - Get Report
and
Shuffle Master
(SHFL)
.
Yep, WPTE stayed at the table too long and effectively went bust.
Steve Lipscomb, president and chief executive officer of WPTE, preferred not to look back, saying in a statement that PartyGaming's offer is "financially superior and we look forward to working with one of the pioneers and leaders in the poker and online gaming markets."
Still, it's hard not to think back to Brunson's all-in bet on the company and the pot that could have been. WPT's stock jumped more than 50% in one day, prompting an investigation by the
Securities and Exchange Commission
. Brunson, a two-time World Series of Poker champion, invoked his Fifth Amendment right when the SEC came calling.
In poker parlance, that means he played his cards close to the vest. The WPTE just played its hand badly.
Dumb-o-meter score: 70 -- "In stocks or poker you gotta know when to walk away and definitely when to take the money and run."
Before joining TheStreet.com, Gregg Greenberg was a writer and segment producer for CNBC's Closing Bell. He previously worked at FleetBoston and Lehman Brothers in their Private Client Services divisions, covering high net-worth individuals and midsize hedge funds. Greenberg attended New York University's School of Business and Economic Reporting. He also has an M.B.A. from Cornell University's Johnson School of Business, and a B.A. in history from Amherst College.