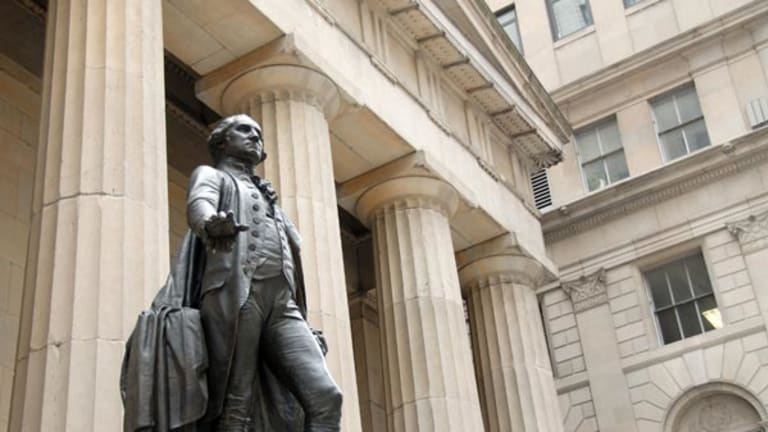 The Five Dumbest Things on Wall Street: Aug. 13
Freddie bleeds U.S. dry; JetBlue's flight risk; cracked Granite; Google not <I>willkommen</I>; blundering Hurd.
Freddie Bleeds U.S. Dry
Oh man! Just when we thought the nightmare was finally over, he comes clawing back to terrorize our dreams.
No, not Freddy Krueger on Elm Street. We're clearly talking about
Freddie Mac
(FMCC.OB)
on Wall Street.
Government controlled mortgage buyer
Freddie Mac went back to the well Monday
, asking for $1.8 billion in additional federal aid after it posted a larger than expected second-quarter loss. Freddie, the second largest provider of funding for U.S. residential mortgages behind sibling
Fannie Mae
(FNMA.OB)
, said it lost $6 billion in the April-to-June period compared to a loss of $840 million in the same quarter last year.
It gets scarier too, with red ink flying across Washington like fake blood in a slasher flick. A frightening $1.3 billion of the losses were due to the company's 10% annual dividend payment to the Treasury Department on money it borrowed from Uncle Sam.
"We recognize that high unemployment and other factors still pose very real challenges for the housing market," CEO Charles Haldeman said in a statement. "With that in mind, we continue to focus on the quality of the new business we are adding to our book to be responsible stewards of taxpayer funds."
Oh spare us. Freddie, Fannie and the U.S. government just keep digging the hole deeper and deeper, all the way down to China so they can beg for more money.
Once our Asian bankers tire of seeing the same old movie, however, the real horror show will begin. And that's what's really got us shaking in our seats.
Dumb-o-meter score: 75 -- This whole thing just makes us want to Scream. And then Scream II. And then Scream III.
JetBlue's Flight Risk
To paraphrase the late great Johnny Paycheck:
Hey JetBlue (JBLU) - Get JetBlue Airways Corporation Report! Take this job and shove it in the overhead compartment!
That's essentially what flight attendant Steve Slater told his employer Monday before triumphantly -- and illegally -- deplaning via the emergency exit slide in the wake of a heated argument with an unruly passenger. After allegedly bickering with an uncooperative traveler on a just-landed flight from Pittsburgh to Kennedy International Airport in New York, Slater grabbed a beer from the plane's beverage cart and deployed the aircraft's emergency exit chute as the plane was taxiing to the gate.
OK. The plane was on the tarmac, so Slater's escape does not boast the same degree of difficulty as legendary skyjacker D.B. Cooper's midair jump out of a
Boeing
(BA) - Get The Boeing Company Report
727. But still, when it comes to sliding off into the sunset, you have to give the guy his props.
Apparently Slater's meltdown began when a passenger reportedly arose from her seat to retrieve a bag from an overhead compartment. Slater asked her to sit down, and when she refused, an argument broke out, leading to the flight attendant getting smacked in the head with a piece of luggage. Bruised but not beaten, Slater picked up the PA system and cursed out the quarrelsome customer as well as her fellow flyers. Slater then made his escape down the inflatable slide, jumped into his conveniently parked car and drove off into urban legend.
Of course,
just because he pulled off a stunt most employees only dream of doesn't make Slater
any less of a moron. Police picked him up soon after and charged him with reckless endangerment and criminal mischief. And unless he gets his own reality show, we don't know who would hire this idiot.
Let's face it, this is not the kind of job market where one can literally fly off the handle.
Dumb-o-meter score: Buckle up, Snooki. Here comes Slater!
Cracked Granite
Let's face it, the
Bank of Granite
(GRAN)
has been reduced to rubble.
The Granite Falls, N.C.-based lender lost $7.5 million, or 49 cents a share in the second quarter, according to a securities filing on Monday. Unfortunately, that loss was 66% worse than in the second quarter of 2009 when the bank lost $4.5 million, or 29 cents a share. Shares of the company fell on the news from $1.05 to just below a buck.
This isn't the first time traders have rocked the Bank of Granite, which continues to operate under a cease-and-desist order from regulators that requires it to boost capital ratios, reduce risk and improve other operations. A year ago at this time, the stock was trading above $2 a share. Two years ago, it was trading around $7.50. Three years ago, it was trading above $14 a share. Four years ago, it was above $17.
Yeah, you get the idea. It's been getting stoned for a while.
And deservedly so. The bank is drowning in bad loans, reporting $79 million in nonperforming loans as of June 30, or 8% of all the bank's assets. That's up from $66 million at the end of 2009. The bank's overall capital ratio stood at about 6.3% at the end of the second quarter, even as regulators require banks to maintain 10% ratios to be considered well-capitalized.
The stock briefly blipped up to $2.59 earlier this year when CEO Scott Anderson told investors at a company meeting that the bank had generated interest from prospective buyers. Any buyer of this bank in its current state, however, would have to have rocks in his head.
Dumb-o-meter score: 85 -- Only a government bailout saved Citigroup (C) - Get Citigroup Inc. Report and Bank of America (BAC) - Get Bank of America Corporation Report from being turned to dust. Don't expect the same treatment for pebble-sized banks like this one.
Google Not Willkommen
Google
(GOOG) - Get Alphabet Inc. Report
is once again fighting for freedom in the streets of Germany. We pray they have the will to triumph.
The Internet giant was once again attacked by German authorities for its plan to send spy cars packed with cameras around 20 cities for mapping purposes, according to
Reuters
. The German government announced on Wednesday it will scrutinize Google's promise to respect privacy requests by letting people opt out of its "Street View" mapping system.
So far more than 10,000 Germans have requested that their homes be deleted from Street View. Google plans to add Germany's 20 largest cities to Street View by the end of 2010, joining 23 countries already included. Google said human faces and license plates would be blurred.
"The Stasi would be green with envy if they could have collected this kind of data," wrote the conservative
Frankfurter Allgemeine Zeitung
newspaper. "What in the past was called 'state snooping' is now called 'Google View.' "
Easy there guys. We know you have a rough history with spying over there, but there is a big difference between the East German secret police and a California-based company co-founded by a guy whose family fled communist Russia to escape anti-Semitism.
Furthermore, in our book, Google has more than enough street cred to snap a few shots of German streets based on their censorship fight with the Chinese government. A fight, mind you, that was basically unsupported by our own so-called freedom-loving government.
Look, we know that Google screwed up in May when their spy vans collected private data in Germany sent over unencrypted WiFi networks. They admitted their mistake.
But let's be honest. Google's end game is to offer users a quicker way to navigate cities like Hamburg and Munich. Not invade Poland and the Czech Republic.
Dumb-o-meter score: 90 -- Similarly, the South Korean government raided Google's Seoul office on Tuesday over Street View. If they want to find trouble, shouldn't they be looking over the 38th Parallel instead?
Blundering Hurd
Thank you,
. The summer has been more dull than dumb until you and your friends Jodi and Larry came along.
The
Hewlett-Packard
CEO
was sent packing by his board on Friday
for falsifying documents in order to conceal an inappropriate connection with Jodi Fisher, a former contractor and B-movie actress, who claimed she was sexually harassed. Hurd, well known at HP for relentlessly cutting costs (and employees), also used his influence to make sure Fisher was paid for work she never performed.
That doesn't seem out of the ordinary, does it? CEO gets involved with a woman other than his wife and winds up paying the consequences. Pretty familiar territory, right?
Wrong. This story gets stranger and sillier as it goes along.
It turns out that Fisher, who starred in such cinematic classics as
Body of Influence 2
and
Intimate Obsession
, was never intimate with Hurd at all, despite his wining, dining and expense-form forging. Fisher's mouthpiece, celebrity attorney Gloria Allred, released a statement saying she "never had an affair or intimate sexual relationship" with Hurd and that she was "surprised and saddened that Mark Hurd lost his job over this."
Excuse us, Jodi. But
lost his job
over what? We still don't know what you two crazy cats did! And it's most likely we'll never know because you privately settled with Hurd, presumably for big bucks.
The same can't be said for HP shareholders, though. They are paying quite publicly for Hurd's misbehavior and not just because the stock lost nearly 10% over the whole inane episode. Hurd's buddies on the board gave him a kingly sendoff package of $12.2 million in severance payments and a host of other goodies, including more time to exercise his 775,000 options and nearly 350,000 shares of restricted stock units.
That's not a bad haul for a CEO who set the rules and was then dismissed for breaking them (although a messy exit does seem to fit the pattern for HP brass, considering what happened to former CEO Carly Fiorina and Chairwoman Patricia Dunn).
In hard times like these, it's good to have a friend, however. And Hurd has a good one in
Oracle
(ORCL) - Get Oracle Corporation Report
.
In an email to
The New York Times
, Ellison minced no words by saying the HP board made the "worst personnel decision since the idiots on the
Apple
(AAPL) - Get Apple Inc. Report
board fired Steve Jobs many years ago." Ellison added that the HP board "failed to act in the best interest of HP's employees, shareholders, customers and partners."
Frankly, we don't what Larry knows about Hurd's harassment charge. He may know a lot more -- or a lot less -- than we do, but that's never stopped him before from prematurely weighing in on a subject that does not involve him.
Truthful or not, HP general counsel Michael Holston would probably disagree with Ellison's account. On a conference call Friday with analysts, Holston said the facts that drove the decision to can Hurd "had to with integrity, had to do with credibility, had to do with honesty."
Stop it, Mike. You are embarrassing yourself. This whole embarrassing affair had to do with infidelity, had to do with veracity and had to do with insincerity.
And by denying it, and not revealing the truth, you are only adding to the stupidity.
Dumb-o-meter score: 95 -- Not that he needs the money, but would you hire Hurd without knowing what really happened? Thought not.
Disclosure: TheStreet's editorial policy prohibits staff editors and reporters from holding positions in any individual stocks.