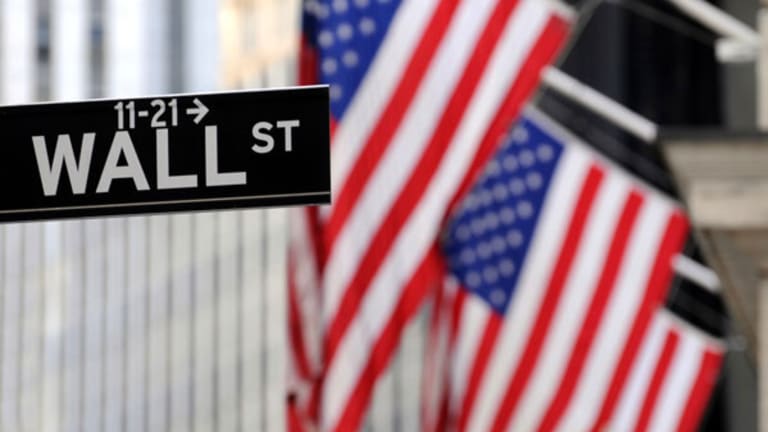 The Five Dumbest Things on Wall Street April Fools' Quiz
April Fools' Day is a special holiday for The Five Dumbest Lab, so why not take our foolish quiz?
Happy April Fools' Day! We here at The Five Dumbest Lab love April Fools' Day. In fact, it's our favorite holiday because nobody likes to celebrate foolish behavior more than we do.
But before we run off to pull a prank on one of our friends on Wall Street, we leave you with The Five Dumbest Things April Fools Quiz, recapping the silly shenanigans of the first quarter of 2010. Answering correctly could win you an autographed copy of Jim Cramer's latest book,
Getting Back to Even
.
Enter by midnight Thursday, April 1, by
with the words "Contest Entry" in the subject line. We'll rerun the column Friday, April 2, with the answers and the name of the winner. If there is more than one correct entry, we'll have a drawing.
Good luck!
1. After Dubai ran into financial troubles and was unable to service its multibillion debt load, it was bailed out by neighboring emirate Abu Dhabi. To show its appreciation, Dubai's ruler changed the name of the world's largest skycraper from "Burj Dubai" to what?
A. Dubai State Building
B. Mega Burj
C. Burj Khalifa
D. Burjer King
2. For what reason did Michael Skarzynski resign from his job as CEO of radio ratings provider
Arbitron
(ARB)
in January?
A. sleeping on the job
B. lying to Congress
C. payola
D. Crayola
3. What did
Cadbury
chairman Roger Carr call
Kraft
(KFT)
in January a week before accepting its $19.5 billion buyout bid?
A. "low growth" and with a "long history of underperformance"
B. "fast growing" and with a "fantastic pipeline of new products"
C. "speedy as a rabbit" and with a "real wild side like Lady Gaga"
D. "quick as a wink" and with a "side of fries"
4. How much did
NBC
parents
GE
(GE) - Get General Electric Company Report
and
Comcast
(CMCSA) - Get Comcast Corporation Class A Report
pay late night host Conan O'Brien to walk away after just eight months of work?
A. $32.5 million
B. $20 million
C. $10 million
D. $100 million
5. How did
Microsoft
(MSFT) - Get Microsoft Corporation Report
founder Bill Gates describe Chinese restrictions when asked in January about
Google's
(GOOG) - Get Alphabet Inc. Class C Report
battle with Beijing over censorship?
A. "Very limited"
B. "Easy to go around it"
C. All of the above
D. None of the above
6. How did former Sun Microsystems CEO Jonathan Schwartz announce his resignation in February?
A. with a sonnet on a cocktail napkin
B. with a limerick on parchment
C. with a haiku on Twitter
D. with a song on YouTube.com
7. In what country were three Google executives found guilty for not removing quickly enough an online video of teen bullies beating up an autistic boy?
A. Greece
B. Portugal
C. Ireland
D. Italy
8. Which controversial college basketball coach did
Fortune Brands
undefined
enshrine on a commemorative bourbon bottle, despite his long-running problems with the NCAA?
A. Dean Smith
B. Adolph Rupp
C. Mike Krzyzewski
D. John Calipari
9. What new
Cisco
(CSCO) - Get Cisco Systems, Inc. Report
product did CEO John Chambers say would "forever change the Internet" when he introduced it in March?
A. the Flux Capacitor
B. the iPad
C. the c3po
D. the CRS-3 Router
10. Actress Lindsay Lohan announced in March she is suing which of the following brokers for defaming her in its Super Bowl commercial?
A.
E*Trade Financial
(ETFC) - Get E*TRADE Financial Corporation Report
B.
TD Ameritrade
(AMTD) - Get TD Ameritrade Holding Corporation Report
C.
Charles Schwab
(SCHW) - Get Charles Schwab Corporation Report
D.
Goldman Sachs
(GS) - Get Goldman Sachs Group, Inc. Report
BONUS
: According to a report released in March, what was the name of the accounting trick that enabled Lehman Brothers to hide more than $50 billion worth of toxic assets before it filed for bankruptcy in September 2008?
A. Enron 101
B. Repo 105
C. E&Y OK
D. SEC OH-NO
Before joining TheStreet.com, Gregg Greenberg was a writer and segment producer for CNBC's Closing Bell. He previously worked at FleetBoston and Lehman Brothers in their Private Client Services divisions, covering high net-worth individuals and midsize hedge funds. Greenberg attended New York University's School of Business and Economic Reporting. He also has an M.B.A. from Cornell University's Johnson School of Business, and a B.A. in history from Amherst College.