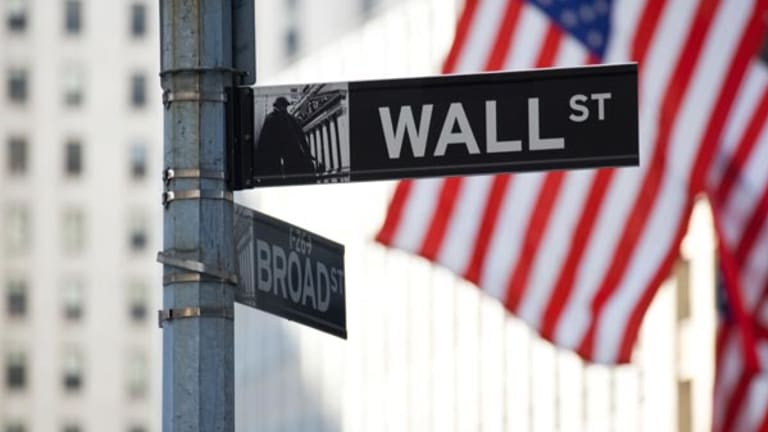 The Five Dumbest Things on Wall Street: April 9
Bye-Bye Bebo; Cedar Fair's folly; Bailout ruins reputations; iPad or iFad?; Greenspan's dopey defense.
Bye-Bye Bebo
Hey
MySpace
, check your mailbox:
You've got company!
AOL
(AOL)
announced Tuesday its intention to unload -- or if necessary euthanize -- its social networking site Bebo barely two years after purchasing it for $850 million. Jon Brod, who runs AOL Ventures, said the stagnating online community would require a "significant investment" to remain competitive.
Bebo's audience has steadily declined in the U.S., according to comScore Inc.. Bebo had 5.1 million U.S. users in February, down from 5.8 million a year earlier. Compare that to
Facebook's
210 million users and you can see why AOL is pulling the plug.
Of course, AOL won't be the first to write down a bad investment in the space after paying up for it. Last summer
News Corp.
(NWS) - Get News Corporation Class B Report
announced a fourth-quarter loss of $203 million due to a huge writedown at MySpace, which it bought for $580 million in 2005.
Brod said AOL will look for potential buyers and plans to finish a strategic evaluation by the end of May.
Don't try finding buyers on Bebo Jon. By the end of May, they may all be gone!
Dumb-o-meter score: 75 -- On the bright side, the loss won't come close to the $100 billion in losses Time Warner (TWX) took in 2002 after it bought AOL.
Cedar Fair's Folly
Cedar Fair Entertainment
(FUN) - Get Cedar Fair, L.P. Report
may be in the amusement park business, but that does not mean its management can't get taken for a ride.
The Sandusky, Ohio-based theme park owner said Tuesday it will pay private equity powerhouse
Apollo Global Management
$6.5 million for terminating their pending $2.4 billion merger deal. Cedar Fair's board of directors originally supported the transaction when it was inked in December, however, the board changed its position after several of the company's largest shareholders criticized Apollo's $11.50-a-share buyout offer as being too low.
"The board has heard from Cedar Fair unitholders and it is apparent that the merger transaction does not have the required level of investor support," said CEO Dick Kinzel in a statement.
The company canceled a special shareholders meeting for Thursday to vote on the merger. The annual shareholders meeting, nevertheless, will take place as scheduled on June 7. At that meeting we suggest shareholders ask their illustrious board members a very important question about that multimillion dollar breakup fee: Did you knuckleheads learn nothing from the private-equity bust?
When the stock market was in turmoil in 2007 and 2008, private-equity companies across the board were weaseling out of leveraged buyout deals by invoking "material adverse change" clauses in the contracts. Almost never did the company being purchased pay a penalty; it was always the acquirer sneaking out or ponying up. Remember the $100 million
Cerberus
gave
United Rentals
(URI) - Get United Rentals, Inc. Report
to get out? What about the billions in funding
Sallie Mae
received from
Bank of America
(BAC) - Get Bank of America Corp Report
to get out of that deal?
And who can forget the $1 billion breakup fee Apollo paid to escape from the
Huntsman
( FRE) deal?
Wait. Scratch that last question. Apparently the brass at Cedar Fair did.
Dumb-o-meter score: 80 -- Cedar Fair's management must have gotten dizzy after one too many spins on the Wicked Twister roller coaster.
Bailout Ruins Reps
Here's a tip for bailed-out CEOs seeking to improve their standing: Stop drinking beer with President Obama in Washington and start drinking cherry Cokes with
in Nebraska.
Omaha-based
Berkshire Hathaway
( BRK-B) topped the Harris Interactive U.S. Reputation survey this Monday, which measures the reputations of the 60 most visible companies in the country. The survey arrives barely a week after Warren Buffett's company became a better credit risk than the U.S. government, with investors accepting a lower interest rate to lend money to Berkshire for two years than to the U.S. Treasury.
At the other end of the spectrum, Congress' prodigal son
Freddie Mac
( FRE) ranked dead last with the worst marks received by a company on the annual list since Enron in 2005.
Oh, and in case you were wondering what happened to everybody's whipping-boy
AIG
(AIG) - Get American International Group, Inc. Report
, the humbled insurer was edged out by Freddie Mac for the lowest score in the ultimate race to the bottom.
All told, nine of the bottom 10 companies on the list received government bailouts or government support, proving once again that not just misery loves company, stupidity does too.
Dumb-o-meter score: 85 -- Hey, we'll take Omaha over Wall Street or Washington any day!
iPad or iFad?
Is it just us, or has the cult of Steve Jobs finally gone off the deep end?
Apple
(AAPL) - Get Apple Inc. Report
released its much hyped iPad last Saturday, selling more than 300,000 devices to clamoring crowds of early adopters. And for this impressive feat we say bully for them. It's great to see folks line up for something in this economy other than unemployment checks and Justin Bieber tickets.
That said, we here at The Five Dumbest Lab are still trying to come to grips with the praise shelled out by high-profile tech reviewers for Apple's latest gadget, which to us seems very much like a bigger, but lousier, version of their last gadget, the iPhone.
Walt Mossberg of
The Wall Street Journal
said this "beautiful new touch-screen device from Apple has the potential to change portable computing profoundly, and to challenge the primacy of the laptop."
Sleek it may be, but "beautiful?" Come on Walt! Are you planning to hang it on your wall? If so, you better get some heavy-duty nails because it ain't that light. And as for typing on the darn thing, give us a laptop -- with Flash -- any day. Or at least include a bottle of Windex with each iPad to wipe away the fingerprints.
Not to be outdone, the
The New York Times
tech writer David Pogue says the iPad is so great it "really does qualify as a new category of gadget."
We agree, David. It qualifies as an iPhone without a camera or a really clunky
Amazon
(AMZN) - Get Amazon.com, Inc. Report
Kindle.
Nevertheless, of the multitude of Steve Jobs suck-ups fawning over the iPad, our favorite was Tim Gideon of
PC Magazine
who boldly declared that "the device just makes sense."
Fine, Tim. But to who?
Dumb-o-meter score: 90 -- These guys must be worried they won't get Apple's next toy ahead of everybody else. Otherwise, there is no way to justify these glowing reviews.
Greenspan's Dopey Defense
The devil didn't make Alan Greenspan miss the credit crisis. But he may have been the only one if you believe the former
Fed
chief.
Appearing before a congressionally appointed commission investigating the financial crisis, Greenspan scatter-shot blame across space and time Wednesday, always remaining careful not to let any of it bounce back and hit him in the briefcase. In his prepared statement, Greenspan left no stone unturned in his search for the true cause of the crisis -- except, of course, the rock he was hiding under.
First, he blamed "the fall of the Berlin Wall," which he said discredited and widely displaced central planning by competitive markets. Then he pointed the finger at China's inability to "keep up with the surge of income" which caused the savings rate of the developing world to soar. That mix of
glasnost
and a glut of Chinese savings ultimately led to a fall in global real long-term interest rates and eventually a U.S. housing bubble.
Got that? The commies, well, former commies, caused condo prices in Miami to triple overnight. Greenspan was just there for the ride.
But that was just the beginning of the Maestro's symphony of denial. Greenspan then proceeded to accuse in no particular order: Wall Street executives, bovernment regulators,
Fannie
( FNM) and
Freddie
( FRE), Congress, rating agencies and subprime securitizers -- and that was all before the question-and-answer portion of the hearing!
When Q&A time finally arrived, Greenspan was asked by the commission's chair Phil Angelides if he should bear any blame for the subprime crisis. Greenspan responded that he was "right 70% of the time, but I was wrong 30% of the time and there are an awful lot of mistakes in 21 years."
Add one more mistake to that tally, Alan. Your revisionism is 100% wrong.
Dumb-o-meter score: 95 -- To be fair to Greenspan, Bob Rubin's testimony on Citigroup's (C) - Get Citigroup Inc. Report failure the next day was almost equally pathetic. Never before has somebody been paid so much for doing so little.
Before joining TheStreet.com, Gregg Greenberg was a writer and segment producer for CNBC's Closing Bell. He previously worked at FleetBoston and Lehman Brothers in their Private Client Services divisions, covering high net-worth individuals and midsize hedge funds. Greenberg attended New York University's School of Business and Economic Reporting. He also has an M.B.A. from Cornell University's Johnson School of Business, and a B.A. in history from Amherst College.