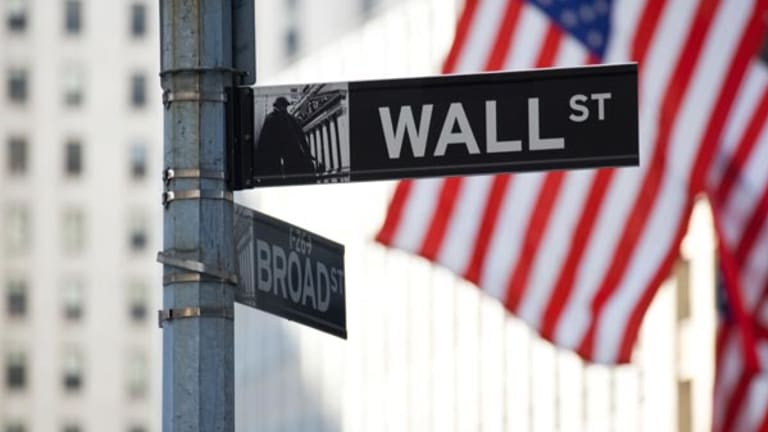 The Five Dumbest Things on Wall Street: April 16
They just don't get Dimon; Build-A-Bear's riding on a hamster; Avon's cover-up; Killinger's comedy; Palm's perplexing rise.
Orange Squeezes Dimon
After four years of study, one would think the members of Syracuse University's class of 2010 would be smart enough not to insult one of the few people still hiring in this horrific job market. Sadly, that's not the case.
A group of Syracuse University students are petitioning the college to remove
JPMorgan Chase
(JPM)
CEO Jamie Dimon as this year's commencement ceremony speaker, citing his role in the banking crisis. More than 800 students and alumni have signed the online petition sponsored by an on-campus organization called "Take Back 2010 Syracuse University Commencement," which claims it is "against using the 2010 commencement to restore the public image of the banking industry."
The student group says it is also against using the commencement ceremony to "validate the anti-environmental and anti-humanitarian interests of JPMorgan Chase."
Come on guys, let's calm down a bit. We're talking about Wall Street's golden boy here, not the skipper from the
Exxon
(XOM)
Valdez or a "vampire squid" from
Goldman Sachs
(GS)
. Maybe your history books have not been updated yet -- or maybe you missed it because you were playing beer pong at the frat house -- but Dimon showed more leadership than nearly all of his peers during the banking crisis, getting out of the subprime slime before the credit tsunami hit.
Furthermore, if you go to the library and look up Bear Stearns and Washington Mutual, you will learn an important lesson about how doing the right thing can pay off. Both those shops ran themselves into the ground, allowing Dimon to swoop in and buy them at bargain prices.
University Chancellor Nancy Cantor said in an open letter earlier this month that the university has no plans to bump Dimon from his speaking spot. We think that makes sense. Eventually her students will learn that the "Bank of Mom and Dad" will not be open forever and that they may need a Dimon if things get rough.
Dumb-o-meter score: 75 -- Instead of Dimon, they should campaign against a capella singers at commencements. Now they are the real menace to society.
Build-A-Bear's Boo Boo
Allow us to suggest a new name for toymaker
Build-A-Bear Workshop
(BBW)
. How about
Build-A-Bonus
?
According to Monday's
St. Louis Business Journal
, Build-A-Bear's CEO Maxine Clark not only stuffed teddy bears in 2009, but her pockets as well with a 60% raise in what was less than a stellar year for the make-your-own-toy company. All told, Clark saw her total compensation surge to $1,733,032, up from $1,080,637 in 2008.
That's pretty generous considering Build-A-Bear lost $12.5 million, on revenue of $394.4 million in fiscal 2009, compared with a profit of $4.6 million on revenue of $467.9 million in 2008. As for its stock, Build-A-Bear's shares finished 2009 only 5% higher than where they started, as opposed to a 68% spike in the
SPDR S&P Retail ETF
(XRT)
.
To be fair, Clark, who founded the company, froze her salary at $600,000 year over year, so the bulk of her pay bump came in the form of stock and option awards. Moreover, the stock has jumped significantly since the start of 2010 from $4.89 to over $7, bringing it back into line with the indexes.
But with more than 11% of Build-A-Bear's shares sold short, the recent rise in stock price seems more like a squeeze for those betting against the stock than a cuddly vote of confidence in management.
All we can say is, the company's introduction of Zhu Zhu Pets better be worth the money. If those toy hamsters flop, then it will be even clearer to investors that Clark and her coterie aren't meriting that extra comp.
Dumb-o-meter score: 80 -- How dare they build bears in a bull market!?!?
Avon's Cover-Up
There is a whole lot of cover-up being applied at
Avon
(AVP)
and we are not talking about the beauty product.
Avon announced Tuesday it put four executives on administrative leave as part of an investigation of bribery allegations in its China operations. In a filing with the
SEC
, Avon said it started looking into the problem in 2008 after receiving a tip that a number of the company's executives were playing fast and loose with travel and entertainment expenses.
Avon executives are not yet commenting on the situation, but the stock said it all on Tuesday, running like mascara in the rain to close down 8% at $31.99.
Why are the worry lines forming in the faces of Avon execs and investors alike over a few bad apples? Easy, it's because overseas sales account for close to 80% of Avon's total revenue, which fell 3% last year to $10.38 billion.
And while Avon's Chinese sales came to only $353.4 million of that total, the expectation is that China will be a huge market for the cosmetics maker, following up on its successful international campaign in Latin America. The company announced last month it plans to open a research and development center in Shanghai in order to boost its scientific capabilities in Asia.
That means that the last thing Avon needs is a publicity nightmare along the lines of what happened at
Rio Tinto
( RTP) last month. In that case, a Chinese court slapped four employees of the mining giant with harsh jail terms for bribery, including a decade-long sentence for one of its Australian workers. The Rio Tinto verdict cooled relations between the two trading partners, with Australia's foreign minister criticizing the severity of the punishment.
That type of stress is bad for the complexion, and Avon has way too much skin in the game to go down that road.
Dumb-o-meter score: 85 -- Bribery may be the so-called cost of doing business in China. But it sure is proving to be too costly.
Killinger's Comedy
We thought Alan Greenspan's "blame everybody but me" comedy act would be impossible to top, but that was before Kerry Killinger positively slayed them down on Capitol Hill this week.
Pitched for a fight,
the former Washington Mutual CEO
fingered federal regulators and Wall Street insiders for his bank's failure Tuesday, claiming firms that were
were sheltered during the 2008 financial crisis. Appearing before the Senate's Homeland Security and Governmental Affairs Committee's investigating panel, Killinger complained of "unfair treatment" for his bank, which was seized and sold for a pittance to
JPMorgan Chase
(JPM)
in September 2008, making it the largest U.S. bank ever to fail.
"For those that were part of the inner circle and were 'too clubby to fail,' the benefits were obvious," argued Killinger, referring to the liquidity and capital injections received by other banks. "For those outside the club, the penalty was severe."
Come on Kerry, that's a joke and you know it. In 2006, you sold $29 billion in subprime mortgage securities to investors, up from $2.5 billion in 2000, so you clearly had no trouble rubbing elbows with Wall Street's big boys. And your paycheck certainly resembled that of a Wall Street titan with you pulling in nearly $100 million in compensation between 2003 and 2008. For heaven's sake, you made more than $20 million in 2008, and you didn't even finish the year!
The real hilarity is how you "earned" all that cash by incentivizing your staff to make loans to anybody with a pulse and a pen, while simultaneously removing even the slightest hint of risk management.
Our largest laugh, however, came this week when it was
that you were afraid to hire
Goldman Sachs
(GS)
to help WaMu out in late 2007, choosing Lehman Brothers instead due to a fear that you would be "swimming with sharks" by going with Goldman.
"I trust Lehman more for something this sensitive. But we would need to assess if they have the smarts we need," wrote Killinger
11 months before the crisis would consume both banks.
Welcome to the club, Kerry. Say hello to Bear Stearns for us.
Dumb-o-meter score: 90 -- Killinger should ask the Friars Club to let him in. Maybe they will find his shtick as funny as we did.
Palm's Perplexing Rise
Tech analysts say
Palm
( PALM) stock is practically worthless. So how come shares of the slumping smartphone maker are flying on huge volume?
Oh the silly games they play on Wall Street.
Shares of Palm popped 17% on Monday to more than $6 as rumors swirled about a potential takeout or, at these elevated prices, a takeunder. The wild ride continued through the rest of the week as Wall Street traders placed bets on Palm's future as an independent player.
Much of Palm's resurgence is due to its hiring of bankers at Goldman Sachs and Frank Quatrone's Qatalyst Partners -- yep, Frank's back! -- to shop around for a buyer. The move comes less than four weeks after Palm cut its sales target in half, which immediately raised concerns of survivability for Palm, which may not have enough cash to get through the year.
Last month's Palm pile-on got so bad that investment bank Morgan Joseph, in a note subtitled "The Death Spiral is Accelerating," lowered its rating on Palm to sell from hold, and assigned it a $0 price target.
Now the stock has taken flight, thanks to merger rumors and a powerful short squeeze. The question is, however, how long can it stay aloft?
Top-tier manufacturers like
Hewlett-Packard
(HPQ)
,
Dell
(DELL)
and
Nokia
(NOK)
have already passed on Palm. And according to some reports, Asian players including
HTC
and
Lenovo
have kicked the tires, but are hesitant to make a deal, due to the huge follow-on investment that would be required to get Palm back on its feet.
At last check, Chinese tech giant
Huawei Technologies
was sniffing around. If it doesn't buy the company, then who knows what's next for Palm? With no buyers left, maybe this worthless stock will double.
Dumb-o-meter score: 95 -- Wall Street says Palm is worth zilch. So why does the stock keep going up?
Before joining TheStreet.com, Gregg Greenberg was a writer and segment producer for CNBC's Closing Bell. He previously worked at FleetBoston and Lehman Brothers in their Private Client Services divisions, covering high net-worth individuals and midsize hedge funds. Greenberg attended New York University's School of Business and Economic Reporting. He also has an M.B.A. from Cornell University's Johnson School of Business, and a B.A. in history from Amherst College.