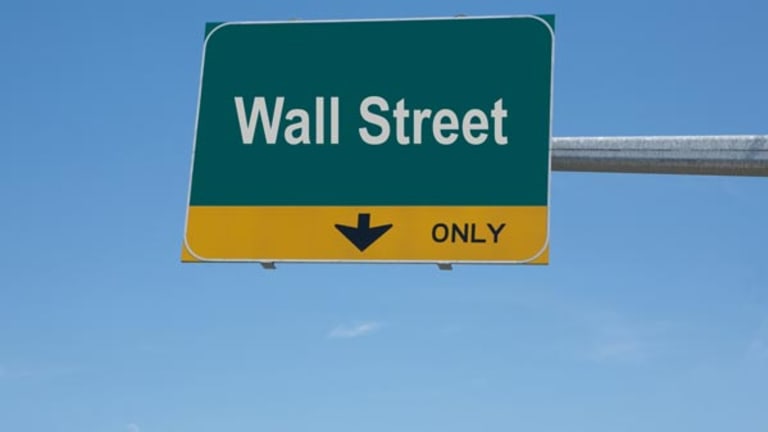 Publish date:
The Five Dumbest Things on Wall Street
Raspberries for Apple; You'll be sorry, UBS; Fortress or Fort Knox? Wholly unappetizing Foods; give Liberty AOL or give them...
Raspberries for Apple; You'll be sorry, UBS; Fortress or Fort Knox? Wholly unappetizing Foods; give Liberty AOL or give them...
Raspberries for Apple
In its first month of operation,
Apple's
(AAPL) - Get Report
App Store has been a roaring hit, with $30 million in sales from the downloading of more than 6 million software programs by third-party developers.
But this impressive debut was marred by the issuing and subsequent handling of a software program from Armin Heinrich, a German software developer, that had dumb, dumb, dumb written all over it.
The first bit of dumbness: a totally useless application for the iPhone 3G that was first reported by the
Los Angeles Times
.
For $999.99, the iPhone's owner gets the right to download a program by Heinrich that puts a small red icon on the phone's screen with the words, "I Am Rich," in the subtext. That's it.
Second piece of dumbness -- certainly more than the first: the eight people who shelled out $999.99 for the program. It's difficult to fathom why anyone would pay that much capital for such a narcissistic message. It certainly couldn't have been for the art design.
And finally, dumb part three: Apple's botched handling of the software application. The company removed "I'm Rich" without providing an explanation to the developer, the public or the eight fools who bought it. An Apple spokeswoman told
The Wall Street Journal
that the decision to pull Heinrich's creation was a "judgment call." Calls by
TheStreet.com
to Apple for comment were not returned.
The
Times
surmised that the decision might have been related to a complaint on the Web from a person who bought the software by mistake and wanted his money back. We can't imagine why that would happen.
Meanwhile, you have to hand it to Heinrich. Under Apple's rules for third-party software developers, the developer makes 70% and Apple rakes in 30%. By our math, Heinrich pocketed an easy $5,600.
We have a slogan that the folks who forked over the dough can upload onto their iPhones: "I am chump."
-- by David Tong
Dumb-o-meter score: 95. Hello, is anybody minding the App Store?
You'll Be Sorry, UBS
Alone we stand, together we fall apart, or at least that's the thinking behind Swiss bank
UBS'
(UBS) - Get Report
latest attempt to overcome what's become quite a discouraging financial quagmire.
On the heels of a second quarter that reasserted UBS' place among the worst-performing institutions in recent years, the Swiss bank is looking to break up its dysfunctional family of financial services.
Monday's earnings statement was not good. UBS swung to a $329 million loss from a $5.1 billion profit a year ago, expanding its streak of widening losses to a full four quarters. On top of that crater, the company's asset writedowns tied to the subprime meltdown grew to an ignominious total of $43 billion.
In response to shareholder disgruntlement, the bank said it would "reposition" itself, separating its wealth management, investment banking and its asset management segments into more autonomous units in a bet that the three businesses will operate better separate than together.
Greater autonomy for its segments might paint a rosy picture if any of UBS' businesses could offer any confidence. With an investment bank that is, at best, frowned upon -- if not outright sneered at -- on Wall Street and a wealth management business that is rapidly losing wealth, it's difficult to believe that the breakup will leave UBS feeling any more fulfilled.
Quarantining the investment bank may be a good idea, but UBS' chairman's protest that the company has "no specific plans to dispose of any business unit at this time" reflects a growing sense that the best place for that subprime-mangled business might be the dustbin.
Meanwhile, an investigation by the Internal Revenue Service and a lawsuit by New York state Attorney General Andrew Cuomo are increasingly driving clients away from the wealth management segment -- to the tune of $41 billion in net new money outflows in the quarter. That's triple the big-money leakage UBS saw in the first quarter. And according to
Bloomberg
, 140 UBS client advisers jumped ship in the same period.
Breaking up is hard to do, but in this case, it may just be that UBS' ailing business units deserve each other.
-- by Mike Taylor
Dumb-o-meter score: 91. Maybe UBS believes that three bad banks are better than one.
Fortress or Fort Knox?
Pity Adam Levinson.
The poor soul, a new dad and star trader for publicly traded hedge fund
Fortress Investment Group
, recently told
The Wall Street Journal
that he's awake all night, every night. Not because of the kid, he says, but because the phone won't stop ringing with calls from work.
"On a good day, it's a couple of calls overnight," he told the
Journal
. "On a bad one, it's seven."
Man, being chained to the office like that would drive a lot of guys to look for new employment on
. Fortunately for Levinson, six figures seem quaint in light of Fortress' incentive for him to stay where he is: a $300 million bonus.
You read that right. That's nine figures, if you're not so good with math.
Fortress plied Levinson with a grant of 31 million shares to keep him from bolting to a rival or hanging up his own shingle, the
Journal
says. Lavish pay packages are certainly common among the hedge fund and private equity worlds, as there is a lot of money at stake, and the competition for top talent is fierce.
The problem for Fortress is that it is no longer giving away its own money since the firm went public last year. Thus, pesky investors and journalists have more access to information and are able to uncover such things as Levinson's pay package and subject the firm to scrutiny from bitter, less-handsomely compensated folks like the
Journal's
Peter Lattman, who wrote the piece, and we here at The Five Dumbest Lab. (To be fair to Lattman, we've never met him and can't attest he shares our bitterness.)
But while we acknowledge a touch of envy in our mocking Levinson's windfall, our scorn is justified when it is juxtaposed with the firm's recent financial results. Fortress posted a net loss of $55.6 million, or 67 cents a share in the second quarter -- its third straight quarterly loss. Moreover, shareholders have seen the firm's stock plummet nearly 70% since it went public in February 2007 at $35 a share.
Plus, as Citigroup analyst Prashant Bhatia pointed out in a note on Aug. 7, the 31 million shares granted to Levinson dilutes existing shareholders' holdings by increasing the number of shares outstanding by 7%.
"We can't rule out additional dilutive share grants to other senior employees down the road," he wrote.
Well, that's nice -- for the next hot property Fortress wants to keep from skipping town.
-- by Michael Gannon
Dumb-o-meter score: 85. It's reassuring that Levinson isn't getting any sleep. Investors in Fortress aren't either
.
Wholly Unappetizing Foods
Just for fun, let's count the calamities at
Whole Foods
(WMFI)
within the past week or so.
Ready? Last Friday, the upscale grocer announced a recall for fresh ground beef after federal officials linked 31 cases of E.coli poisoning to one of its suppliers. Whole Foods says it will provide store refunds on the bungled beef sold this summer in several states and Canada.
Several retailers have become embroiled in the E. coli mishap over the past several months, but the name "Whole Foods" somehow implies an immunity to such vagaries as bacteria. Isn't that one of the reasons Whole Foods charges so much for its wares?
This setback was preceded by Whole Foods' earnings announcement two weeks ago. In case you missed it, here's a quick recap: Whole Foods' profit dropped 30%, causing shares to plunge to a 52-week low. Also cut: Whole Food's dividend, earnings outlook and the number of new stores the company plans to open next year.
CEO John Mackey blamed the earnings shortfall on the tough economy. However, judging from the impressive quarterly results at retailer
Ralph Lauren
(RL) - Get Report
, the Polo set still has discretionary dollars to spend. Unfortunately for Whole Foods, those consumers are being more discrete in where they spend them.
One thing about rich people: Most generally needed at least a modicum of brains to stock their bank accounts. And it does not take a brain surgeon to figure out that you can buy ground beef -- minus the bacteria -- for a whole lot less at
Safeway
(SWY)
or
Kroger
(KR) - Get Report
.
For its part, Whole Foods says it is trying to ease the price pains of its shoppers. The company launched its "Whole Deal" newsletter in July, complete with recipes and tips on how to "feed a family first rate food for less."
Looking at Whole Foods' earnings, it appears that consumers have already figured that one out. They're shopping somewhere else.
--
by Gregg Greenberg
Dumb-o-meter score: 80. Where's the beef? you ask. Certainly not at Whole Foods.
Give Liberty AOL or Give It...
Bidding up the price of AOL's dial-up business is a bit like paying millions of bucks for a 59-cent tomato, and a rotten one at that. Still, that didn't seem to stymie
Liberty Media
Chairman John Malone from becoming a possible acquirer.
AOL gets its cash primarily from two places: Dial-up users' subscriber fees and advertising dollars from its free email and instant messaging services. The advertising business is relatively healthy --
Yahoo
(YHOO)
and
Microsoft
(MSFT) - Get Report
were rumored to be interested in getting a piece of AOL's ad action.
But the dial-up dud has been an albatross for
Time Warner
(TWX)
, hemorrhaging subscribers and revenue for years. It seemed to have only one logical suitor:
Earthlink
(ELNK)
, which derives most of its revenue from dial-up and plans to grow its shrinking subscriber base through partnerships and acquisitions.
The move was widely expected, with Earthlink CEO Rolla Huff
telling
The Wall Street Journal
that AOL's dial-up business is "worth aggressively pursuing." Analysts value the AOL business at up to $3 billion - which would still be a pretty sweet deal, since it's profitable, despite its rapid decline; subscriber revenue has nearly matched the $3 billion mark over the past year.
But now Liberty -- which holds a 2.8% stake in Time Warner -- may make an attempt to land AOL to prop up one of its three tracking stocks.
Time Warner shares have dropped about 5% this year and 15% over the past year, and Liberty
Media Capital
(LCAPA)
investors aren't thrilled with these results. During a conference call Monday, when asked whether Liberty would consider swapping its Time Warner stake for the AOL's dial-up business - similar to Liberty's
transaction with
News Corp.
(NWS) - Get Report
to acquire DirectTV -- Malone gave an affirmative.
"Clearly an exit from the Time Warner equity stake into a cash-generating asset would be attractive," Malone said, noting that no proposal has yet been made.
What Malone didn't mention was that the dial-up business is generating a lot less cash than it used to, has no growth potential and doesn't have many synergies with Liberty's
existing assets -- even within the Capital Group, which owns, among other things, the Atlanta Braves and GoPets Ltd.
When posing the question during the call, Citigroup analyst Jason Bazinet also noted that AOL's dial-up business is "declining" and "may not necessarily
have strategic merits for the rest of the Liberty Enterprise" even if it did make "financial sense in the context of
Liberty Media Capital."
AOL's ill-fated combination with Time Warner is historic, with its dial-up business revenue plunging more than 60% over the past five years as it shed 18.2 million subscribers. A Pew
study shows that America may be online, but it isn't using AOL.
Dial-up is heading toward the same dusty shelf as the 8-track and the VHS tape before it. And while pairing AOL with Earthlink would at least have some logistical sense at the right price, Liberty's potential bid will only spark a bidding war for Time Warner's perennial loser.
One sage suggestion: Leave this tomato in the leftover bin.
--
by Lauren LaCapra
Dumb-o-meter score: 75. America is online, but not with AOL
.
This article was written by a staff member of TheStreet.com.