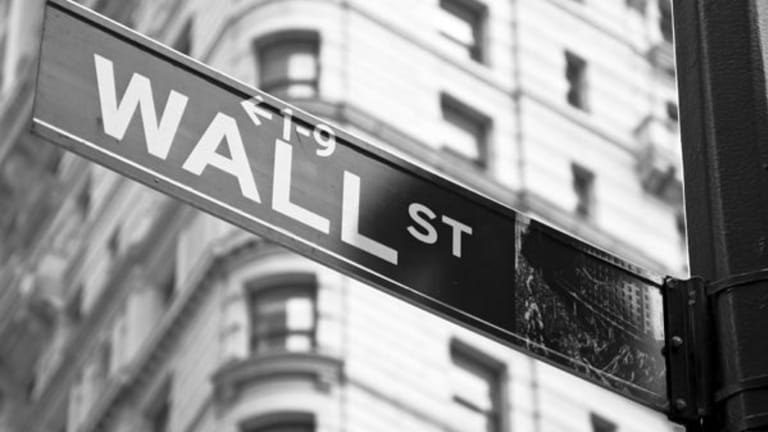 The Five Dumbest Things on Wall Street
American Apparel -- accounting in peril; Wachovia whacked; Pilgrim's Pride squawks; Buster City: Traders' Ptooy-taries.
1. American Apparel -- Accounting in Peril
American Apparel
(APP) - Get Applovin Corporation Report
CEO Dov Charney isn't afraid to let it all hang out.
Over the weekend,
The Wall Street Journal
highlighted Charney's propensity to strut about his factory floor clad only in the underwear he designs.
American Apparel's brand largely comes from its ads, which uncomfortably straddle what one might find in a Sears catalog and what one sees in the centerfold of
Playboy
.
Skeevy CEOs are not a shock to Wall Street, but Charney brings the sleaze to another level. His company has fended off three sexual harassment lawsuits so far, and a fourth is currently in the works.
It's not hard to imagine employees feeling a bit uncomfortable in Charney's shop. According to the
Journal
, he hosts photo shoots in the basement of his L.A. mansion, which also contains the reams of vintage pornography he collects.
In Charney's defense, constriction can certainly stifle a firm's growth and creativity. But getting too free and loose also can take a toll on a balance sheet.
The scabrous CEO shows dim awareness that his company is in trouble. He's on record calling his own CFO, Ken Cieply, a "complete loser," a man with "no credibility." Charney would be well advised to employ someone who instills more confidence. His company is rapidly opening new stores nationwide even it packs on debt. In fact, the company's IPO -- a buyout by a "blank check" shell company -- looks more like a last-ditch grab at funds than a means for genuine expansion.
Dumb-o-meter score: 93. Charney should remember he's not just a member of American Apparel's boys club -- he's also the CEO.
2. Wachovia Whacked
Give
Wachovia
(WB) - Get Weibo Corporation Report
CEO Ken Thompson credit for his recent candor.
This week, Wachovia reported a
first-quarter loss of $393 million, down from a profit of $2.3 billion in the year-ago quarter. The bank now also finds itself short on money, has promised to raise $7 billion in capital by selling stock and has decimated its dividend, cutting the payout by 41%.
Defaults on Golden West's Pick-a-Payment loans, which allow borrowers to choose their own adventure when their mortgage bill comes each month, are largely responsible for the bank's woes.
When Thompson bought Golden West in 2006 for $25 billion, those adjustable mortgages were still printing money. For months leading into earnings, he had defended the Golden West purchase, and even after this recent earnings disaster said the deal could yet bear fruit.
Now that the bubble has resoundingly collapsed and many homeowners are choosing not to pay, inquiring minds at
The Wall Street Journal
asked if Thompson had any regrets about the Golden West merger.
"Of course I do, given the result that we're seeing," said the frustrated CEO. "Looking backwards, obviously the timing was terrible."
On a conference call, Thompson assessed the problem of mortgage defaults: "I would just say that what we are seeing is that when equity in the home approaches zero, behavior changes." In other words, Wachovia isn't going to see that money ever again.
Dumb-o-meter Score: 91. Of the Golden West acquisition, Thompson said, "Financially, that deal is not going to work out the way we thought it was."
3. Pilgrim's Pride Squawks
World leader in fowl production
Pilgrim's Pride
(PPC) - Get Pilgrim's Pride Corporation Report
chickened out on its workers Wednesday, tipping the feds as to the whereabouts of hundreds of its own illegal employees.
Homeland Security operatives stormed five of the poultry provider's compounds, plucking about 400 workers from their jobs and placing them under arrest.
Apparently, management squawked on the illegals, alerting law-enforcement officials to a potential identity-theft operation linked to some of its Arkansas employees.
In a press release on the matter, Pilgrim's Pride disowned the former tenders of its chickens: "We share the government's goal of eliminating the hiring or employment of unauthorized workers," it said. Meanwhile, the firm was quick to point out that "No civil or criminal charges, including charges that Pilgrim's knowingly hired these employees or conspired to hire them, have been filed against the company in any of these cases."
Until Wednesday's moment of legal reckoning, though, it's difficult to quantify how scrupulously law-abiding the chicken purveyor has been. In the past, Pilgrim's has actively advocated for the use of migrant labor in the U.S. Now, those same migrants each face up to five years in the pen and fines of up to $250,000.
Flying the coop to their native land is, by now, a doubtful proposition. The U.S. citizens who are victims of the identity thefts tied to the case, says the Justice Department, have been unfairly denied access to medical and social services, and have suffered damage to their credit ratings.
Pilgrim's Pride, having confronted government scrutiny as to its hiring practices, will have to find other ways to cut costs as it faces inflating feed prices and a potential credit downgrade from Moody's.
Dumb-o-meter score: 91. Pilgrim's Pride will have to think twice the next time it considers hiring actual pilgrims.
4. Buster City
Beset on all sides by the iniquities of competition and the tyranny of an obsolete business model,
Blockbuster
( BBI) chose a puzzling path this week. It's offering to shell out $1 billion for scorned electronics retailer
Circuit City
(CC) - Get Chemours Company (The) Report
.
Speculation on the Street has it that Blockbuster, which readers may remember once having visited before
Netflix
(NFLX) - Get Netflix Inc. Report
began delivering their DVDs, is attempting to expand its real estate footprint.
The staggering video rental outfit also may be setting up to
make inroads against
Apple's
(AAPL) - Get Apple Inc. Report
Apple TV, a device that allows users to beam movies off the Internet onto their TVs. Blockbuster reportedly has its own gadget in the works.
Perhaps the rental outfit will use its newly expanded real estate footprint to provide convenient locations for sale of its Apple knockoff. Circuit City is itself skeptical of the idea, objecting that, among other things, Blockbuster won't be able to foot the bill.
Even if billionaire investor Carl Icahn, who has a stake in Blockbuster, offers some cash, Street analysts have other concerns. A Jeffries analyst said the merger would hurt Blockbuster's online competition with Netflix. JPMorgan dropped its rating on the stock to neutral from buy, noting that Blockbuster would need to cut Circuit City costs by hundreds of millions a year to break even.
Dumb-o-meter Score: 85. The Circuit City acquisition, Blockbuster says, would create a "game-changing retail concept." They might consider hitting reset.
5. Traders' Ptooy-taries
Science established this week that when things get heated in that manliest of places -- the trading pit -- traders' hormones kick it up a notch as well.
As part of a Cambridge University study, a group of very brave scientists took saliva samples from 269 men and four women at a London trading pit and analyzed the contents -- not for the usual things one expects to find in a broker's spit -- but for testosterone.
They found that as traders make high-than-average profits, their spittle grows flush with testosterone and cortisol. The former hormone is known to be linked to risk-taking, while the latter often emerges when people are faced with unpredictable situations.
Media reports on the findings pointed to another U.S. study that demonstrated young men who'd been shown erotic photos were more likely to take risks. When shown mundane or scary objects, they'd be more risk-averse.
Before high-powered traders consult their doctors to get an added edge in the pits, they should note: The study cautioned against drawing any causal conclusions between higher testosterone levels and successful trading. A high-volume day may have caused the hormone surge, and not the other way around. In fact, trading on too much manpower may cause the sort of reckless investing that causes bubbles.
Presumably due to the dearth of female traders, the study results may have been slightly skewed. More regrettable, though, is that the study may be right, and men have only themselves (etc.) to blame for the current credit crisis and every other economic disaster in history.
Dumb-o-meter Score: 65. "If testosterone reaches physiological limits, as it might during a market bubble, it can turn risk-taking into a form of addiction." says Dr. John Coates, lead scientist in the study.