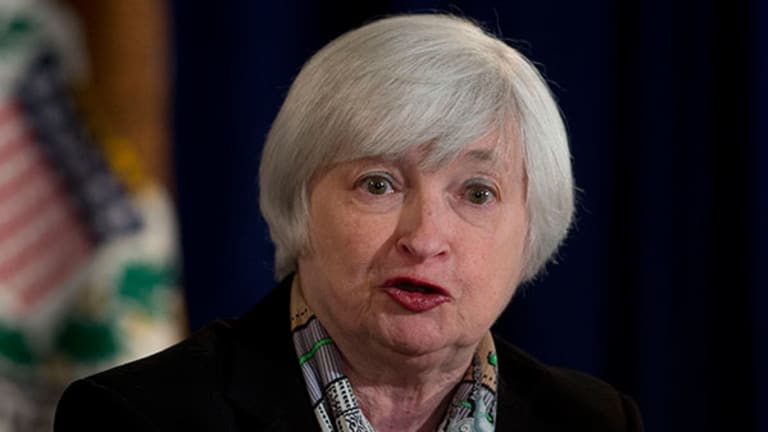 The Fed Has No Choice but to Raise Interest Rates This Year
Forget all the noise about whether the Fed will postpone hiking interest rates. The central bank must raise rates to stay in sync with the market.
NEW YORK (TheStreet) -- All the noise about whether the Federal Open Market Committee will start hiking interest rates in September or December could not be more irrelevant, because the Federal Reservemust raise interest rates to stay in sync with what the interest rate market has already done.
After three decades of falling rates, the low arrived early this year, and rates have risen in impulsive manner ever since.
The weekly bar chart of 30-year Treasury yields shows the low in yield around 2.23%, along with a stochastic probe just below the extreme oversold 10% threshold.  
Monday's spike down and reversal higher substantially raise the odds that the next big move will be a thrust above the 3.2% high of this year.
The confirming higher low in yield and the stochastics (bold blue bars in both panes) inform us that there is convergence, rather than divergence, between the trend and the enthusiasm behind it.  
The blue arrows represent the highest probability pattern that the decision support engine now anticipates coming to fruition in the next year, which should at least visit the 4 handle (4% or higher), before needing a multimonth corrective phase into late 2016.  
By the time 4% is seen, the FOMC will have raised interest rates several times, or it will have lost all credibility. Such a loss would have too many ominous implications regarding global market stability. Therefore, Fed policymakers will do whatever is needed to maintain the illusion that they remain in control of U.S. interest rates, a fallacy that is one pinprick away from extinction.
Readers often email asking how DSE interest rate forecasts apply directly to various bond prices. Keep the questions coming, because the feedback is much appreciated.
Below is the monthly bar chart of the iShares Barclays 20+ Year Treasury Bond (TLT) - Get iShares 20+ Year Treasury Bond ETF Report, an exchange-traded fund that tries to track the return of U.S. Treasurys with maturities of 20 years or more.
Two weeks ago, there was the DSE's follow-up to even earlier analyses, confirming that after the low near $113 in June, a rise into $124, plus or minus $2, was still in the cards.
Into last Friday's close, that zone was achieved. Monday's spike to the $128 area lasted only minutes, and the reversal to close flat on the day exclaimed that the price high, into DSE's multimonth bounce target, was in place! Wednesday's low, in the $121s, either ended the very first of many lows to come, or a brief probe of $120 should do it this week, which should be followed by a bounce toward $124 lasting a couple of days. That retest should be the last test of $124 for years, as the path shown by DSE's blue arrows points toward the $93, plus or minus $5, zone in the coming year or two.
What should investors do now with their bond exposure, not only in Treasury vehicles, but also in munis, corporates and junk bonds (individual issues as well as mutual funds and ETFs)? Let's ask the decision support engine question, "If I had no capital in the bond market, would buying or selling actions be objectively indicated here?"  
The answer is clear: buying actions in vehicles benefiting from rising yields, and selling actions in all vehicles related to bond prices.
If you are long iShares Barclays 20+ Year Treasury Bond from DSE's buy signal near $113, protective sell stops must be placed at $120, with even better reward for higher exits, if $124 is retested. If flat, short exposure can be established above $122, on a break of $120, and/or into resistance toward $124. If already short, especially from above $126, take a multimonth trip around the world, and leave instructions with your broker to call you in Hawaii when the ETF reaches the low $100's, or on a break above $131 (for safety purposes, which is not anticipated).  
For more of this kind of analysis, join our reservation list for the launch of our new real-time, live-market analysis chat room. Launching September: decision support engine analysis from bell-to-bell, addressing indices and stocks, as well as member questions throughout the day.
This article is commentary by an independent contributor. At the time of publication, the author held no positions in the stocks mentioned.