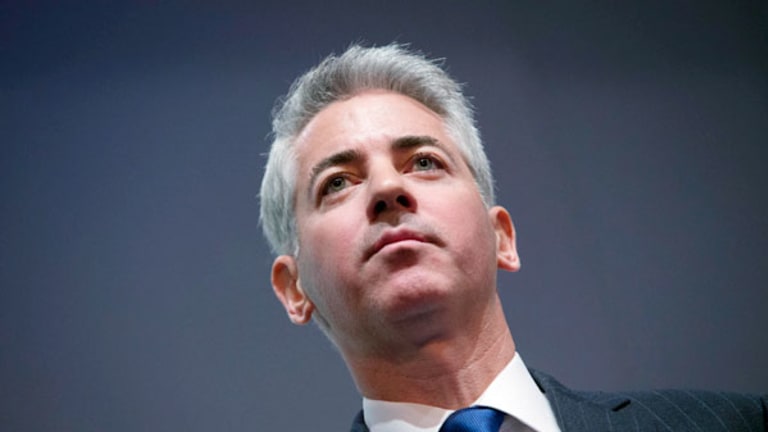 The Fall and Fall of Bill Ackman
Bill Ackman of Pershing Square Capital Management is on the hook for billions in losses on Herbalife and J.C. Penney. His fellow hedge fund managers seem to consider it rough justice.
NEW YORK (TheStreet) -- Those who enjoy a little schadenfreude over an August weekend are getting a surfeit of it as hedge fund manager Bill Ackman of Pershing Square Capital Management twists slowly, slowly in the wind.
Ackman -- the name means "oak man" in German -- likes to be seen as the smartest guy in the room and helped endow a center for
.
But sometimes the smartest guy in the room outsmarts himself.
That's what happened to Ackman after he bought a huge stake (now 18%) in
J.C. Penney
(JCP)
in early 2011.
Penney was one of the fallen angels of American retailing. A long-time shopping mall anchor, founded by James Cash Penney, a merchant who once taught a young Sam Walton how to wrap packages more efficiently, it had fallen onto hard times. Ackman figured he could make a killing by resurrecting it.
But the man he picked as Penney's savior, former
Apple
(AAPL)
stores head Ron Johnson, turned out to be worse than the disease. Johnson tore down the old business model, replacing it with a high-tech paradise that didn't hold sales, where clerks carried iPads. The old customers bailed, new ones didn't show up, and in April Johnson was shown the door.
This should have been bad enough, but in the meantime Ackman had decided to recoup his losses with a second big bet, a short on
Herbalife
(HLF)
Herbalife (HLF), announced at a conference in December. He called Herbalife a pyramid scheme and
Regardless of whether Ackman is right or wrong on Herbalife, the history of a short doesn't always follow the facts. Ackman's hedge fund rivals, including Dan Loeb of Third Point, George Soros and Carl Icahn, took the other side of Ackman's big bet -- Herbalife stock has doubled since Ackman stepped in.
We now enter the "squeal like a pig" portion of our program. Penney brought back Johnson's predecessor, Myron "Mike" Ullman, to run the company. Ullman has a long-term plan that could get the company back to where it was, a low-profit $18 billion outfit selling at roughly half its sales, worth maybe $9 billion, within a few years. (The present market cap is about $3 billion.)
But such methodical plans won't make up for the Herbalife losses. Ackman, desperate for some quick gains, released a memo he sent the Penney board, demanding a new CEO and suggesting that board Chairman Thomas Engibous might also consider falling on his sword, perhaps in favor of Ullman's predecessor, Allen Questrom.
The Questrom rumor sent Penney stock up, but Engibous' quick dismissal of it -- along with
Starbucks
(SBUX)
CEO Howard Schultz calling Ackman's tactics foul, most foul -- sent it right back down.
Ackman is now caught east of the rock and west of the hard place. He's down by almost two-thirds on the Penney investment, and the board has let him know they're in no hurry to make him whole. He's down by 100% on the Herbalife short, and his fellow hedge fund giants are in no hurry to help him there.
Ackman pretends to be unruffled. He has doubled his money on
Canadian Pacific
(CP)
and recently announced a $2.2 billion investment in
Air Products & Chemicals
(APD)
. But he's also on the hook for billions in losses on Herbalife and Penney, and there seems no way out of them.
Big capitalists like human sacrifices. Kicking one of their own proves to the rest of the herd that they are, in fact, better than other people, that their nature is red in tooth and claw.
The bottom line here is that Bill Ackman is going to take some big, big losses. It won't change the behavior of any other hedge fund manager. But maybe you can make a buck or two off the carcass.
At the time of publication the author had no position in any of the stocks mentioned.
This article is commentary by an independent contributor, separate from TheStreet's regular news coverage.
Dana Blankenhorn has been a business journalist since 1978, and a tech reporter since 1982. His specialty has been getting to the future ahead of the crowd, then leaving before success arrived. That meant covering the Internet in 1985, e-commerce in 1994, the Internet of Things in 2005, open source in 2005 and, since 2010, renewable energy. He has written for every medium from newspapers and magazines to Web sites, from books to blogs. He still seeks tomorrow from his Craftsman home in Atlanta.