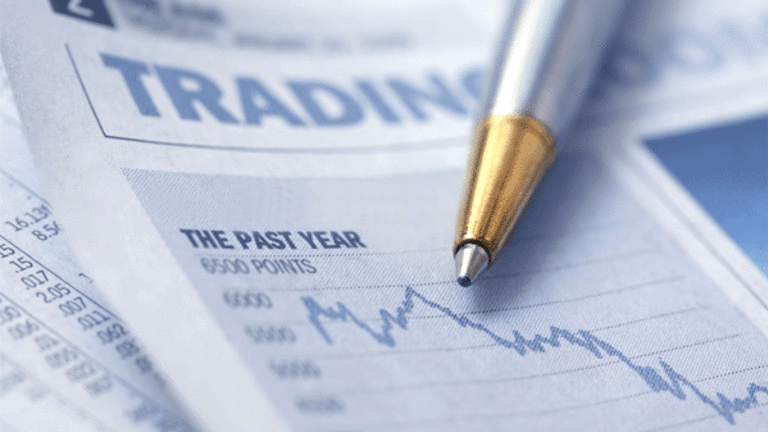 The Extreme Movers: Metals Bounce Coming?
Energy continues its ascent while gold and silver capitulate. A sharp bounce for the losers may be in the cards.
Combine the extremes, and you will have the true center.
-- Karl Wilhelm Friedrich Schlegel
NEW YORK (
) -- In last week's
Extreme Movers Message
, I highlighted the extreme strength that the energy sector was expressing as oil approaches the century mark and the Dow nears new all-time highs.
Followers of my writings know that I have been turning considerably more negative on markets since last week, as our Accelerated Time and Capital models used for managing our mutual fund and separate accounts got highly defensive. Intermarket trends have deteriorated, and it appears ever more likely that we are entering a corrective period.
that the catalyst may indeed by oil itself.
Not much has changed as to leaders this week, but some interesting declines are worth noting. Every week I run a screen on the over 1,000 ETFs/ETNs I track to identify those areas of the investable landscape exhibiting extreme price behavior relative to their own respective 20-day moving averages. The idea is to see if there is a message happening beneath the surface of the market by looking at the opposite ends of winners and losers spectrum over a rolling one-month period. Take a look below for the latest results.
The Extreme Winners remain largely in the energy space. Oil equipment and services (represented by
iShares Dow US Oil Equipment and Services
(IEZ) - Get iShares U.S. Oil Equipment & Services ETF Report
and
Market Vectors Oil US Services
(OIH) - Get VanEck Oil Services ETF Report
continue to get a strong bid as oil
(USO) - Get United States Oil Fund LP Report
itself advances.
The broad sector as well through the
SPDR Energy Select Sector Fund ETF
(XLE) - Get Energy Select Sector SPDR Fund Report
also shows up on the list, which is a curious thing given the large-cap nature of the fund. Vietnam's vertical ascent
(VNM) - Get VanEck Vietnam ETF Report
is probably nearing a massively overbought level, which could be an interesting counter-trend trade should the correction I believe is likely begin to take hold in earnest.
The most different of areas here appears to be the
Broker-Deals Index Fund
(IAI) - Get iShares U.S. Broker-Dealers & Securities Exchanges ETF Report
, which is likely reacting to hopes for the "Great Re-Allocation" out of bonds and into stocks, causing a pickup in transactions and trading.
What is more notable is what appears on the Extreme Losers side of the equation, with
Gold Miners
(GDX) - Get VanEck Gold Miners ETF Report
,
Silver Miners
(SIL) - Get Global X Silver Miners ETF Report
and
Metals and Mining
(XME) - Get SPDR S&P Metals & Mining ETF Report
very badly in the red.
These areas have largely lagged the melt-up that began in June of last year, and I suspect this breakdown is a sign of capitulation. I very much think these areas are worth paying attention to in the weeks ahead given they they could outperform during a risk-off period.
Interestingly, very long duration bonds
(EDV) - Get Vanguard Extended Duration Treasury ETF Report
also have done poorly, likely to rally on an oversold comeback. If the fear trades of gold and bonds are extreme on the downside, it seems entirely plausible for them to rally in a major way.
The bottom line? Energy continues its ascent and may be getting on the extreme side, while the metals and mining trade, with most notably gold and silver, combined with Treasuries, acting in a capitulation-type fashion just as a correction in risk assets may be about to begin. For those looking to be contrarian, a sharp bounce in the extreme losers this week may be in the cards.
At the time of publication, the author held no positions in any of the stocks mentioned.
This article was written by an independent contributor, separate from TheStreet's regular news coverage.