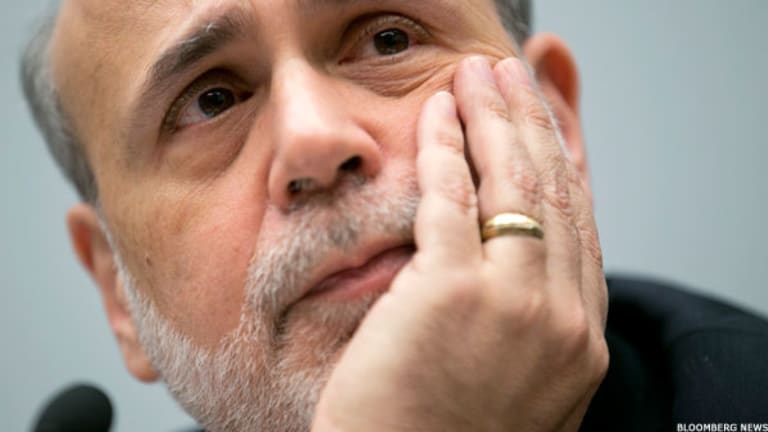 NEW YORK (TheStreet) -- I recently wrote the European Central Bank needs to hire Ben Bernanke to help boost the region's economy.
Judging by the latest monthly meeting of the ECB, it starting to think in a similar way. Another cut in interest rates, a new bond purchasing support scheme and continued rhetoric from Mario Draghi, the President of the ECB, to 'use additional measures' if required.
That's all good news but it is not enough. Just as Ben Bernanke, when he was Federal Reserve chairman, needed to announce multiple forms of quantitative easing ('QE1', 'QE2' and 'QE3') the ECB is going to have to do more.
Here is the problem. Both eurozone growth and inflation are too low. At today's press conference Mario Draghi announced further cuts to 2014 and 2015 expected economic growth and inflation levels. Even the sharp fall in the euro today is not going to be enough alone to stimulate the eurozone alone. More help is needed and this is where Ben Bernanke's quantitative easing obsession comes in.
So what does this mean for equities in the eurozone? Like it or loathe it quantitative easing has been good news for U.S. stocks and, over time, its use will similarly have a positive impact for shares in the eurozone, which has lagged its U.S. cousin this year. But this is over time -- until the ECB steps up and imposes quantitative easing, eurozone shares are going to be volatile and feel like, at best, a stock-picking market.
Then there is the problem of the currency. As everyone waits for the ECB to move to an explicit quantitative easing policy the euro will continue to slide as confidence continues to ebb. That is another barrier for dollar-based investors investing in the eurozone or other countries in Europe such as Switzerland. Last week I noted you can buy globally focused European companies (such as SAP (SAP) - Get SAP SE Sponsored ADR Report   and Syngenta (SYT) ) listed on the U.S. markets in ADR form, which helps negate these issues. These are the sort of names investors should be thinking about if looking to build exposure.
So some answers but still lots of questions about the eurozone economy today. Investors looking for global investment bargains need to remember this.
At the time of publication, the author was long SYT and SAT, although positions may change at any time.
This article is commentary by an independent contributor, separate from TheStreet's regular news coverage.