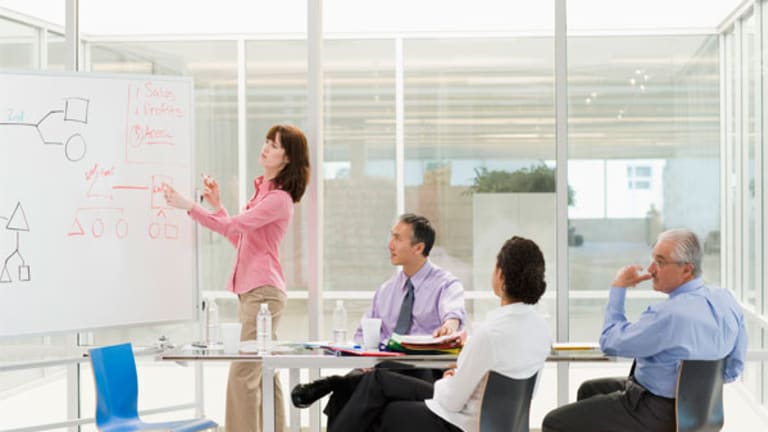 The Energy Issue on Which Obama Can Lead
As President Obama gets set to deliver the State of the Union address, there is one energy issue where his support may be most effective: Natural gas transportation.
NEW YORK (
) -- It's Congress that sets energy policy, not the president, but there are some issues where a word or two from the president can shift debate.
The State of the Union address is the perfect podium for such a presidential maneuver, and natural gas transportation could be the energy issue that President Obama is able to move the needle on in his address Tuesday night.
Ironically, when the White House leaked word that President Obama would make energy a major part of his State of the Union address, saying he planned to highlight the fact that under his administration oil and gas production has increased, the oil and gas industry lobby and Republicans went ballistic.
From a fact-check perspective, the Obama administration already released the data on oil and gas production growth last March -- the oil and gas industry wasn't too happy on that occasion either. It's also patently political use of data: The truth of the energy market is that with the increase in shale drilling in the past few years, it would have been impossible for U.S. production to not increase relative to previous administrations.
This is one reason why the energy market has seen
huge foreign buyers stepping in to help the independent exploration and production market continue to fund growth. It's also behind the recent
historic slide in the price of natural gas. Drilling has simply increased too much to keep up with demand. President Obama was in the right place at the right time for the numbers to look good.
Yet this makes the State of the Union a perfect opportunity for President Obama to once more offer support for natural gas transportation and the NatGas Act. And when I write "once more" it's because the "anti-fossil fuels" president has
long been supporting the NatGas Act, which would offer federal support for the adoption of natural gas engine technology by major fleet buyers, like a
UPS
(UPS) - Get Report
or
Fedex
(FDX) - Get Report
.
The oil & gas industry, led by
Chesapeake Energy
(CHK) - Get Report
and
Royal Dutch Shell
(RDS.A)
, has already stepped up. Chesapeake created a venture capital fund to
help bankroll companies like Clean Energy Fuels earlier this year, while Royal Dutch Shell has
partnered with Westport and others to roll out natural gas refueling stations.
In fact, when the NatGas Act last stalled out, it wasn't because President Obama and the Democrats weren't not behind it. Nancy Pelosi even has a $100,000 investment in natural gas transport infrastructure play
Clean Energy Fuels
(CLNE) - Get Report
.
The NatGas Act
failed for the second time in as many years because the Republican goal of stopping anything that was a "spending" measure led to a defection of Republican co-sponsors more malleable to the Tea Party view of the world. Ironically, the more support President Obama voiced for the NatGas Act, the more it became a reason for Republicans to spurn it. It's already been reintroduced this year with a pay-for provision that eliminates the spending aspect of the former versions of the bill.
Look at the trading in natural gas transportation stocks on Tuesday, and it's hard not to tie some of the action back to a potential new drive for the NatGas Act stemming from the State of the Union focus on energy.
Clean Energy Fuels was up 4.5% on three times its average volume.
Westport Innovations
(WPRT) - Get Report
was up 7% on three times its daily volume.
Fuel Systems Solutions
(FSYS)
was up 7%, too. Most notable is that Westport had to hit yet another 52-week high. These stocks have been on the move up throughout the month.
The recent track record of the NatGas Act shouldn't breed overconfidence. These stocks have always traded on politics. That's been a good thing when the NatGas Act is in favor, and a bad thing when Congress fails to do anything. When it comes to stocks like Westport, it's always been a good idea to take money off the table when it goes on runs like the one it is on now, as it's yet to turn in a profitable quarter and is far from the adoption rate for its engines that would ensure a sizable market.
However, the sustainability in the Westport trade of late, and Tuesday's new 52-week high, suggested to JMP Securities analyst Shawn Severson that investors are getting more comfortable with the natural gas transportation market story as a risk trade that merits the risk of a story that still lacks earnings and will take years to mature.
Low natural gas prices are part of the reason to believe in this natural gas transportation story having legs -- major fleet buyers won't really embrace the concept if they think nat gas pricing can swing from $2 to $4 in a quarter. It's just as important that oil has hung around $100, too, as these stocks trade on a correlation with $100 oil, even if Westport Innovation's CEO David Demers says his company
doesn't need $100 oil, or the NatGas Act, to be successful.
President Obama's track record in getting Congress to follow his energy words hasn't worked to perfection: His wish for more federal support of nuclear energy hasn't been granted. Yet FBR Capital Markets energy policy analyst Benjamin Salisbury says that he's watching the State of Union to see how prominent the natural gas transportation story is in the address.
Even though President Obama has voiced support for this concept before, Salisbury said when President Bush stood up and said the U.S. was addicted to oil it made a big difference.
While many of the headlines on Tuesday have captured the larger political back-and-forth involving "drill, baby drill" and an "anti-fossil fuels" president, the natural gas transportation story is more manageable.
As a society, the U.S. "is in the middle of a meaningful transition to natural gas," Salisbury said. This means anything President Obama says to reassure investors that the federal government won't add layers of regulation targeting fracking -- the process through which shale drilling is done -- will buoy natural gas related investments.
The NatGas Act, specifically, touches on the abundant supply of natural gas, the need to make the U.S. energy independent, the need to develop alternative transportation technologies not reliant on crude oil, and the need to create jobs -- all political buzz words.
"The State of the Union is an important podium and a chance to redefine the parameters of a discussion," Salisbury said.
JMP's Severson said that betting on legislative priorities has proven to be a fool's errand and for that reason, he is bullish on Westport -- even at a new 52-week high -- based on the prospects for it to announce even more endorsements from original equipment manufacturers in the transportation market this year. It already has deals with China's largest truck maker,
Weichei
,
Volvo
,
GM
(GM) - Get Report
and
Caterpillar
(CAT) - Get Report
.
A decent infrastructure rollout for Clean Energy Fuels also looks likely, Severson said, and all in all, the non-financial news flow is likely to remain positive for these stocks this year.
"It's hard to fight the sentiment, even if the valuation case remains challenging because you need to look out to 2016 to see a major market size for these companies."
Market endorsement of these companies may be a safer way to place a bet on them than relying on Congress. "A greater secular trend is set for these companies in 2012," Severson said.
Still, support for natural gas transportation has been issued from the lips of President Obama before and it won't hurt if it happens again.
-- Written by Eric Rosenbaum from New York.
RELATED STORIES:
>>Why Halliburton Shares Can't Find a Bottom
>>5 Catalysts for Chesapeake Energy in 2012
>>The Drilling Market Catch-22s That Will Keep Natural Gas Stocks in the ICU
>To contact the writer of this article, click here:
Eric Rosenbaum
.
>To follow the writer on Twitter, go to
.
Follow
TheStreet
on
and become a fan on