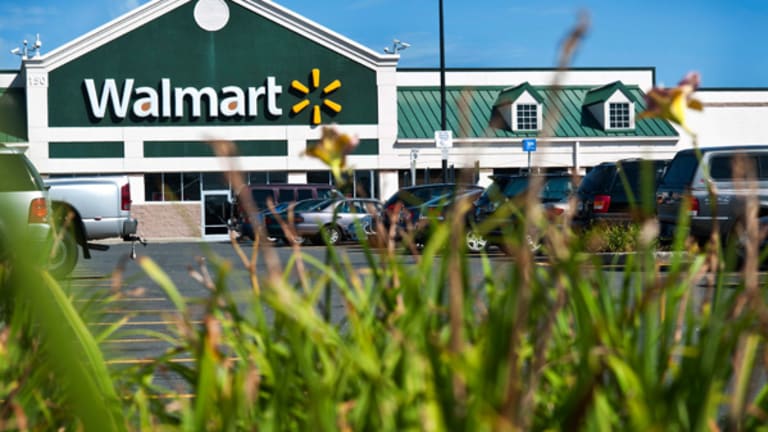 The End of Black Friday
Black Friday has already started. Malls will be open Thanksgiving evening. Mission accomplished, Wal-Mart?
NEW YORK(TheStreet) -- Like a monster escaped from its cage, Black Friday is already rampaging through the retail village.
The "holiday" once seen as the day when retailers' books went into the black, and then as the official start of the Christmas selling season, has morphed into mobs of hungry, angry shoppers storming the gates of stores such as Wal-Mart (WMT) - Get Walmart Inc. Report.
The action, which once was in the ad-filled pages of newspapers dumped on lawns the day after Thanksgiving, has moved to what's left of those papers' editorial pages, and onto the TV.
To keep up the sales momentum while also keeping shoppers safe, more stores than ever this year will open on Thanksgiving itself. Because this year's holiday buying season is short, others are showing off their Black Friday pricing right now.
[Read: The Cause of Wal-Mart's Trouble Is Its Success]
The likely result is that the horrors of past years will dissipate. The question is whether that will affect overall sales. Chances are it won't. People will spend what they intend to spend. They have their plans set.
No company illustrates the conflicting trends of Black Friday more than Wal-Mart.
Full disclosure: In years past I was part of the madness. If you didn't storm the gates of the store right when it opened, at 6 a.m., you'd find the best stuff picked over and the whole place looking like a tornado had just come through by 7 a.m.
This escalated into scenes uploaded to YouTube such as this, from 2011, and this, from 2012. These are the kind of scuffles that have injured shoppers.
So to avoid that, Wal-Mart says it's putting Black Friday prices on selected goods starting this Friday and opening its stores for three hours on Thanksgiving evening.
Macy's (M) - Get Macy's Inc Report, Target (TGT) - Get Target Corporation Report, JCPenney (JCP) - Get J. C. Penney Company, Inc. Report and BestBuy (BBY) - Get Best Buy Co., Inc. Report will also have stores open all night on Thanksgiving.

[Read: Wal-Mart Starts Early-Season Discounts]
You can leave the relatives in front of the Raiders-Cowboys game next Thursday, head to the mall, have a cup of tea at Starbucks' (SBUX) - Get Starbucks Corporation Report Teavana, which will be open in many locations, and probably have your Christmas shopping done before Black Friday even starts.
TheBlackFriday.com, which tracks holiday specials, says electronics will again be the theme this year, with 32-inch TVs for less than $100, 60-inch LED TVs for less than $700 and an iPad Mini for $199, when the $100 gift card is included. NerdWallet, which also tracks the sales, says 92% of this year's ads are for the same things you saw last year, often at the same prices.
[Read: Protect Yourself From Being a Holiday Mugging Target]

There's a darker side to Wal-Mart's Black Friday plans, of course, in growing labor unrest. By moving its Black Friday sales forward, the company is less likely to be disrupted by the nonunion labor group called OUR Wal-Mart, which has ties to the United Food & Commercial Workers Union.
But just as other retailers are matching Wal-Mart's moves, so are its labor foes.
The National Labor Relations Board, which was fully staffed earlier this year over a Republican filibuster, gave a partial victory to those workers this week. Yahoo! (YHOO)  CEO Marissa Mayer, a Wal-Mart board member, faced protesters at the Salesforce.com (CRM) - Get salesforce.com, inc. Report Dreamforce conference. Liberal media outlets are playing up reports of a Walmart in Canton, Ohio holding a food drive for store employees.
Wal-Mart insists it will "win" Black Friday despite all this, but what does winning mean at this point? Wal-Mart is already the country's largest retailer by a huge margin. From an investor perspective, it seems to be just running in place.
The original purpose of Black Friday was to grow seasonal sales and to deny those sales to other retailers. Mission accomplished. The real question should be, what's the new mission? And if Wal-Mart doesn't have one, does anyone else?
At the time of publication the author owned shares of YHOO.
This article is commentary by an independent contributor, separate from TheStreet's regular news coverage.