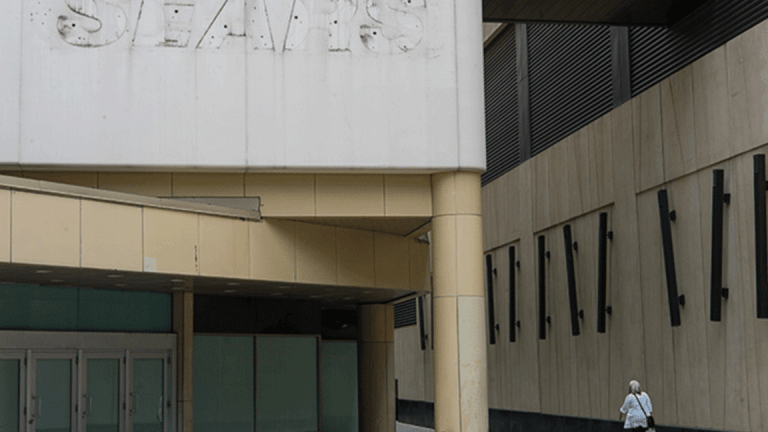 The End Is Near for Sears
Sears said Thursday that it will close another 100 stores. TheStreet revisits a story from late 2017 that basically sums up the state of the dying retailer.
Time to get the body bag off the truck. 
Fresh off what looks to be another brutal holiday season, decaying Sears Holdings Corp. (SHLD) said Thursday that it will close 100 more stores this year. Of the 100, 64 Kmart stores and 39 Sears will be shuttered between March and April, the struggling retailer said in a statement. Sears shares plunged as much as 5% on the news. 
Sears spokesman Howard Riefs didn't immediately return a request for comment on whether Sears turned a profit in the all-important fourth quarter. 
At this point, the story around Sears is the same as it has been the last ten years. Just the stats are different. Hence, TheStreet thought it would be a more efficient use of time to highlight a column we ran on Sears in Nov. 2017. All that's left out below is when the next shoe will drop on this one-time retail icon...
Sears Is Already Dead
Date: November 7, 2017 
Forget the brutal J.C. Penney (JCP) - Get Report earnings warning last Friday being a sign of that retailer's imminent death. There is at least a chance J.C. Penney survives the next five years -- people still enjoy visiting its clean, increasingly inviting stores. The same can't be said for Sears, with its dilapidated Kmart locations and sloppy customer service at its namesake department stores. Long-suffering Sears shareholders (including CEO Eddie Lampert) received yet another sign the company could make shocking death headlines in 2018. In a new filing Monday evening, Sears disclosed that it has borrowed another $60 million from affiliates of Lampert. The company has now blown through the $100 million Lampert said it would loan Sears earlier in October. Poof, just like that -- $100 million gone inside a month.
This voracious appetite for cash is abnormal even for a retailer preparing for the holiday season, where cash outlays are the highest. To anyone that has read a financial textbook, the latest Sears filing suggests Lampert's hyped cost-cutting isn't working, operations aren't turning around in the slightest and people continue to shop elsewhere. One could further reason Sears is getting forced to pay suppliers quicker due to fears on its solvency. All of this is becoming disturbing. Start shoveling the dirt onto a grave that already contains Circuit City, Blockbuster and other once storied retail names.
More of What's Trending on TheStreet:
2018 Resolutions? Learn About Bitcoin and Max Out Your 401k