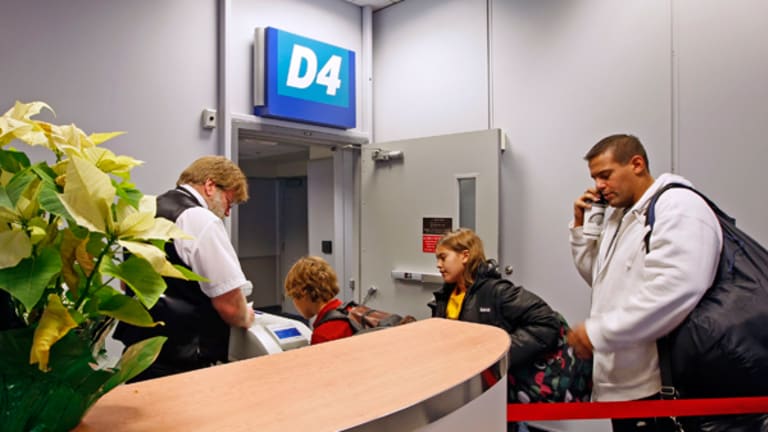 Publish date:
The Dumbest Fee in the Airline Business
American, United and US Airways all charge $75 to change a ticket at the gate, depriving themselves of future flexibility.
American, United and US Airways all charge $75 to change a ticket at the gate, depriving themselves of future flexibility.
CHARLOTTE, N.C. (
) -- Two weeks ago, flying from New York to Charlotte, I arrived at LaGuardia Airport early to catch the 3:40 p.m.
US Airways'
(LCC)
flight home. I was early enough that when I arrived at the gate, the 2:50 p.m. flight to Charlotte was still boarding.
I asked the agent if I could take the earlier flight. He said, "Yes, lots of seats." But then he said he would have to charge me $75 to change. Not being a person who makes $75 an hour, I decided to wait the extra 50 minutes. My 3:40 flight left a few minutes late and arrived on-time in Charlotte.
Like many people familiar with the airline business, I generally think positively about the industry's new fee-for-service model. I can argue that charging to check baggage is morally virtuous, because passenger's tendency to pack far more stuff than they need wastes fuel. I even think charging for beverages makes sense. Nearly every business in the world charges for beverages, except for the one that has to buy extra jet fuel in order to cart the beverages around until someone decides to drink one, free of charge.
But charging a change fee to fly standby when a passenger is already at the gate seems not only avaricious but also disadvantageous for the airline.
The charge could easily mean that a plane departs with an empty seat, which immediately becomes worthless. It also denies the airline the flexibility that comes with an empty seat on the next flight. Possibly that seat can be sold. Possibly it can accommodate a passenger who missed a connection. Possibly bad weather or congestion or a mechanical failure will delay that flight, pushing all the passengers onto future flights, creating unforeseen complexities and expenses for the airline.
US Airways,
United
(UAL) - Get Report
and
American
(AAMRQ.PK)
all charge $75 to change at the gate. All three waive the fee for premium level fliers and, of course, for passengers with unrestricted fares. Also, American spokesman Kent Powell said the carrier "empowers our personnel to make decisions which consider our overall operation and various other factors (such as) when there are operational issues or service disruptions."
Delta
(DAL) - Get Report
charges less, $50 for a same-day flight change, and also waives the fee for premium fliers if the new flight is within three hours of the original flight.
Alaska
(ALK) - Get Report
has a same-day change fee of $25, waived for premium passengers who are confirmed in first class.
Southwest
(LUV) - Get Report
does not charge a change fee, but to change at the gate requires purchasing a new ticket at whatever the ticket cost is at the time. Spokesman Brad Hawkins said that Internet fares, available up to an hour before departure, are sometimes priced lower than previously ticketed fares.
Henry Harteveldt, analyst for travel consultant Hudson Crossing, said that in the case of my New York-Charlotte flight, "the earlier flight took off with an empty seat, so the airline didn't get any revenue for it and you didn't feel warm and fuzzy towards the airline. The airline could have said 'if we put you on an earlier departure, that frees up a seat later on, so if there are delays later, we have one less person to worry about.'"
On the other hand, Harteveldt said, "When we agree to travel on certain flights, we trade off flexibility," especially when buying a discounted ticket. "Airlines have a legitimate interest in protecting themselves from abuses of the system," he said. "People game the system. (Some) would buy the cheaper ticket and purposely miss that flight, or get to the airport early and stand by."
For instance, a person could buy a discounted ticket on a late night flight and then show up for the earlier, more desirable flight. That does not seem like the wisest travel strategy, but one airline spokesperson, who asked not to be named, said: "It would be an ineffective travel strategy, but we see it all -- we see it all."
Harteveldt said the best policy is probably fees below $75, which seems excessive to many. "Some airlines have such a fixed approach toward these fees," he said. "It would be helpful to arrive at a win-win situation for the customer."
At the same time, if you were in the airport and you knew storms were approaching and you had the chance to pay $75 to get out an hour earlier, wouldn't you pay it?
-- Written by Ted Reed in Charlotte, N.C.
>To contact the writer of this article, click here: