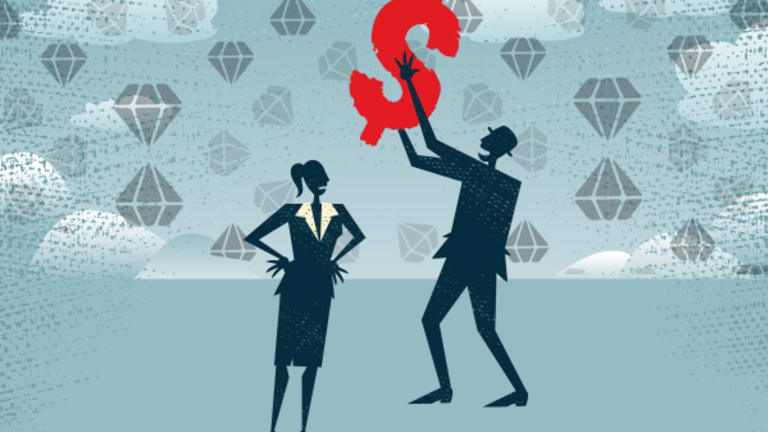 The Diamond Ceiling: Women CEOs Aren't Hauling in Gaudy Pay Packages Like Male Peers
The gender pay gap issue is a thorny one, and bringing CEO-to-worker pay ratios into the mix adds on more layers to it than you may think.
NEW YORK (TheStreet) -- With the glass ceiling all but shattered, women in the workplace -- specifically in the c-suite -- face yet another barrier that separates them from their male counterparts. 
A recent study from career website Glassdoor reveals that just seven of the 100 companies with the most extreme CEO-to-worker pay ratios employ women as their chief executives. That's a 7% rate.
Call it the diamond ceiling.
Or, maybe the Gulfstream ceiling: The difference between incentive compensation awarded to men and women accounts for 93% of the gender gap in total pay at the executive level, according to a 2015 staff report from the Federal Reserve Bank of New York.
"Where [women executives] are paid less is pretty much exclusively in the incentive component of pay," said Stefania Albanesi, co-author of the report, which focuses on gender dynamics in executive compensation. "So anything that is either directly linked to measures of firm performance or can be stated as measures of firm performance." 
And for women CEOs, it is very much a damned if you do, damned if you don't scenario.
Albanesi and her co-authors found that women receive much smaller rewards than men when the firms they run perform well. A $1 million increase in a company's value generates a $17,150 increase in what researchers refer to as "firm specific wealth" for men CEOs, but translates to just a $1,670 boost for women. When a company's value increases 1%, men's firm specific wealth increases by 44%, compared to 13% for women. 
When firms perform worse, however, women face a greater impact. When a firm's value decreases by 1%, the firm specific wealth of women CEOs falls 63%, while that of men CEOs declines 33%.
Some have suggested that we shouldn't be focusing on the CEO-to-worker pay ratio, which the SEC has mandated companies will have to reveal in 2017. Instead, we would be better off requiring companies to publish their gender pay ratios, shedding light on compensation gaps organization-wide.
Such a rule is in the works in the U.K., as Prime Minister David Cameron has announced plans to force companies to report wage disparities. Deloittepreempted the maneuver by releasing its numbers voluntarily, and the results weren't all that surprising. The accountancy firm revealed it pays women workers 17.8% less than men.
In the U.S., it is estimated that a woman earns 78 cents to every dollar a man doing the same job earns. 
"At the top, where there is transparency, which I think is really important, there seem to be much less sign of discrimination," said Ariane Hegewisch, Study Director at the Institute for Women's Policy Research. "Where there probably still is a lot of discrimination, and where the work-life stuff comes in, and women being more likely to take time off, is whether you get to that point of being a CEO."
Alan Johnson, managing director of New York-based compensation consulting firm Johnson Associates, predicted that in the wake of the SEC rule on CEO-to-worker pay disclosure, the idea of a similar gender-related measure in the United States is not so far-fetched. "Obviously, the pay ratio was purely political," he said. "We're going to see more of these politically-driven exercises by the Securities and Exchange Commission."
Even the CEO-to-worker pay ratio itself could more meaningful to woman than meets the eye -- and not just to those in the executive suite, but to all workers.
When companies begin to disclose CEO-to-worker pay comparisons in 2017, it could demonstrate that women CEOs have more reasonable ratios. But it may more likely be the case that firms with higher proportions of women employees will have more eye-popping numbers.
"I think that's likely to be true. The way the ratio is calculated, it's intended to skew and make companies that employ a lot of part-time workers look worse," Johnson said. "So I would think in some industries -- fashion retailing, fast food, some of the big department stores -- they employ not only a lot of women, but a lot of part-time women."
To be sure, the glass ceiling still comes into play with these numbers. Women hold just 4.6% of CEO positions and only 19.2% of board seats at S&P 500 companies.
"To be the very highest ratios, you're usually going to have to be a very, very big company that pays a lot," said Johnson. "If you think of those companies, there aren't very many women in those companies as CEOs. You would see women, certainly, in large companies, but not the very, very biggest."
Not all women have been shut out of these high echelons. Here are the seven women CEOs on Glassdoor's list: 
1. Barbara Rentler, Ross Stores (ROST) - Get Free Report : $12.1 million CEO salary vs. $19,120 median worker pay for a ratio of 632
2. Carol Meyrowitz, TJX Companies (TJX) - Get Free Report : $22.5 million CEO salary vs. $44,922 median worker pay for a radio of 501
3. Irene Rosenfeld, Mondelez International (MDLZ) - Get Free Report : $21.0 million CEO salary vs. $49,225 median worker pay for a radio of 427
4. Marillyn Hewson, Lockheed Martin (LMT) - Get Free Report : $33.7 million CEO salary vs. $85,465 median worker pay for a radio of 394
5. Indra K. Nooyi, PepsiCo (PEP) - Get Free Report : $22.5 million CEO salary $61,876 median worker pay for a radio of 363
6. Ursula Burns, Xerox (XRX) - Get Free Report : $22.2 million CEO salary $69,307 median worker pay for a radio of 320
7. Marissa Mayer, Yahoo (YHOO) : $42.1 million CEO salary $137,011 median worker pay for a radio of 307
None made the top ten.
This article is commentary by an independent contributor. At the time of publication, the author held no positions in the stocks mentioned.