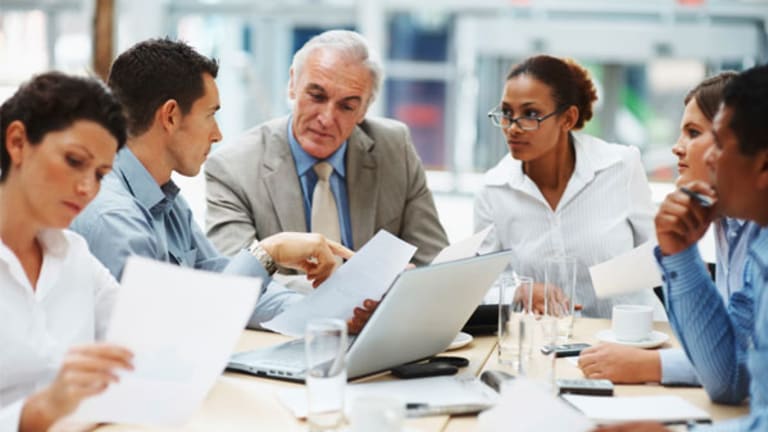 Publish date:
The Day Exxon Mobil Became a T-Bill
The day has arrived when Big Oil stocks, led by Exxon Mobil, offer the market little more than a way to stay ahead of Treasury-bill yields.
The day has arrived when Big Oil stocks, led by Exxon Mobil, offer the market little more than a way to stay ahead of Treasury-bill yields.
NEW YORK (
) -- It ain't easy being
Exxon Mobil
(XOM) - Get Report
.
Whether it's the attacks from President Obama on Big Oil and its excessive profits, or the global warming lobby, it's tough for the biggest of the Big Oil companies to find any love among its gas guzzling public.
The stock market is supposed to be a different story, though. Sadly, it isn't.
In fact, this latest quarterly report will go down as the earnings day on which Exxon Mobil became no better and no more sexy than a treasury bill as far as the market is concerned.
This should not be a surprise to anyone. In fact, in our earnings preview of Big Oil,
TheStreet
made several points about the malaise of the Big Oil stocks that have played out very near to plan:
Gargantuan profits buoyed by high crude oil prices mean nothing when overall production remains challenged
Improvement in refining profits quarter over quarter means little because the refining outlook just keeps bouncing around
Exxon, in particular, will continue to be beat up for its acquisition of XTO Energy. Exxon Mobil's overall production tilted even more heavily this quarter to price-challenged natural gas, not a trend that any investor is happy to see continue.
Big Oil stocks offer the safety of dividends, and just about all Exxon Mobil can do is increase its dividend: It did just that, boosting the quarterly payout by 21%. The move pushed to forward annual dividend yield to 2.67%, which still leaves it a peer laggard.
Overall production challenges will highlight the continuing existential crisis for the most profitable companies in the world, as the more expensive and far flung their global search for hydrocarbons becomes, the more it seems like a quixotic pursuit to investors as far as offering a stock market growth profile.
Every single one of those themes played out around Exxon Mobil's quarter this week, and was playing out again on Friday in
Chevron's
(CVX) - Get Report
lackluster report. It's not because we are geniuses that we got it right, but because Big Oil earnings have been telling more or less the same story for a few years now, and Exxon Mobil, in particular, is the poster child for the lack of growth and a lack of investor excitement that contradicts the amount of attention and headlines given to the global integrated oil sector.
In a new book by
New Yorker
writer Steve Coll,
Private Empire
, the story of Exxon Mobil is told as a unique example of a company that has the influence of a sovereign nation. Coll was onto something: What this week's Exxon Mobil earnings show, at least as far as the market view of the company, is that it's best comparison is a treasury bill. If so, it makes a lot of sense that the best comparison for Exxon Mobil is a sovereign nation issuing "flight to safety" debt for investors.
In fact, Deutsche Bank analyst Paul Sankey laid out this case for Exxon Mobil as the only case, in an interview with
CNBC
on Thursday:
"What we are seeing is not much growth if any, and falling returns and you have to buy for cash return to shareholder. A liquidation strategy is the crux of the call. It's more of a trade versus t-bills and a better place than t-bills in a very low yield environment," Sankey said.
This could be Exxon Mobil's new investor relations pitch: It had a better credit default swap rating than that of the U.S. government during the financial crisis. That's still the case today: Exxon Mobil's current CDS rating remains better than Uncle Sam's, and only Norway among sovereign nations can claim to best Exxon.
Exxon Mobil's dividend announcement led to some skepticism that the company was trying to get out ahead of the bad earnings report with a cash reward to shareholders, even if quarterly profits again trumped the annual GDP of several nations.
There's no need to be so skeptical, though: An increasing dividend profile is really all these companies can offer, and it's typical for them to release the dividend news ahead of earnings, too. What Exxon reported earnings-wise should have been expected.
Exxon, even as the biggest of the Big Oil bunch, is oddly the odd man out in many categories versus peers. It's not just the dividend laggard -- even after its big raise this quarter - but it has a worse profitability per barrel of oil than Chevron and has a less flattering oil vs. natural gas production mix than peers. Yet Exxon Mobil trades at a premium to peers, a premium that is eroding.
Which is why I say that this week, and this earnings day, was an apocalyptic one for a company in a sector mired in the existential crisis of imperial proportions. For all of the hard, nasty, dangerous and expensive work of trying to keep ahead of world demand for oil through its far flung global production search, diving ever deeper into the deep of the sea and this way and that way through the boomtown shale basins of the Dakotas and Poland, Exxon Mobil's big market enticement is a yield that beats t-bills.
Welcome to the world of sovereign nations, Exxon Mobil. And enjoy the yield, investors. A lot of work goes into beating the U.S. government.
-- Written by Eric Rosenbaum from New York.
>To contact the writer of this article, click here:
Eric Rosenbaum
.
>To follow the writer on Twitter, go to
.
Follow
TheStreet
on
and become a fan on