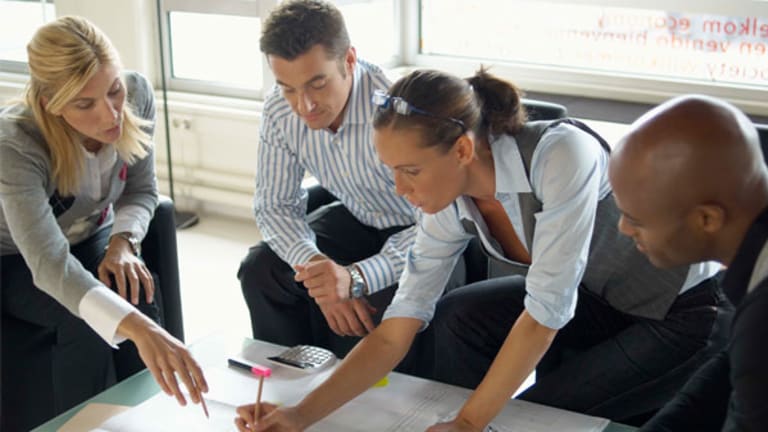 Publish date:
The Costco Performance Indicator: Firing Line
With my proprietary 'CPI' you can tell for sure how close to the bottom we are based on the line for the $1.50 hot dog and $.75 drink at Costco.
With my proprietary 'CPI' you can tell for sure how close to the bottom we are based on the line for the $1.50 hot dog and $.75 drink at Costco.
BOCA RATON, Fla. (TheStreet) -- In these pages last week, I discussed how volatility had awakened from its sleepy labyrinth with the VIX exploding out of the teens to the upper 30s in recent weeks. This caused Crackberries from the Hamptons to Winnetka to come alive with concern.
And then yesterday the market coldcocked investors again because... because... whatever it was that coldcocked the market. Slow growth in China, the Kagan hearing, Al Gore's alleged sexual assault that the tone deaf main stream media will not report, slumping consumer confidence, who knows. It seems to me that when the market moves, pundits run to the computer to see what's going on in the world so they can ascribe various events to said market action. Hell, I can do that. You'd think smart people could do it the other way around (see: bubble, financial or Frank, Barney).
I use a more reliable and near certain barometer of our nation's financial health. I make a visit to my local
Costco
(COST) - Get Report
.
Now no two Costco stores, no matter how the company tries to make them, are alike. We recently moved from Naperville, Ill. to Boca Raton, Fla. which has felt like a move from the Arctic Circle to the Caribbean. Which of course it was. But I digress.
First of all, the Boca Raton Costco parking lot is an experience not to be believed until you experience it. Veteran NASCAR drivers would quake in terror at the asphalt monster that takes no prisoners and allows no mistakes. In a scene out of
Cocoon
, seniors either drive like today is their last day... or their first day. A blinker might as well be a dog whistle... And don't even think about placing your items on the belt within 30" of that senior couple in front of you. The plastic guardrail will come a slammin' down with enough force to remove an appendage. Like the employee was going to charge you for my case of wine and power bars or I wanted you somehow to snake that 100-pack of Depends and Metamucil. Well...I actually may need that come to think of it.
Back to the store.
My foolproof economic indicator is those towering aisles full of flat screen TVs. With companies racing to make them thinner than Kate Moss and cheaper than a weekend in Vegas (or weeknight for some...ahem...), the customer demographic, attire, mental acuity, and means of transport to convey said flat screen purchase make up my proprietary indicator. Call it my CPI: Costco Performance Indicator.
While I can't divulge the exact proprietary methodologies (they've made me a fortune so if I told you, you know... I'd have to... what Congressman Stark said the other day), suffice it to say that three years ago in Naperville, the ratio of 65" flat screens being somehow wedged into 1987 Honda Accords began to creep into my "yup, we're in a bubble zone." Time to sell.
Fast forward to today and I can literally walk down these aisles without seeing the angry looks from fellow customers for daring to follow the rules of shopping cart engagement. My two-year old can run screaming down the aisles without angry looks from people wanting to spend three times what they make in a month on a piece of equipment that will be half that price in a month.
Even though the president and vice president say we are creating jobs (doesn't matter that they're federal jobs) and that corporate earnings may be turning a corner, my Costco Performance Indicator is at an all time low.
Which of course could be a buying indicator...
Firing Line: There's an old market saying that goes, "They don't ring a bell at the top of the market and they don't ring a bell at the bottom either." But with my proprietary CPI you can tell for sure how close to the bottom we are based on the line for the $1.50 hot dog and $.75 drink.
Matthew "Whiz" Buckley is the chief strategy officer of
, a provider of options education for options traders of all levels. . He is also the founder of Strike Fighter Financial, a business-consulting firm specializing in leadership development, risk management and strategic planning for Fortune 500 companies and related organizations. Buckley flew the F-18 Hornet for the U.S. Navy. He's a graduate of TOPGUN, has close to 400 carrier landings and flew 44 combat sorties over Iraq. After leaving active duty, he worked as managing director of strategy at a Wall Street firm and CEO of a financial media company. He is an internationally recognized speaker and combined his experiences in the military and corporate America in his book "From Sea Level to C Level."