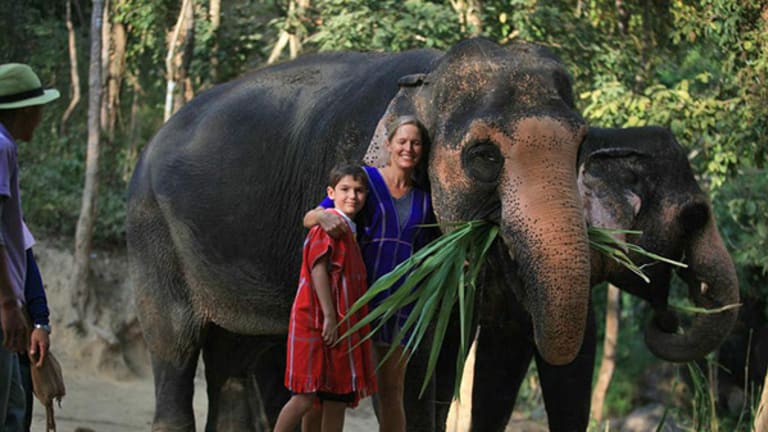 The Cost to Travel to These 3 Destinations Is Now at an All-Time Low
Here's your guide to the destinations where your money will go the furthest in 2016.
This story is for travelers who yearn to have a private jet lifestyle on a Holiday Inn budget.
For those who want to globetrot like a supermodel or celebrity, skipping blithely from Milan to Monaco, to Paris and Cannes.
O.K., to be fair, all of those places are probably still a tad pricey.
But as TravelPulse's Founder and CEO Mark Murphy reveals there are a handful of regions around the world that are incredible values this year, where a strong U.S. dollar will go shockingly far - allowing you to rent that palatial, celeb-worthy hotel suite for a paltry $100.
Three regions in particular top Murphy's list of 2016's best bang for your buck travel destinations. They are Mexico, Southeast Asia and Africa.
Let's start with Mexico, which admittedly, might not be all that surprising in terms of its appearance on his value-seeker's travel list. The U.S. dollar has long been stronger than the peso. Still, during the past year alone, the peso has lost more than 20% of its value relative to the dollar.
"You get about 18 pesos to a dollar right now," says Murphy. "Go back 10 years and it might have been about 11 pesos to the dollar. And about one year ago, it was 13 pesos to the dollar. You look at that kind of appreciation and realize Mexico has become a massive value."
Add to that the fact that Mexico is easy to access from the U.S. and the relatively inexpensive airfares to the country, which Murphy says can be around $500 to $600, and suddenly your luxurious Mexican vacation is starting to come into full focus.
One important qualifying note here however, crowded touristy locales such as Cancun, do not necessarily offer the same bargain as what some in the travel industry refer to as "real Mexico" - places such as Tulum, Riviera Maya, Chiapas and Merida.
"In places like Cancun and traditionally popular tourist resorts, there is no difference in the prices, because they're priced in U.S. dollars," explains David Capaldi, president of Discover Latin America. "The bargains or values take effect in the lesser visited destinations because they're priced in pesos." 
Case in point, Merida. Never heard of it? Perhaps it's time you did some homework.
Located about three hours west of Cancun, the 500-year-old, historic colonial city is oozing culture and charm, says Capaldi. A vibrant destination, Merida offers great entertainment, pretty beaches (that are uncrowded) and plenty of activities including visiting Mayan ruins and hacienda tours.
"More and more Americans are going there," Capaldi continues. "We're seeing more interest from travelers who want to experience something in Mexico besides the run of the mill Cancun beach resorts."

Merida is also home to some of Mexico's best new hotels. Among them is one of Capaldi's personal favorites - Hotel Hacienda.
Named one of the best new hotels in the world by Conde Naste Traveler and one of the top 25 boutique hotels in Mexico by TripAdvisor, Capaldi says this hotel is a prime example of how far the U.S. dollar can go toward creating that luxury lifestyle vacation experience.
"Hacienda is an old Mexican plantation that has been turned into a luxury hotel," Capaldi explains. "Suites there were $300 a year and a half ago. And right now they are $200. And by suite, I mean a 1,200-square-foot luxury suite with private veranda, in a hotel that offers gourmet dining. The same thing in Paris, London or Rome would be $1,000 a night."
Starting to get the picture? All that's missing really, is your private jet.
Next up on Murphy's list of value-oriented destinations this year - Southeast Asia.
This is another destination, or group of destinations, where the U.S. dollar allows you to vacation like a rock star.
"The dollar goes really, really far in Southeast Asia," says Murphy. "Thailand, Malaysia, Singapore, Vietnam Cambodia - put them all in a bucket. The dollar has gained so much value against that basket of currencies."

Focusing just on Thailand, Murphy says it's a country where travelers can stay in five-star resorts on beautiful beaches for less than $100. If that sounds too good to be true, Murphy stresses it's quite real.

"You can stay in a villa there for less than it would cost for a Westin hotel in New York City," Murphy says. "And your dollars, once you are there, go so far because if you're O.K. with eating local food, you can literally eat for $20 a day and still have a lot of food left over. It's so bloody cheap."
The downsides, for some, of this destination include the long haul flight from the United States and the 12-hour time difference while there.
Still, April Cole, of Journeys Within Tour Company, which specializes in the Southeast Asia, says bargain prices are having a dramatic impact on travel, particularly to Thailand.
"Thailand is one of those places that seems hard to reach. It's exotic, beautiful, people look at it as a bucket list item and typically only go if they have a significant amount of time and money," explains Cole. "But because airfare rates have dropped from $1,200 to $800 - that's a very big difference... The question then becomes do you go to Hawaii for $550 or add a couple hundred dollars and go to Thailand?"
For many travelers the answer to that question has been increasingly to pluck Thailand off of their "someday bucket list" and instead to jet off there on a whim, seizing on bargain airfare on the spur of the moment.
That Thailand has become an "impulse trip" is a definite shift, says Cole.
The country's historically unsettled political climate has played a substantial role in the weakened baht, she adds. The U.S. dollar is currently trading at about $1 to 36 Thai baht, Cole says. That's up from about a year ago when the exchange rate was 32 baht to the dollar.
Despite the political climate being what it is, the country's tourist industry remains hard at work ensuring a stable, enjoyable and incredibly inexpensive experience for travelers.
"You could not get a hotel for $100 a night in Hawaii, one that is on the beach, with incredible service and views," says Cole. "That value for your money, when you get to Thailand, is so much better then what you're going to get anywhere else in the world."

The last region on Murphy's 2016 value hunters list is Africa. Similar to Mexico, the presence of Africa on Murphy's radar may seem a bit surprising. Not because the U.S. dollar has a long history of being strong in this particular destination, like it has been in Mexico. Rather, the surprise associated with Africa's newly declared bargain status has more to do with the fact that it has traditionally been a place travelers spent years upon years saving to visit. It is another destination ranked high on traveler's bucket lists, and often only visited in retirement or on special occasions.
All of that is changing however, in the wake of Ebola, which put a serious damper on Africa's tourism industry.
"A year and a half ago, Ebola was everywhere...Anderson Cooper was there reporting on it and then two months later, no one is talking about it," says Murphy. "But the damage has been done in terms of travelers." 
The translation? It's bargain safari season, or at least safaris have become much cheaper, so get that bag (and those binoculars) packed.
"This would be a great time, going into late spring and early summer, to book a trip to Africa," says Murphy. "They're still getting hammered perception-wise because of Ebola...People stopped going to South Africa, Zimbabwe, all of these places because of Ebola. But geographically, the Ebola outbreak was thousands of miles away. So what does that mean to pricing? The safari companies and the operators that sell safaris and airlines like South African Airways, have had to cut prices to attract people. A safari that would have been a once in a lifetime trip, is now on sale."