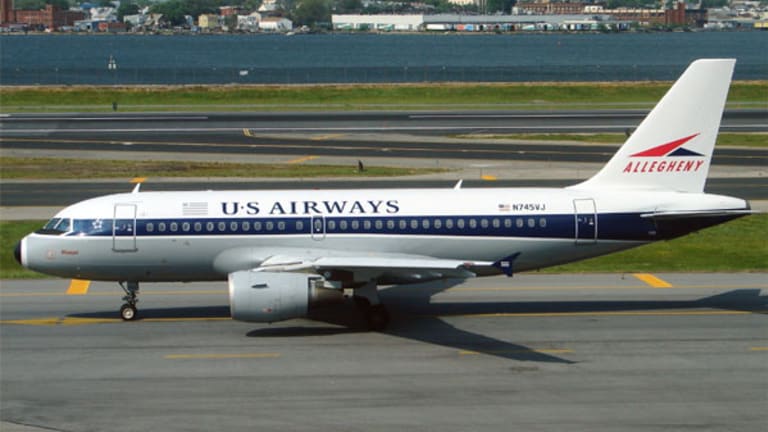 The Continuing Curse of US Airways
US Airways, throughout its history, has faced problems its larger competitors can only imagine.
CHARLOTTE (
) -- At the end of 2012,
US Airways
(LCC)
was sitting on top of the world.
Its stock had risen 163%, for the best performance among the Fortune 500. CEO Doug Parker was the new face of the airline industry, credited with engineering a brilliant merger strategy, enlisting the help of labor unions to enable a combination with
American
(AAMRQ)
. In fact, the entire airline industry was being viewed, finally, as an investment-worthy industry, largely as a result of Parker's efforts.
But the top of the world has never, for US Airways, been a good place to be. Always something has interfered with the smallish airline's climb to success. "Curse'" is not too strong a word to describe the syndrome it has always seemed to face.
In a stunning announcement Tuesday, the Justice Department said it would oppose the merger -- US Airways has been seeking a merger for 15 years -- just when the deal seemed all but done.
Over the past four years, the very same Justice Department has allowed mergers between
Delta
(DAL) - Get Delta Air Lines, Inc. Report
and Northwest, between
United
(UAL) - Get United Airlines Holdings, Inc. Report
and Continental, between
Southwest
(LUV) - Get Southwest Airlines Co. Report
and AirTran. US Airways and American had every reason to expect similar treatment --- every reason except for US Airways' tortured history.
Oddly, another irrational event touched the carrier one month earlier. On July 18, Jerry Orr, longtime director of Charlotte Douglas International Airport, was fired despite being revered as either the best or one of the best U.S. airport directors. At least, that is what executives from
JetBlue
(JBLU) - Get JetBlue Airways Corporation Report
, Southwest as well as US Airways have called him. As much as anyone else, Orr has enabled US Airways' buildup through efficient management of its largest hub.
Unfortunately, Orr become embroiled in a conflict between Charlotte, run by Democrats, and the state legislature, run by Republicans, over which should run the airport. Orr got sucked into North Carolina's ugly politics, despite decades of keeping a wall between politics and the airport he built, over three decades, into deregulation's
. Now, at 72, he awaits a court ruling that will determine whether he can return to his job.
A few years earlier, irrationality tarnished the 2005 merger between America West and US Airways. There, Parker and his management team combined two struggling airlines, one in bankruptcy and one close to it, into a big success story.
Yet the success was marred by a controversial ruling on pilot seniority, something the airline had nothing to do with. Although it resulted from binding arbitration agreed to by both parties, the 2007 ruling was so broadly unacceptable that a majority of the pilots voted to create a new union. Now the seniority issue -- like the DOJ lawsuit -- will be decided in court by a U.S. District Court judge. In the meantime, US Airways pilots fly in separate cockpits with separate cultures defined by the terms "east" and "west," reflecting affiliations on the day of a merger that took place eight years ago.
Historically, US Airways is the product of five
. Most have gone reasonably well, aside from the initial culture clash between US Air and Piedmont after their 1987 deal brought the Charlotte hub into the US Air system.
But US Airways has never solved the problem of having hubs that are too small to fully compete globally. Under CEO Stephen Wolf in the late 1990s and early 2000s and then under Parker, it has sought repeatedly to solve the fundamental problem in its configuration: When commercial airlines were starting out in the 1930s, US Airways predecessor All American Aviation chose to deliver the mail in the Pittsburgh area, while others had the luck to start out with a presence in Atlanta, Chicago, Dallas or Newark.
As CEO, Wolf talked merger with every U.S. airline. He finally settled on United. The Justice Department opposed that one too, although the deal's failure resulted primarily from United's loss of interest after it realized that it didn't want to pay the $60 per share it had agreed to.
Parker tried with Delta and United before settling on American. Interestingly, on a media call with reporters on Tuesday, Assistant Attorney General Bill Baer was asked about previous airline mergers the DOJ had opposed. In his response, Baer commented on the 2006 bid for Delta, saying "We were looking seriously at the hostile bid for Delta when that got abandoned
so It's not the first time."
Given DOJ's opposition to the United merger and now to the American merger, it seems clear that the agency would also have opposed the Delta merger -- especially given that it was the only one that actually appeared to be anti-competitive. In recent years, no airline besides US Airways has ever faced opposition or likely opposition on every merger it attempted, despite the obvious fact that its size makes it the airline most in need of a merger. It is simply too small to compete indefinitely with larger airlines extracting higher revenue from better-positioned hubs.
Nevertheless, this is neither the worst period in US Airways history nor the only time the airline has appeared to have suffered from the ill will of some higher power.
Between 1989 and 1994, US Air suffered five fatal crashes. That was the worst time in the carrier's history, a time its spirit flickered. "We were sickened by the loss of life and we were fearful for the outcome for our company," an employee later told me in an interview conducted for the book, "American Plus US Airways: Building the World's Biggest Airline" -- still expected to be published in 2014.
"At the time, having a crash was a sign of doom for the organization, "the employee, who asked not to be named at this time, said. "You were considered to be unsafe and maybe people wouldn't want to fly you. And you kept asking 'Why is this happening?'"
The same question may be asked today. But it is important to remember that US Airways came through that horrible time. By comparison, an irrational DOJ seems a small problem.
-- Written by Ted Reed in Charlotte, N.C.
>To contact the writer of this article, click here: