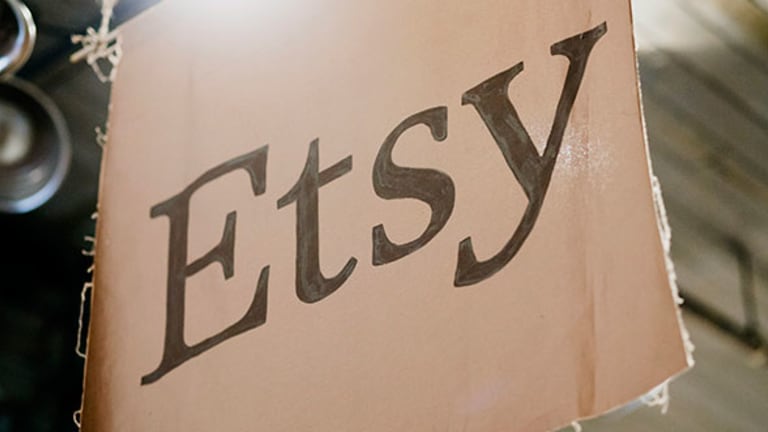 The Cloud Is the new Main Street
A new economic force is gathering. A significant shift is happening where new small businesses are starting that are entirely cloud-based.
NEW YORK (TheStreet) -- A new economic force is gathering that is changing the way Main Street does business -- and it's not the one you think.
For decades, there has been a gradual shift of economic activity from small retailers, often found on one commercial drag in small towns (hence the shorthand "Main Street") to big box stores like Wal-Mart (WMT) . Now another shift is happening, where new small businesses are starting that are entirely Internet- and cloud- based. 
As corporations have slowly become larger in terms of employment, the classic main street has been in decline. The clearest example of a direct connection is the criticism Wal-Mart in particular has received over the years for damaging main street when it moves in.
An example of one study by Loyola University has pointed to a clear reduction in employment and earnings due to the presence of Wal-Mart in the Westside area of Chicago. Another study has found that counties with more Wal-Mart stores in 1987 had higher rates of poverty and dependence on public assistance in 1999 than counties with fewer or no Wal-Mart stores. The data show that five years after Wal-Mart's entry, an average of four small retailers are displaced. In an op ed for the New York Daily News, Small Business Congress of New York City spokesperson Steve Barrison wrote, "Countless communities, and peer-reviewed surveys across the country, all reach the same conclusion: When Wal-Mart moves in, small businesses, and jobs, move out; Main St. dies." (To be fair, Wal-Mart is only best known example of this phenomenon.) 
Some communities have tried to resist this shift by banning "big-box" retailers and courts have upheld these moves. Some have created new development rules and programs to rejuvenate main street, by positioning movie theaters and restaurant complexes in the center and facilitating more pedestrian traffic.
Their efforts may be misplaced. A new main street is growing on its own, and it already has countless movie theaters (see: Netflix (NFLX) ) and stores (see: Amazon (AMZN) ). Small businesses are being generated on the Internet in vast numbers. Though some are simply traditional small businesses moving to the digital channel, the more prominent development seems to be brand new classes of businesses that can only be made possible due to the Internet.
The clearest example of this new type of small business are those enabled by the cloud platform Etsy (ETSY) . Etsy is estimated to have more than 850,000 stores and went public in May of 2015 with great acclaim (the excitement has waned somewhat as Etsy hasn't delivered good initial financial results).
Etsy enables small craft businesses to sell their products across the world. Everything from house wares to clothing to toys and to food items are sold through this venue. Many businesses simply would not exist without the facility provided by Etsy. Etsy simply eliminates the need for a physical storefront, since the key purpose of a store-front is to serve as marketing and to drive walk-in traffic. Etsy easily provides both and across the entire world. The elimination of the capital requirements and the expenses associated with a physical presence is dramatic in terms of small business formation. In addition, Etsy creates and facilitates a community that serves as an enormous marketing and sales force across all of the small businesses.
Another public company that preceded Etsy with a very similar model is Cafepress (PRSS) . For small businesses with some original content such as a photo or any graphic, Cafepress enables clothing and other merchandise to be easily created and sold. Just upload a graphic and a store is set up where customers can buy t-shirts, hats, calendars, clocks, mugs and more than 250 similar products decorated with that graphic. Cafepress presents the shop, markets the product, takes orders and fulfills them by producing the product -- one unit at a time. When sales of these products happen, the small businesses get their revenue minus the costs of Cafepress. There are more than one million stores on the platform. 
Starting of small businesses are beset with many obstacles, foremost among them being availability of capital for the initial start. But what individuals that start businesses do have is time, creativity and possibly some non-capital resources such as residences and automobiles. The cloud is shifting the equation for these small businesses: It makes use of time, creativity and available resources to start businesses and reduces the need for capital.
A striking example of this shift is the enormous success of Airbnb and Uber. AirBNB allows individuals to convert unused space in their homes as temporary rental and vacation space and earn revenue. Similarly Uber allows individuals to convert their vehicles and available time into transportation and earn revenue that way. Uber has more than 160,000 drivers in the U.S. alone and is rapidly expanding abroad. Both of these business models were able to eliminate the need for capital and make effective use of individuals' time and available resources to create small businesses. Make no mistake, these are not replacement small businesses; these are brand new opportunities.
This article is commentary by an independent contributor. At the time of publication, the author held no positions in the stocks mentioned.