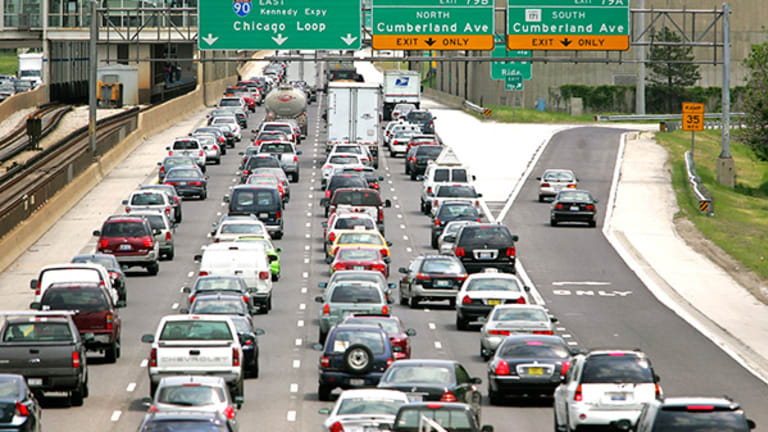 The Chilling Thing the Trucking Business Just Said About the Economy
First quarter numbers weren't great in a soft first quarter -- but second quarter numbers aren't shaping up either.
NEW YORK (TheStreet) -- The vast $700-billion US trucking industry with its 3.4 million drivers that hauled 10 billion tons last year -- 69% of the nation's freight -- is an early warning system for the overall economy. And it's been making the wrong rumbling sounds.
Rates for intermodal containers by rail dropped on a year over year basis in January, February, and March, according to the Cass Intermodal Price Index by Cass Information Systems (CASS) - Get Report. April hasn't been released yet. Cass tried to explain the March decline this way: railroads were facing weaker demand and losing pricing power as shippers were shifting loads to trucks because diesel has gotten cheaper.
But spot rates for tractor-trailers started dropping in April. It triggered all kinds of explanations at the time, for example, in the Journal of Commerce:
"Rather than a sign of underlying economic weakness, the softening spot market may indicate shippers are finding the trucking capacity they need, for now, with contractual partners."
Given the exuberance of record year 2014, carriers have added lots of new trucks to replace older equipment and to expand capacity. Swift Transportation (SWFT) , the largest U.S. truckload carrier, added over 900 trucks over the past three quarters, with more to come in 2015. J.B. Hunt (JBHT) - Get Report added over 1,085 tractors in 2014. Smaller carriers added equipment as well. But by mid-April, the phrase "excess capacity" started cropping up.
In reality, over-the-road shipping volumes fell 5% in March from the prior year. It seemed like a fluke. But in April, according to the just released Cass Freight Index, shipping volumes fell again, this time by 2.5%. The index for shipping expenditures fell 3.5% in March and 4.7% in April.
We know the first quarter was crummy. But April is in the second quarter. This weakness is now infecting it as well. That's what the trucking industry is saying.
There are numerous reasons why this might be happening, including the $110-billion inventory buildup during the first quarter. Businesses will eventually whittle it down by trimming their orders. And sales continue to be lousy. For example, retail sales in April inched up only 0.9% year over year. That's less than the rate of inflation. So in terms of shipping volume, it marks a down month.
The trucking business is an early thermometer of the real economy. Things might turn around on a dime. There might be a sudden surge of sales that will propel the economy to escape velocity. But we doubt it, and we'll keep listening to the truckers for more clues going forward.
When the People's Bank of China spoke of "big downward pressure," it wasn't kidding. See: China Downturn Hits U.S. Automakers.
This article is commentary by an independent contributor. At the time of publication, the author held no positions in the stocks mentioned.