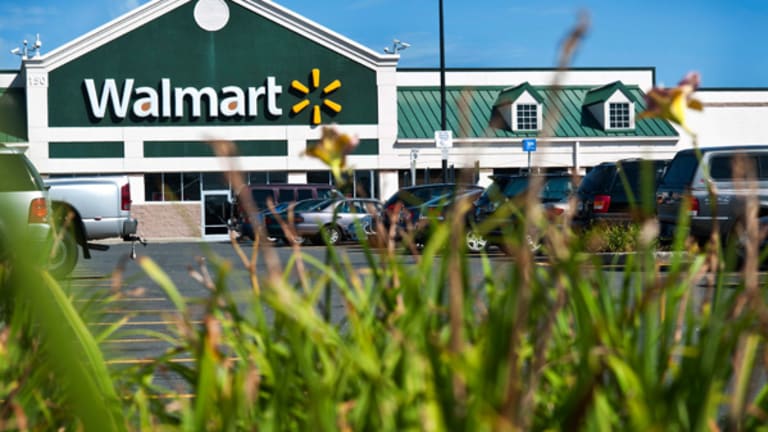 The Cause of Wal-Mart's Trouble Is Its Success
Wal-Mart may have just gotten too big to grow fast.
NEW YORK(TheStreet) -- A lot of people, for their own reasons, want to make a big deal about the problems at Wal-Mart (WMT) - Get Walmart Inc. Report.
Once again, the company's sales growth came in light during the third quarter. Total revenue of $115.7 billion was just 1.7% higher than a year ago. In "constant currency," the number was $116.2 billion, and that was below the expected $116.8 billion figure.
Theories for why Wal-Mart has stopped growing abound. 
Some blame the wages the company pays, which impact what other retailers pay and limit what Wal-Mart shoppers can spend. Others say it's a sign of the times, that the rich are getting richer and heading off to Macy's (M) - Get Macy's Inc Report. Some say the company is just politically incorrect, and the left side of our political aisle is staying away.
In fact, the answer is simpler. Wal-Mart has exhausted its original target market.
Sam Walton's idea was to bring big-city pricing to the countryside, then to America's outer suburbs. His successors expanded the company by expanding the niche, adding groceries and gasoline, making the stores enormous.
That low-hanging fruit has been picked. In recent years the company has begun moving directly into cities, where real estate costs are high. They have worked with developers to limit land costs by adding parking garages instead of lots. Along the way they have had to fight neighborhood activists who have a variety of causes, and that costs money.
Wal-Mart has also tried to fight the trend by expanding overseas, but that can also be self-limiting. Some markets, like India, just don't want Wal-Marts. The same real estate problems bedeviling the company in the U.S. count double in Europe. The problems of Mexico, where Wal-Mart paid $157 million over a probe into bribery, illustrate another risk.
Wal-Mart has sought to break out of the box by expanding online. It's now the second-largest online retailer behind Amazon.Com (AMZN) - Get Amazon.com, Inc. Report. That's going to be a hard fight to win.
Wal-Mart is trying to break into urban markets with smaller stores. Whether called a Walmart Neighborhood Market, a Supermercado de Walmart or a Walmart Express it's a work in progress, with serious competition.
Competition is what all these efforts have in common. Wal-Mart owns its niche. It's trying to take others' niches. That takes specialized market knowledge, and investment, that takes time to pay off. It's not as easy as throwing up a slab on some farmland and bringing in the panel trucks.
Finally, Wal-Mart is trying to compete with itself, with its past success. Success is not easy to sustain. You come up with a great idea in retailing, whether that involves logistics or merchandising, and everyone else starts using it, too. Wal-Mart hopes low, low prices can get it through Christmas.  We have heard that jingle before.
A merchant has to run very, very hard just to stay in place. At Wal-Mart, international sales for its third quarter were up 4.1% to $34.4 billion, excluding any currency impact, according to Reuters. If we subtract that number out of total revenue, we get a back-of-envelope number for overall U.S. sales of more than $80 billion, or roughly $27 billion per month. Total U.S. retail sales for September was just short of $380 billion. 
Some traders are betting on those big numbers. But big numbers have a downside. Wal-Mart has just gotten too big to grow fast.
At the time of publication, Blankenhorn had no positions in stocks mentioned.
This article is commentary by an independent contributor, separate from TheStreet's regular news coverage.